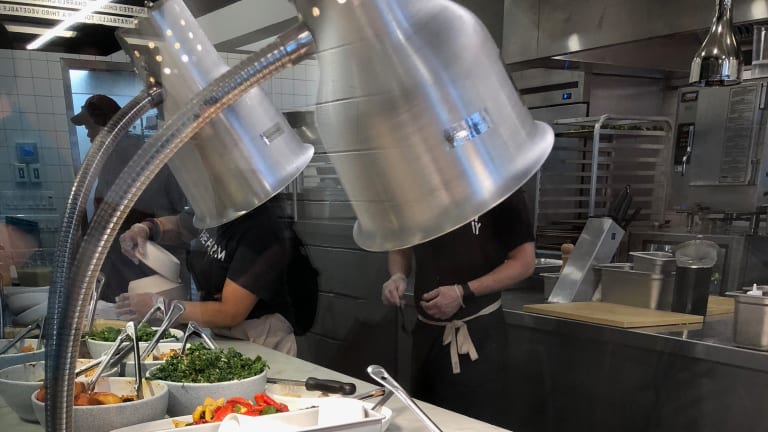 Publish date:
Kid-Friendly Dining in NYC
Bring the Tots in on the Great Food in NYC!
Bring the Tots in on the Great Food in NYC!
As an NYC local, I'm often asked to help with kid-friendly dining options for my friends. Heading to NYC takes a little planning, you need to pick the shows you want to see, and map out your NYC museum plans too. All that sight-seeing can be exhausting and make the kids "hangry" (angry and hungry). Here are some dining ideas:
Fancy

China Grill. No one will hear your kids complain or tell fart jokes at this bustling spot. It's enormous and has an upmarket vibe, but it's so busy know one will notice you except for the waitstaff. Order family-style (the portions are HUGE). Don't miss the wasabi mashed potatoes.
China Grill 60 W 53rd St, New York, NY 10019 http://www.chinagrillrestaurant.com/
Kid-Friendly Dining in NYC: Casual
Dig Inn. This NYC chain is all about serving fresh farm to table food FAST. Eat in or take out, this veggie heavy menu is just the thing if you've had too many street hot dogs or sweets. Don't miss the sweet potatoes. Get the full review here. Multiple locations. DigInn.com
Bubby's: There are two spots downtown. I like the trendier location by the High Line since there is outdoor seating. The kids love the burgers and brunch food, grown-ups love the Bloody Mary's. Everyone is a winner.
Bubby's High Line 73 Gansevoort St, New York, NY 10014 http://www.bubbys.com/
J.G.Melon: Burgers and fries and that's about it at this classic UES burger "joint." Cash only and usually sports on the TV. Good bet for refueling the kids after a museum trip. A little crowded for strollers, but they do have some outdoor seating.
J.G. Melon 1291 3rd Ave, New York, NY 10021 no website.
Serafina: Is my favorite NYC pizza chain. The thin-crust pizzas are perfection, but there are plenty of other options on the menu. Did I mention wine? Yep, nice Italian ones. The UES location is perfect after a visit to the MET.
1022 Madison Ave (At 79th St) www.serafinarestaurant.com/
Fast and Fun

The Meatball Shop. Comfort food the kids will love. The ingredients are fresh and tasty and no one leaves hungry.
Six locations in NYC http://www.themeatballshop.com/locations/
Eataly: Eataly is destination dining. This massive spot houses restuarants, food and beverage counters, a bakery, lots of retail shops, and a cooking school. You can shop for a to-go picnic to take to Madison Square Park or eat at one of the counters or cafes. Kids love all the samples. Check the schedule for kids' event https://www.eataly.com/us_en/classes-and-events/new-york
Eataly 200 Fifth Avenue | New York, NY 10010 https://www.eataly.com/us_en/stores/new-york/
Open Air

Brooklyn Smorgasburg. Mix the food truck ethos with a flea market and you've got the Smorgasburg. If you are venturing to Brooklyn, you can't loose with this outdoor foodie market on Saturdays & Sundays, offering 75+ vendors.
Check site for locations and hours. http://www.smorgasburg.com/
Museum Food

The MoMA cafe on 2 is open, airy and full of kid-friendly options and outfitted with Stokke high chairs.
Café on 2 http://www.momacafes.com/#cafe

5 Pretty Ways To Organize Your Jewelry
I admit - I'm guilt. Despite my best efforts, my "jewelry drawer" has become a tangled mess of necklaces, bracelets and earrings. This cluttered collection not only makes it hard to see what I have, but difficult to untangle the pieces I do want to wear! This summer, I'm ...read more
This Year's Coolest Jumbo Pool Floats
Pool season is almost here! I can't wait to relax, read a book, and sip a cocktail while lazily drifting in an oversized float. (Just kidding, I have two toddlers--but a swim mama can dream, right?). If you've got a staycation planned, check out this year's coolest jumbo pool ...read more
Crystal Clear and Pristine: Pool-Cleaning Tips
Tropical Storm Isaiah gave us quite the midsummer surprise here in the suburbs of New York City. We just got our power back on after a whole week of darkness! With trees down, debris everywhere, and lots of uncertainty, one thing we forgot to check on: our above ground Intex ...read more
Ice Cream & Sweets

Serendipity on the UES: Frozen hot chocolate stars on the ice-cream-and-sweets menu at this old-school dessert destination. It's a small, special space. Don't expect to cram a stroller in here.
225 E 60th St, New York, NY 10022 http://www.serendipity3.com/location.htm
Russ & Daughters: If you want to taste a great bagel, head to the Lower East Side to this family-owned shop. You'll swoon for the high-end smoked fish. Kids will love the candy section. Grab you noshes and head to the nearby park to people watch.
179 E Houston St, New York, NY 10002 http://www.russanddaughters.com/
American Girl Cafe: The tea room is epically pink. It's a young girl's heaven. New location is near Rockefeller Center. All the details are here https://www.momtrends.com/kids/american-girl-flagship-store-new-york-city
Chain

Le Pain Quotidien: You can get bakery items to go or sit down for a meal (don't forget about the communal table option). It's stroller friendly and has a full kids' menu. My girls love the open-face sandwich served with fruit and veggies. I love the kale Casear salad.
Locations in Brooklyn Heights, Bryant Park, Soho and more. www.lepainquotidien.com/
Noodles & Asian

Ichiumi Buffet: Bloggers recommend this buffet spot for an assortment of Japanese eats from sushi to cooked fare at this buffet spot.
6 E 32nd St, New York, NY 10016 http://ichiumi.com/
Azuki: Low-key sushi with great quality and good prices.
33 Irving Pl, New York, NY 10003 Union Square http://www.azuki-nyc.com/
Ganso: Ramen Noodles in Brooklyn. Slurp your way to happiness.
25 Bond Street, between the Fulton Mall http://gansonyc.com/ganso-ramen/
Follow that truck!
Nowadays, you don't even need to worry about your tot's table manners. As summer approaches us, there are trucks of all kinds bearing several types of delicious (and mostly high caloric) treats begging to be tasted. Order up and head to the playground for a picnic.
For the same convenience of purchasing food from a fast-food joint, you can check out these healthier, and let us say, much more stylish, options. (Don't get us wrong we still love Chipotle). Plus, you might even get something more out of it than just food--bubbles, jump rope, or carbonated candy, anyone? Be sure to follow the tweets to find out if these trucks will be stopping in NYC. Log on to the www.findnycfoodtrucks.com to keep up to speed on all the four-wheeled restaurants this summer.
What are your favorite NYC restaurants that are kid-friendly?
Momtrends was not paid for this post.