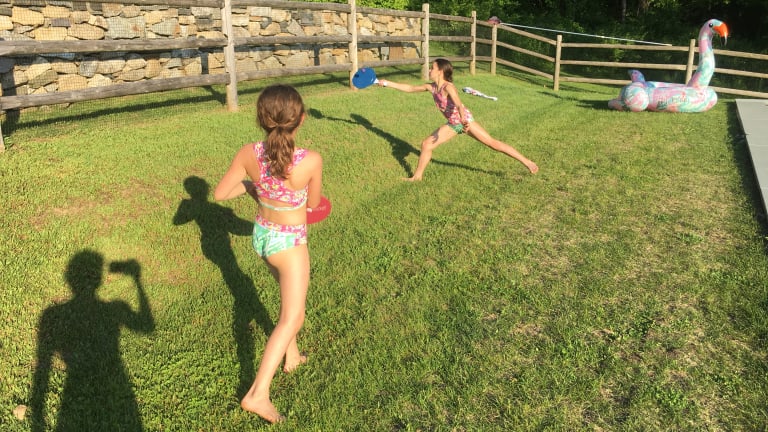 Keep Lice and Ticks Away
Keep Lice and Ticks Away: Since my girls started preschool five years ago, we've been critter free.
Lice and ticks--as someone who enjoys both city and country I get to fear both of them. Let's start with the city concerns. In our Brooklyn school system, we've had several lice outbreaks. I know lice can happen anywhere, but crowded spaces tend to be the perfect ground for spreading lice. To keep lice and ticks away you've got to stock up on the right products.
Related: Throw an indoor-camping-party
Keep Lice and Ticks Away
Since my girls started preschool five years ago, we've been using Fairy Tales. And--knock wood--not a single critter has appeared. Fairy Tales reports the shampoo and spray are 92% effective in repelling lice when used together. While I am not a scientist, and I can't prove that the shampoo works, I can say this--we use it religiously and have been lice free.
Each night after the bath, we spray the leave-in conditioning spray. It helps with tangles, and promotes shine, but mostly I'm interested in the repelling! The Rosemary Repel products are natural, chemical free products with organic ingredients such as rosemary, citronella, tea tree and peppermint--they smell great, but not to lice or ticks.
Keep Lice and Ticks Away Tips
As we head into summer, here are my go-to lice avoidance tips
Don't share hats, helmets, pillows, combs or brushes
Keep long hair up in a ponytail or braid
Don't wash hair every day. Lice attach easier to clean hair.
Use the a lice treatment conditioning spray every day and between washes
Do weekly head checks
What about Ticks?
Now about the ticks. There is nothing as gross as pulling a tick off your child's head. We hike with the girls a ton--and they love rolling in the grass. Lyme disease is not something I want to deal with. Guess what? The Rosemary Repel also works to keep ticks at bay. Really it is a secret weapon for parents who can't deal with critters. In fact, I spray my own head before we embark on a hike--just because there are castles on the bottle don't think this isn't effective for adults.
More Summer Fun from Momtrends
PIN IT!
Use Pinterest to save your favorite family travel destinations to help inspire your next trip. Be sure to follow our Travel with Kids board here.
This is not sponsored post.