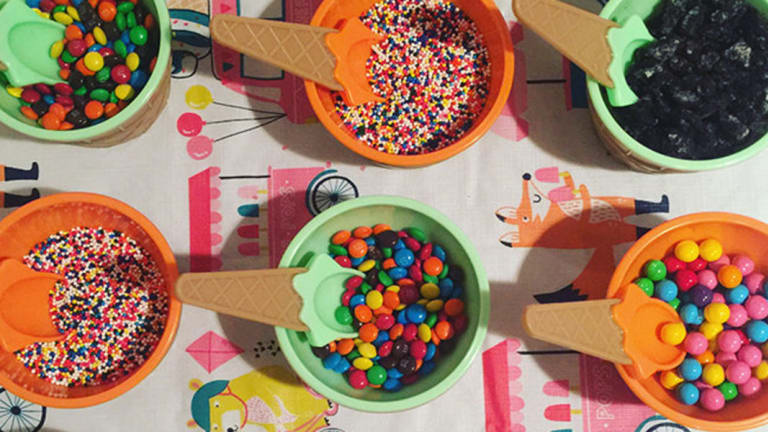 Ice-Cream Party Inspiration
A little ie-cream party inspiration. We're sharing some must-haves for hosting your own ice-cream social. Here's what you'll need and want.
Summer is almost here—and 'tis the season for alfresco entertaining! My family's June, July, and August weekend will be filled barbecues, pool parties, picnics, graduation celebrations, birthdays, and holiday events. We'll be hosting friends and family at our home and in our new backyard (insert praise emoji!) almost weekly, and I couldn't be more excited for good food, great company, and refreshing treats.
Related: Hosting an impromptu family summer party
Plan An Ice-Cream Party 
Yes, Ice cream is a necessity at all of these gatherings. Of course. And, to be honest, I'm not entirely sure who enjoys our epic built-your-own sundae bars more: the kids or the grown-ups. I guess we all really do scream for ice cream.
There's a few things you'll need to pull off an incredible ice-cream social this summer—and make it look totally delectable (and photographable!) to boot. This gorgeous scene is from an ice-cream party at Blackberry Farm. We're sharing how you can re-create the inspired look with a few essentials and then some awesome extras!
Ice-Cream Party Shopping List
Ice-Cream: Keep it simple. No need to get lots of ice-cream flavors, just stick to the basics: vanilla, chocolate, and strawberry should do!
Toppings: Now this is where you can take things up a notch, customize, and get fancy! Sprinkles, chocolate chips, nuts, candies, cookie dough, brownie bits, crushed Oreo crunchies, and fresh fruit, of course (don't forget the healthy stuff!).
Cones and Cups: Cones are more fun, cups are more practical. Please everyone with both—or, better yet, go with cone cups and spoons.
Ice-Cream Party Decorating Tips
A DIY Chalkboard Sign: Grab a blackboard and make your own ice-cream sundae menu. List the flavors, toppings, and extra options in multiple colors with varying fonts. It's an easy DIY centerpiece for the ice-cream bar table.
Fresh Flowers: Ice cream and flowers—can summer get any sweeter or more aesthetically pleasing? Display colorful blooms like mounds of ice cream! Cone-shaped vases are the icing on the ice-cream cake. These paper versions are pretty darling too!
Vintage Ice-Cream Signs: How fun are these vintage-inspired ice-cream signs? They'll add a retro soda-shop ambiance to your ice-cream social. (Now all you need is ice-cream truck music playing on repeat!)
MORE SUMMER FUN FOR MOMS
PIN IT!
Use Pinterest to save your favorite fashion posts. Be sure to follow our Summer fun board here.
This is not a sponsored post. All opinions are our own.