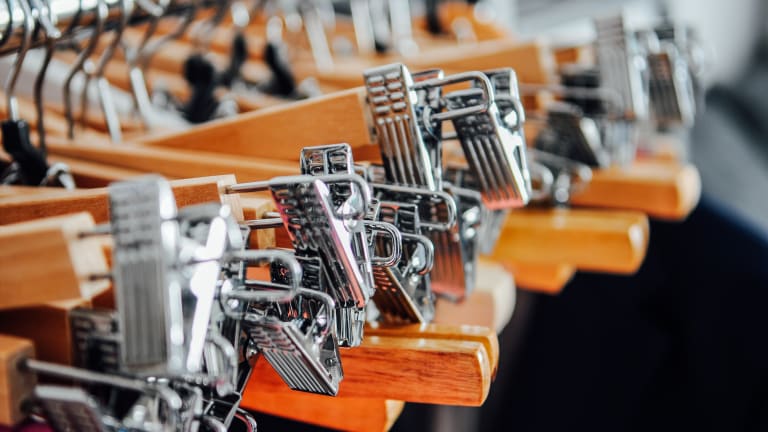 Publish date:
How to Shop Consignment
How to Shop Consignment: I'm sharing my insider tips on how to shop Consignment Shops, currently known as Designer Resale.
Consignment shops are often either at the very top of fashion shoppers' priority list or very low. In effort to continue on my journey to green up my wardrobe all while satiating my desire for fashionable, stylish and on- trend looks, I'm sharing my insider tips on how to shop Consignment Shops, currently known as Designer Resale.
Related: Making money with The Real Real Consignment
Consignment shops differ from thrift stores as the owner of the donated items gets a small percentage of the sale. Items found in consignment shops or designer resale stores are usually pre-owned, but many shops have "new with tags" items as well.
Reasons to ShopConsignment/Designer Resale:
Deals: On designer clothes, have Prada taste but a Banana Republic budget? Consignment shops can give a second life to many famous upscale designers wears all for a fraction of the price.
Variety: A consignment shop can be a wonder trove of unique, one of kind, vintage or hard to find items. If your look is anything but ordinary, a consignment shop can offer a myriad of styles, brands, eras, designs all under one roof. Usually the staff is versed in fashion and can offer to put look together for you, narrow down your search or match you with a particular designer, occasion or era.
Eco friendly: Due to the fact that many of the clothes are often previously owned, consignment shops offer the shopping experience while lowering the consumer impact of buying new clothing. More beautiful clothing for you, less new clothing being created, less resources used.
Tips for Shopping Consignment/Designer Resale:
Have a focus in mind: It helps to have a idea of what you're looking for. On a recent shopping trip, I was shopping for a dress for a friend's surprise birthday party. I was able to narrow down my search, stick to the racks with dresses and was able to get attentive help from the store's shop assistant.
Have an open mind: I am going to contradict myself here and say, have an open mind. If you just need a wardrobe update or are looking for some retail therapy, go for it! Try on that vintage Chanel suit, that fur vest from Stella McCartney or that Jackie O lady like dress, You just never know. Consignment shops are good for channeling your inner fashionista.
Be practical: Shopping consignment doesn't mean cheap, yes, you'll find deals and pay less than you would in a department store or boutique but treat the experience as you would a regular shopping experience. Are you really going to wear that sheer Versace dress or will it take up valuable real estate in your already overflowing closet? Remember a deal is not a deal if you're never going to wear it!
Try things on: Most consignment shops/designer resale have a zero return policy-you buy it, it is YOURS for the keeping.
Be prepared: Wear proper under garments, shoes, hair etc. You want to love the way you look before you step outside and items belong to you.
What to Expect when Shopping Consignment
I found these these dresses while shopping consignment. I have always been a fan of Betsy Johnson and love this adorable butterfly print (see dress on top). The collar is so unique, and the dress fits like a glove. I got it for a rock bottom price of $22! This dress would normally retail for over $250. There is not a rip, tear, stretched seam, perfect condition! big score! I can't wait to wear it with funky gold colored tights and chunky ankle boots when the weather changes. For now, I paired it with cropped black leggings, a braided black belt, chunky studded heels and simple silver hoops.
Consignment Finds we Love
This dress screams vintage. I just love the 1960's feel to it. It is feminine, demure and a little bit flirty. The orange hem won me over. I purchased it for a mere $38! It had been there for a few months with no takers, just waiting for lil 'ol me to snatch it up. I'm in love! The dress is made by Chace and would normally retail for over $275. I am pairing it with simple snakeskin peeptoes shoes by Calvin Klein, a vintage bracelet purchased second hand years ago and a simple vintage necklace of my mother's. Classic, pretty and timeless.
This dress is the funky one I picked out for the party. It is so easy to wear, is the very IN bright fuschia and doesn't require any accessories besides a simple bangle. This ruffle number by Tibi, would be over $300 at original cost, but I can tell you I paid $35 for it. Not bad for a fun, comfortable and a little less than ordinary party dress. Shown paired with heels Mossimo and a glass beaded bracelet.
MORE FASHION FUN FOR MOMS
PIN IT!
Use Pinterest to save your favorite fashion posts. Be sure to follow our Mom Fashion Pinterest board here.
Momtrends was not compensated for this post.