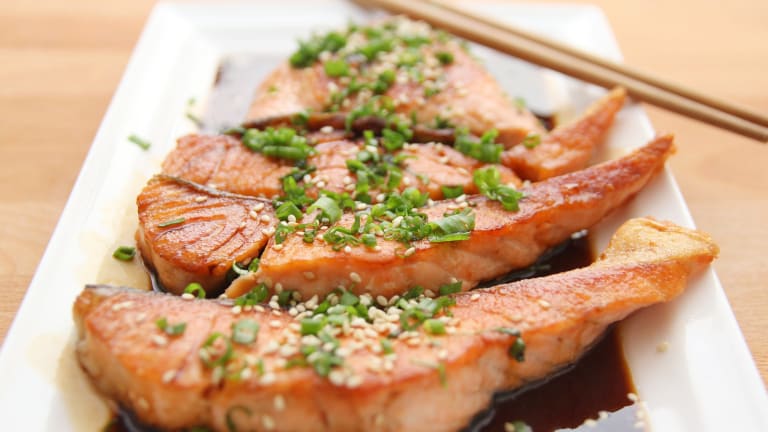 How to Get Kids to Eat Fish
Tips for helping picky eaters embrace fish. The goal is for your child to actually order fish UNPROMPTED at a restaurant as a grown-up.
Do you wonder how to get kids to eat fish? I'm sharing my secrets. Like most things in parenting, it wasn't a quick fix or a secret recipe. Yep, friends, just as it is with potty training and manners, it takes time and effort (AKA parenting) to make it happen. That being said, I can give you some tips and tricks to make the process smoother. In other words, learn from my mistakes and successes when it comes to getting your a child to expand his or her palate to include fish.
The Struggle is Real to Get Kids to Eat Fish
Like most of you, I want my kids to be healthy and strong. I try to stay up to speed on all the diet trends and to give the girls a variety of foods. When they were tots, we relied on Dr. Praeger's fish sticks and Mr. Momtrends and I were pretty proud of ourselves for getting "fish" into the diets of toddlers. This brand is a great place to start--they limit the number of ingredients and focus on nutrition and taste.
But let's be honest, no matter how you bread it, a fish stick isn't really the end goal here--even if it is so much better than a McDonald's breaded filet o'something. The goal is for your child to actually order fish UNPROMPTED at a restaurant as a grown-up. I want them to know how to cook fish, what real fish looks like and to have an appreciation for this food source. Fish sticks weren't going to cut it.
How to Get Your Kids to Eat Fish
You don't have to wave a magic wand to win your kids over to real fish. I've got five tips for you PLUS a bonus. But first, let's start with a story. 
In 2012 Mr.Momtrends took our girls to Asia for 3 weeks. We decided they were going to eat the local foods. There would be no hunting for American-friendly fare. We were just going to stick to our guns. First stop was Turkey (I know, I know technically Turkey is in both Asia and Europe, but for ease we always refer to this trip as the "Great Asian Adventure"). The girls were 4 and 7 and well something magic happened.
In Turkey, the girls kept looking for chicken fingers and pasta with red sauce on the menu. For the most part, they were out of luck. Day 1-3 they ate a LOT of salads and pita bread and hummus. And they were a little hungry. Mr.Momtrends and I ate fish and ordered them fish. Mostly it went uneaten. One night we turned a corner. On the most perfect August evening, we took a boot ride from our Kempinski Hotel to Rigal restaurant on the Bosphorus.
It was Day 4 and the girls were REALLY hungry from site-seeing in Istanbul all day. We sat down to eat and the only thing on the menu was fish. There was some MIGHTY grumbling. We ordered the house speciality, which I believe was something like a red snapper. The main thing was that the fish was baked in a huge salt block. To finish it off, they waiter rolled the huge block on a trolley beside our table and set the salt block on fire and then smashed the block into bits with a hammer to reveal the fish inside.
The girls were sold (and hungry). Between the two of them they ate about 2 lbs. of fish. I was scared to get my hands too close to them for fear I would lose a finger. From that point on, they were willing to try fish everywhere.
In Malaysia we went to a huge fish tank and got to pick our our fish for dinner. Fast forward four years and they are still eating fish. 1-2 nights a week we have fish in our meal plan. It's affordable, healthy and easy to cook.
Here are my TOP 5 day-to-day tips for getting your kids to eat more fish + a bonus tip:
1. Shop at a fish store. Remember the romance of the Turkey trip? You're local supermarket with fish jammed into the frozen aisle isn't going to cut it. Find your local fish store and take the kids. In my experience, the gentlemen behind the fish counters are usually characters. They love to talk to kids. And they can sell fish to kids in a way you can't. Plus the fish looks really cool spread out on ice and propped up. We shop at Citarella and the kids love store visits. TIP: Ask the fish guys to recommend recipes. They often have quick & easy ideas.
2. Go for kid-friendly favorites. Our girls love salmon because it's fatty and sweet. It's also meaty and takes a marinade really well. My girls also dig into Tilapia. We call it "chicken fish" because, you guessed it, it tastes like chicken. You'll definitely need to experiment with flavors that suite your family's taste. Not every fish is a winner. My girls hate swordfish, but like turbot. We just keep trying.
Momtrends 5-Minute Salmon Recipe
Toss 2 salmon steaks into a Ziploc bag
Add 1 tablespoon of honey mustard
Add 1/4 cup of olive oil
Add 1 tablespoon of soy sauce
Let your kids squish the fish around in the bag
Broil for 15-20 minutes depending on the thickness of the steaks
Serve with veggies plus brown rice or potatoes.
3. Presentation counts. Here's the thing: the theater of it all sold the girls on fish in the beginning. While I don't recommend setting your kitchen on fire, I do recommend some effort when it comes to presentation. Even if it's just giving each child a wedge of lemon to squeeze on the fish in a pretty bowl. It's the idea of making fish special and fun. This is how we turned the tide for our girls. Here's an idea: Try a whole fish. I know it's a pain with all those bones, but our girls adore the primal experience of seeing a whole fish on the dinner table. They love the fish eyeballs and the skeleton. We often cook a whole bronzino or snapper and they love the experience. Yes, it's messy, but they are eating fish! TIP: get your local fish guy to clean the fish for you. It's worth every penny!
4. Let them play with the food. By this I mean, get them involved in cooking. With whole fish, this is especially easy. All you need to do is stuff the inside of the fish. In the summer, the girls go to our herb garden and grab greens, I slice some lemon slices and then we add salt, EVOO and garlic. Put it on the grill or oven and you'll be eating like a king in about 40 minutes. Completely non-scientific studies (in my kitchen have) shown kids will eat what they make.
5. Don't offer substitutes. There's no side of pasta offered with fish. It's fish, greens and a grain or potatoes. They get what they get. This is not a restaurant (thank you mom for that line, it still comes in handy). Don't back down. You are not a short-order cook.
BONUS TIP: Bribery. Plain and simple. Our girls know the equation. Fish for dinner = ice cream for dessert. It works. Don't judge. Once they finish the fish, the ice cream comes out. Everything in moderation friends!
Tell me, do your kids eat fish? Do you have a favorite fish recipe? Let me know!
MORE FOOD TRENDS FROM MOMTRENDS
PIN IT!
Use Pinterest to save your favorite recipes. Be sure to follow our Kid Food Pinterest board here.
This is not a sponsored post.