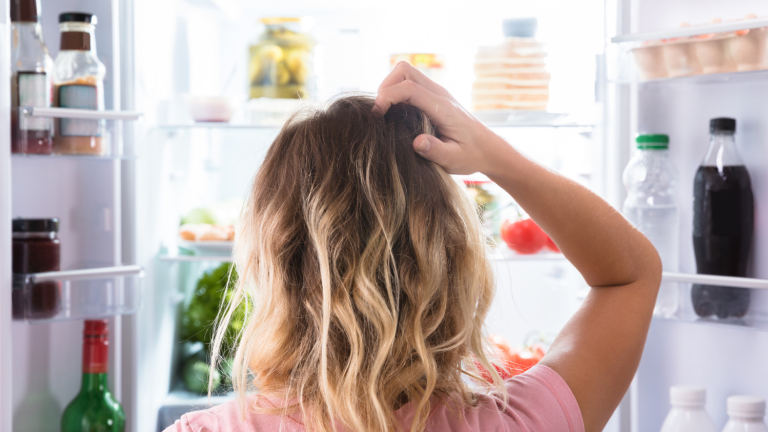 How To Clean Your Refrigerator
Besides just ending up with a clean and organized refrigerator, I learned two important lessons from this task.
While I have the best of intentions to keep my refrigerator clean, it slowly seems to move from something Martha Stewart would be proud of to a scene from some kind horror movie with long-forgotten leftovers, veggies past their prime, and mystery tupperware. I'm giving you my go to method of of how to clean your refrigerator.
Clean Out Your Refrigerator Day
From the looks of my before pic below, today's celebration of "Clean Your Refrigerator Day" (November 15th every year) was definitely one that I need to celebrate. So I reached out to organization and style guru Shira Gill for help (find out more about Shira's organizing tips here). I followed her five tips below to take my fridge from crazy and disorganized to calm and orderly. First, the before....
Yikes. I know. My refrigerator had definitely gotten out of hand. But I took the challenge and followed these five steps from Shira.
FRESH SLATE. Take everything out of your refrigerator and wipe down all shelves and drawers for a clean slate. You can also add some shelf liners and neutralize any odors with a box of baking soda.
TOSS. Toss any old, expired foods and unused condiments. Leftovers are generally good for four days max.
ORGANIZE. Group similar items together so you can store by type for easy access: Fruits and veggies should be stored in produce crisper drawers to ensure freshness. Milk and dairy products should be stored on a shelf in the back of the fridge where the temperature is coldest. All meats can be stored together in a labeled bin or meat drawer. Store condiments (which aren't as perishable) together in the refrigerator doors. Get rid of bulky packaging whenever possible and consider labeled bins for meat and dairy if you don't have shelves or drawers that work well.

STORE SMART. Store leftovers in stackable square Tupperware containers near the front of the fridge so you can maximize space and see what you've got. Add labels with the date so you can see what needs to be eaten and when.

PRETTY + HEALTHY. Encourage healthy choices by making a pitcher of spa water as a substitute for soda. Most fruit and herb combos work great - lemon and mint is always a hit! Putting healthy snacks like fruits and veggies front and center can help moms and kids alike make healthier grab-and-go choices.

Here's What I Learn in the Process
Voilá! So much better. Besides just ending up with a clean and organized refrigerator, I learned two important lessons here:
The hardest part is starting. True of most tasks, right? If you're dreading cleaning your fridge, have your kids starting taking everything out and putting it on the counter. Then the job will already be started and you'll be more motivated to get the task done.
A clean fridge is easier to keep clean. Once everything was clean and uncluttered, it was so much easier to keep it that way. At least for now - ha!
MORE CLEANING HACKS FROM MOMTRENDS
PIN IT!
Use Pinterest to save your favorite tips and life hacks from Momtrends. Be sure to follow our Cleaning and organizing board here.
Momtrends was not paid for this post.