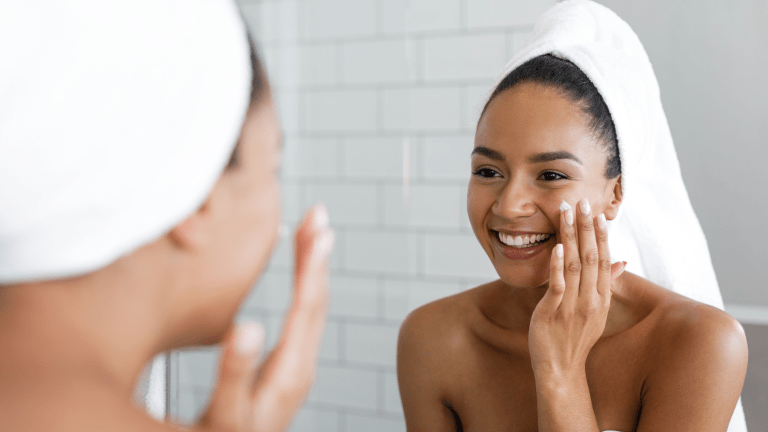 Momtrends MVP's: The Best Night Cream
Whether you have sensitive skin, need some extra wrinkle fighting action or want to battle breakouts, we've got the right product.
If you've been wondering what the best night cream to use in 2021 is, wonder no more. As always, we've got you covered!
I consider my nighttime beauty routine my favorite ritual of the day. And that is because it is the one time of day that is all mine. The kids are in bed and my hubs usually is too for that matter. So, I can typically count on some nice, quiet alone time to take care of my skin.
That means I can leisurely cleanse, treat and moisturize. And I like to moisturize with a cream that's specifically made for nighttime use. Rest is not only good for your health, but it's great for your complexion too. And if you throw on a night cream, the hours you sleep will work overtime for you and your skin!
Why It's Time to Invest in a Good Night Cream
If I have learned anything from getting older, it is how important getting enough sleep is. I don't feel well and I don't look good when I am over tired. Now that doesn't mean I always get the optimal amount of rest. I still have young kiddos after all. But I do try my hardest to sneak in some self-care through a semi stable bedtime and nighttime beauty regimen.
That regimen may have morphed through the years, but one thing I have alway been pretty good about is making sure that my skin stays good and hydrated. I definitely use treatment products more than I used to, but moisturizing has been a constant in my life since I was a teenager a few, ahem, years ago. Haha!
And being that the seasons will be changing sooner rather than later, I thought it would be a good time to talk about why you shouldn't give up your night creams even when the weather warms up.
With hotter temps comes humidity, at least in my climate, so I don't necessarily need as thick of a daytime moisturizer in the spring and summer months. Some days I actually only use facial oil. That being said, I don't neglect my night cream ritual hardly ever.
So, are you ready to ramp up your nighttime beauty routine or what? Hopefully you already found yourself a good daytime moisturizer in our last Momtrends Beauty MVP's piece. Now it's the night cream's turn!
The Best Night Creams for Moms
Trust me when I say there is a night cream for everyone here. I know we all have different skin types and different needs, so I kept that in mind when compiling this, hopefully, pretty exhaustive list.
Whether you have sensitive skin, need some extra wrinkle fighting action or want to find a cream that won't break you out, you should be able to find a product that you want to try here!
On that note, who's ready to talk about the best night creams?
Best Overall Night Cream: 
Dermalogica Sound Sleep Cocoon
If you have trouble getting that all important sleep you need to have radiant looking skin, try this night cream on for size. Not only can it make your skin look more radiant by morning, but the lavender essential oil, Sandalwood and more help promote better sleep with aromatherapy. All those benefits make this gel-based cream worth the price tag in this girl's book!
Best Night Cream for Sensitive Skin: 
Aveeno Ultra Calming Nourishing Night Cream
Aveeno moisturizer was the first moisturizer I ever used. I can't even tell you how long it took for me to venture out to other products. And when I feel like my skin could use a break along with a healthy dose of calming ingredients, I go right back to it. This night cream soothes irritated skin thanks to Calming Feverfew, an ingredient that has shown to greatly improve redness. If you too have sensitive skin, you know how hard it can be to calm down angry skin sometimes!
Best Budget Friendly Night Cream: 
Neutrogena Deep Moisture Night Cream
Neutrogena hasn't endured for as long as it has for no reason. It's probably the first brand you tried out as a teen and I'm here to say that its products are perfect for aging skin too! This super wallet friendly night cream is non comedogenic, in case you too are dealing with adult breakouts, and is super hydrating! I don't know about you, but the dull skin clogged pores serves up is not the look I'm after.
Best Retinol Night Cream: 
I tried this brand a few years back after I had a laser treatment and needed a heavy-duty cream to calm down my inflamed skin and boy did it not disappoint! So, I thought why not try out another one of their products. Well, my friends, if your forehead could use some anti-aging help, this cream is for you! Bye bye furrows. And did I mention that it also doesn't tend to irritate sensitive skin the way many retinol based products do? My skin definitely leans towards the sensitive side, so I need gentler formulas. This one delivers on that and then some!
Best Night Cream for Dark Spots: 
Sunday Riley C.E.O. Vitamin C Rich Hydration Cream
This cream isn't marketed as a night only cream, but it is for use once or twice daily. I used it once a day at night to help fade some pesky dark spots on my face. It's my absolute favorite for that. Whenever I've been out in the sun and those spots start getting noticeable, I add this vitamin C rich cream to my regimen again. It's pricier than some, so if you consider it your nighttime moisturizer, you can use a more budget friendly one in the morning.
Best Natural Night Cream: 
Juice Beauty Stem Cellular Anti-Wrinkle Overnight Cream
If you prefer organic products, that doesn't mean you have to sacrifice potency. This natural night cream is super intensive. It plumps up your skin while hydrating, reducing the appearance of wrinkles and it refines texture all at the same time without the use of harmful ingredients. It's made with certified natural ingredients and guaranteed to be cruelty free. Juice Beauty has been a long time go-to of mine and this night cream is definitely among my very favorites!
Best Firming Night Cream: 
RoC Retinol Correxion Deep Wrinkle Night Cream
At under $25, this popular drugstore night cream doubles as a budget friendly option. It boasts that users will look 10 years younger if they use it regularly. I don't know if I shaved off a whole decade, but I do know that my skin is firmer and much more youthful looking thanks to it! I have used this night cream on and off for at least five years and I know I will return to it again and again as long as they keep making it!
Best Night Cream for Acne Prone Skin: 
Clarins Multi-Active Night Cream
People with acne prone skin sometimes skip the hydration step because they think their skin is too oily. The trick is to pick the right formula for your skin. Everybody's skin can benefit from moisturization. This not too heavy, non-greasy formula is appropriate for those who break out easily! It's creamy, but absorbent. 
Well, if our list of the best night creams doesn't give you a head start toward updating your evening skin care routine, I don't know what will! Sometimes it takes a little trial and error to find the right product for you, but when you do, you'll be so happy you put in the time and your skin will be even happier! I know mine certainly benefits from the regular TLC I give it. I have no doubt that yours will too!
And I highly suggest you make your little nighttime routine yours alone. We all deserve a moment or two alone...even during the most hectic times of our lives. I'd say right now qualifies, wouldn't you?
Stay tuned for our next Beauty Momtrends MVPs -- up next we will tackle makeup. There's a bright, big beautiful shadow, blush and lipstick filled world out there!
Momtrends MVP's is a non-sponsored series. Brands must meet our strict standards to be included. When naming winners we take several factors into account, including expense, convenience, and style.
We make our picks annually based on editors' research. In some instances, we may request and receive samples so that we can more thoroughly assess products. Our opinions are our own, and our goal is to help our community of moms make more informed decisions on everything from baby gear to beauty products to vacation destinations and more. We scour the abundant options and painstakingly hand-pick our favorites, so you don't have to. Our hope is that our most valuable players become your most valued purchases.
MORE BEAUTY MVP'S FROM MOMTRENDS
PIN IT!
Use Pinterest to save your favorite beauty finds. Be sure to follow our Beauty board here.