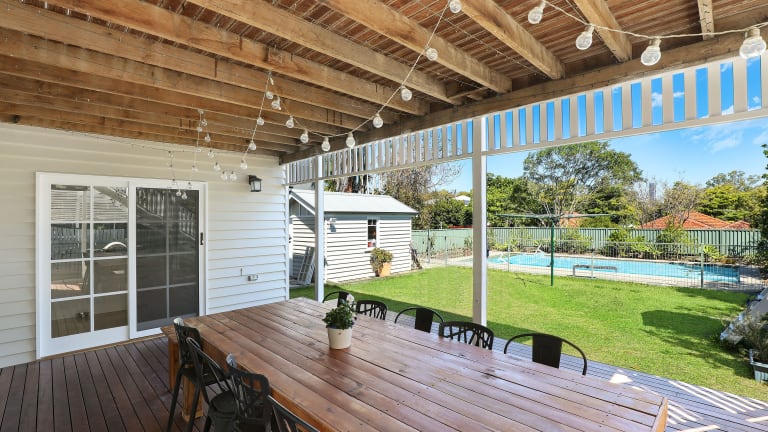 How to Host an Outdoor Movie Night
Hosting an outdoor movie night in your own backyard during the summer season is absolutely magical.
A fresh breeze, the smell of green grass and popcorn, and the twinkling stars to set the mood. Hosting an outdoor movie night in your own backyard during the summer season is absolutely magical. But it isn't all that easy; it requires lots of equipment and gear!
Related: Throw an indoor camping party
Create a Backyard Theater
Find the perfect backyard spot to show your movie and gather up the necessary equipment and accessories. You'll definitely need these three things: a projector, a screen, and a laptop with speakers.
Projector: Buy, rent or borrow a movie projector with HDMI connectivity. Ideally, you'll want one that is rated 2,000+ lumens for proper brightness. Prices range for projectors, but you can snag one online for as little as $100 on eBay.
Screen: You'll want a smooth, flat surface on which to project your movie. The (flat) side of your house will do; or go DIY and double up a white sheet to hang from a clothesline.
Laptop with speakers: You'll need a laptop that plays DVDs or Blu-rays along with plug-in, portable speakers.
Select the Movie
Are you having a family night, hosting the neighborhood kids, or inviting other couples? Choose your movie wisely! Select a family-friendly, age appropriate flick that benefits from a "big-screen" format. Animated movies like Finding Dory or Sing translate well as do Hollywood classics like E.T. or films that create an ambiance of nostalgia like La La Land.
Set the Scene
Add some drama and create atmosphere with fun details and great décor to fit the film's theme.
Invitations: Send invites that double as "tickets" that can be collected as guests arrive.
Seating: Pepper your lawn with blankets, pillows, poufs, and a few low-back beach chairs for comfy seating options. If you're feeling especially creative, build "cars" out of cardboard boxes so that the littlest movie-goers can have a drive-in experience.
Decorations: Hang paper lanterns from the trees or string up twinkly lights to illuminate walkways.
Accessories: Hand out festive glow necklaces and bracelets to the kiddos to help them navigate in the dark. Put out some potted citronella plants and have natural bug repellent on hand in case mosquitoes try to crash your party.
Serve Cinema Snacks
It wouldn't be a movie night without MOVIE SNACKS. Go with concession-style munchies kids and adults will love.
Popcorn: Nothing beats the look of an old-fashioned popcorn machine outside during an alfresco movie night. You can buy one quite reasonably or even rent one from a local vendor. Alternatively, you can just make some microwave popcorn and serve it in individual red-and-white striped popcorn boxes or bags. Try a sweet-meets-salty flavor combination by mixing popcorn with dark chocolate bites! Swap out the sweet candies for a healthier alternative--we love these organic fruit snacks (and the kids do too!) It has the satisfying texture of a gummy without all those dubious ingredients. Of course, you can never go wrong with a little homemade ice cream and some wine and beer for the grown-ups
Concession Stand: Set up a table off to the side to serve as a concession stand for drinks, candy and other snacks.
Snack Trays: In lieu of a concession stand, make individual snack trays for each moviegoer using bento boxes. Fill the largest compartment with popcorn and the small compartments with convenient single-serve snacks.
MORE TRAVEL IDEAS FROM MOMTRENDS
PIN IT!
Use pinterest to save your favorite family travel destinations to help inspire your next trip. Be sure to follow our Travel with Kids board here.
This is not a sponsored post. All opinions are our own.