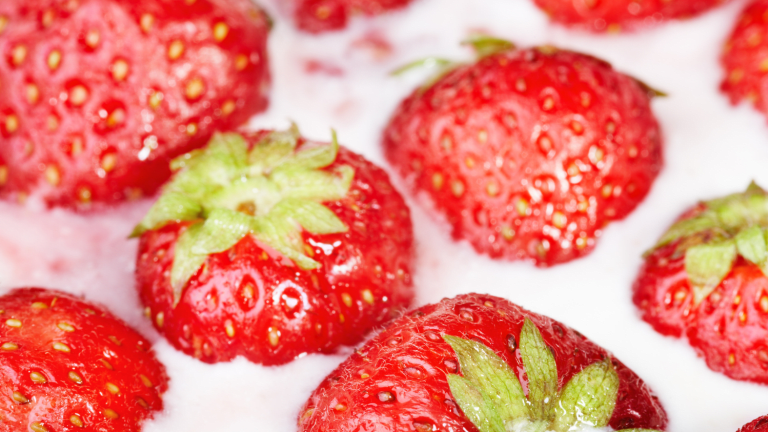 Healthy and Easy Strawberries-and-Cream Recipe
Like most moms, I don't have a lot of time in the morning. Even though we're up and at 'em a good two hours before school (gotta love those early-rising toddlers!), I'm pretty much useless until I've had a few sips of coffee, my kids wake up starving and hangry, and somehow the minutes just escape us, and we find ourselves racing out the door two minutes before the first bell rings.
Related: 7 make ahead school morning breakfasts that are portable
Suffice to say that a healthy homemade breakfast isn't always an option. Most mornings we opt for toast or frozen waffles or cold cereal. It's by no means unhealthy. But our breakfast game is certainly nothing to brag about.
One healthy option I can always get in my kids in the morning is fruit. Berries and oranges and mangoes and kiwis and peaches and grapes and all sorts of sweet and tart antioxidant and vitamin-rich goodies--so we always eat a little fruit in the AM. And I've hopped on-board the smoothie bandwagon and have been making fruit-and-veggie blends for myself and the littles whenever possible during the week.
But one super-easy and delish breakfast dish we have almost daily: strawberries and cream. It takes approximately two minutes to make, tastes sweet and indulgent, and is good for you to boot. Plus, you can layer on all sorts of goodies--just like you would with yogurt (hemp seeds, chia seeds, bee pollen, honey, you name it!).
To celebrate National Strawberries and Cream Day today (hello there, strawberry season!), we're highlighting the easy-peasy recipe. It's sure to become a regular part of weekday routine too!
Strawberries and Cream Recipe
3 – 6 strawberries (depending on size), sliced
Three tablespoons of low-fat sour cream
1/4 cup of low-fat milk
1 teaspoon of sugar (or sweeten to taste)
Healthy toppings.
Mix ingredients in a bowl.
Sprinkle on extra ingredients (seeds, nuts, bee pollen or drizzled honey). Serve!
MORE BREAKFAST IDEAS FROM MOMTRENDS
PIN IT!
Use Pinterest to save your favorite recipes. Be sure to follow our Kid Food Pinterest board here.
This is not a sponsored post. All opinions are our own.