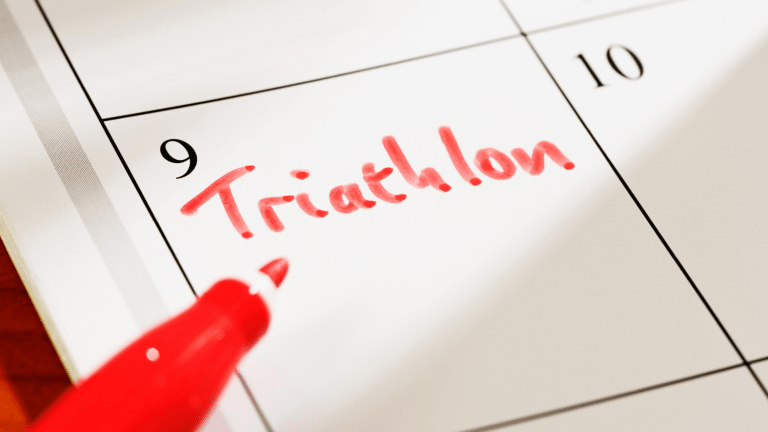 Publish date:
First Time Triathlon Training for Moms
Ideas to help you get started with your first short distance triathlon.
Ideas to help you get started with your first short distance triathlon.
I spent Saturday morning swimming, biking and running in Litchfield County CT. Mr. Momtrends and I have caught a bit of the triathlon bug. We've been training together this summer. And the work paid off. Not only did I have a fantastic time and not feel any post-event pain, I took home first place in the women's division--a basket of heirloom tomatoes and a gorgeous wild flower bouquet.

Related: Sign up for a virtual 5k run
Consider a Sprint Triathlon
If you're a mom looking for motivation, I say consider a sprint triathlon (1/2 mile swim, 13 mile bike and 3 mile run). It takes some effort but is much easier than say, a marathon. Unlike training for just a single sport I think triathletes can avoid injury. Plus, I rarely was bored working in the three different sports this summer.
Getting Started
I followed a basic plan I got from REI. They say to plan for at least 12 weeks of training prior to your event, but I only gave it 6 weeks since I was already in shape. 

Dinner with a View Brooklyn Bridge Park Estuary
Brooklyn keeps its cool vibe by continually updating the landscape. The constant flux of restaurants and entertainment keeps our community vibrant and one of my favorite things about where I live is getting the chance to explore. My latest adventure was for a dinner with a view ...read more
Get Ready for Summer Tea Collection Sale
Even if we all have to stay local, summer is going strong. As you head to the pool or day camp you might have noticed your kids GREW during the past year. Just in time for summer, Tea Collection is rolling out a big deal on swimwear and graphic tees for kids. I've enlisted some ...read more
The Key to a Great Overnight Oat Recipe
Working moms know the importance of meal planning. I'm getting ready for busy few weeks and I've been perfecting my fast breakfast options. I've been using Bob's Redmill Organic Steel Cut Oats to prepare my overnight oats for a nice, cold breakfast in the morning and I'm going to ...read more
The goal: Complete a minimum of two sessions of each activity (swim, bike and run) during the week. Also include a brick session, which is your bike and run workout completed back-to-back (and which can also be a swim/bike workout). Finally, include an open water swim or two each week if your race is taking place in a body of water other than a pool. See the full article here.
Sample Training Grid
This sample grid is from Shape.com
What's your fitness goal? Have you ever wanted to do a triathlon? Next summer we may tackle the Olympic distance (double all the distances of the sprint). For now, I'm pleased with my performance and my tomatoes.
MORE RUNNING FROM MOMTRENDS
PIN IT!
Use Pinterest to save your favorite parenting articles. Be sure to follow our Running board here.
Momtrends was not paid for this post.