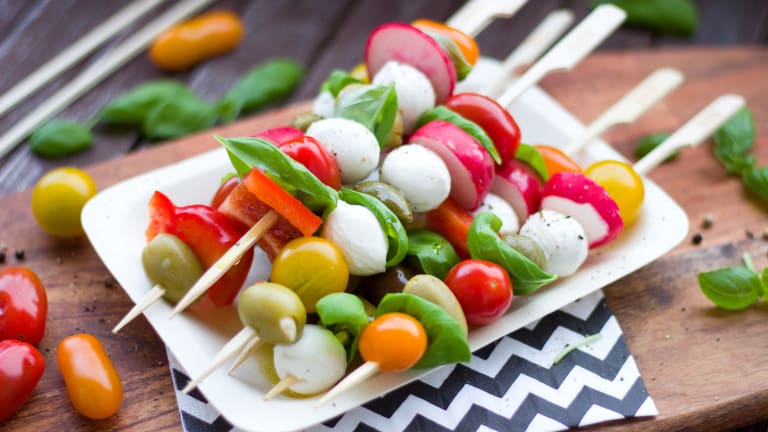 Our Favorite Make-Ahead Party Appetizers
We love throwing parties, but we also have kids. These time-saving appetizers can be prepped ahead of the party.
Holiday party season is here - whether you are hosting just a few or a large shindig, the last thing you want to do is to be sweating and stressing in the kitchen over your appetizers. So we've rounded up some of our favorite, make-ahead apps that are delicious and won't have you stressing when your doorbell rings. Make up one of these the night before and don't forget to whip up a special cocktail.
Time-saving appetizers can be prepped ahead of the party
After too many parties where I was frantically trying to finish plating individual butternut squash and cranberry brushcetta toasts for a crowd (really, what was I thinking?) or cooking up the filling to this endive stuffed with warm pears and blue cheese, I've decided stress is not a good party look for me. So I've been compiling a collection of party appetizers beyond the traditional dips and cheese platters that I can prep ahead of time and take no or minimal work in the kitchen minutes before guests arrive. 
Here are a five of my favs - but I'm always looking for more! Share your favorite make-ahead apps in the comments below.
Crispy Brussel Sprouts with Garlic Aioli Recipe
Crispy Brussel Sprouts with Garlic Aioli this is my new favorite app of the season. I can't say that I'm a Brussel sprout lover, but I could eat an entire bowl of these. Granted, it's probably the yummy garlic-y aioli sauce. The sprouts are easy to cut into quarters and roast in advance - this recipe is best room temp. I've also added some halved baby potatoes which are also quite tasty in the aioli too. (Photo: Costa Kitchen)
Prosciutto-Wrapped Melon Recipe
Prosciutto-Wrapped Melon - this is a classic and delicious flavor pairing that is easy for the kids to help with (melon ballers make it fun!). Wrap honeydew or cantaloupe melon with a strip of prosciutto. Secure with a toothpick and pop in the fridge until you're ready to serve. (Photo: Bellalimento)
Spicy Shrimp Tapas Recipe
Spicy Shrimp Tapas - while you do have to cook the shrimp, this appetizer comes together pretty quickly if you buy pre-cut mango and assemble ahead of time. (Photo: EatWell)
Holiday Bourbon Whiskey Meatballs Recipe
Holiday Bourbon Whiskey Meatballs - If you have the kind of crowd that is going to boo a veggie tray, you might want to consider these oh-so-tasty meatballs. I made them once and they were d-e-v-o-u-r-e-d. You use pre-made meatballs and put together a decadent sauce with just a few ingredients. Pop them in a crockpot and you have a delicious, hands-off, hot appetizer for your guests. (photo: MyHomemdelife)
Caprese Stacks Recipe
Caprese Stacks- if you can still find tasty cherry tomatoes, this app comes together in a few minutes. Buy mozzarella balls and either wrap with a basil leaf as show in the picture or just add it to the toothpick. Drizzle with balsamic vinegar right before serving.
What are your favorite make-ahead appetizers?
More Food Ideas From Momtrends
Pin It!
Be sure to to follow our Recipes to Inspire board here.
Momtrends was not paid for this post.