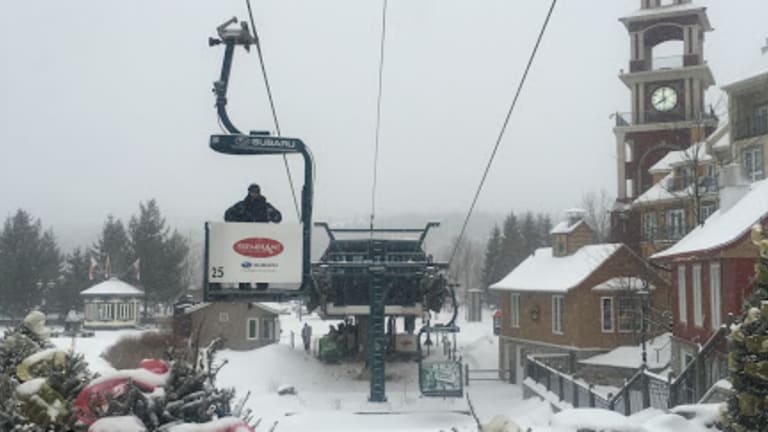 Why we Pick Mont Tremblant for our Family Ski Trip
At Mont Tremblant in Canada, you can get a feel of being in a European ski village with great snow quality without having to fly across the Atlantic.
We picked Mont Tremblant in Quebec, Canada for our family ski trip for three reasons: location, snow and off-mountain fun. At Mont Tremblant in Canada, you can get a feel of being in a European ski village with great snow quality without having to fly across the Atlantic. Plus, when it's too cold or blustery to ski, there's tons to keep the kiddos busy in Tremblant.
For the latest COVID precautions and travel related news check out the Tremblant website.
Family Ski Resort Mont Tremblant
It's hard to find a resort that will keep everyone equally happy on a ski vacation. Mont Tremblant is a rare recommendation that I can make that covers just about all ages and abilities. The mountain can serve beginners and advanced skiers alike. It's also located near a metropolitan center and is easy to access for both Canadians and international guests.
Beyond excellent snow and a great location, it's also a destination ski area. The surrounding area has been built up to support tourism with shopping, restaurants, and off-mountain activities that can turn a ski trip into a full-blown vacation. 
Read on about planning your perfect Tremblant trip, but before I go on, let's talk about the elephant in the room. 
Yes. It is really cold.
On our second visit we saw temps of -22. 
Keep this in mind when you are planning. You are going to want to bring really warm gear AND you are going to want to have a nice place to stay.  The idea is to ski long and hard on the warm days and to explore indoor fun on the frigid ones. There's a reason the cold temps don't keep folks away, this place is really special and a load of fun to ski and explore.
Planning Your Ski Day at Tremblant
Let's say you've checked the weather and have a "GO" day. Here's how to plan. Start your day at Le Cabriolet, the village gondola that sweeps you up to the base area. It's free even if you're not skiing and gives you pretty views of the village below. If you can, begin you ski adventure from the Express Gondola. Once you're on the Gondola it takes about 12 minutes to be whooshed up to the top. Bonus--it's warm inside the Gondola.
Managing the lines here can be a bit of a chore. After 9:30 there can be a 45+ minute Gondola wait. No worries though, an alternative is the Flying Mile quad lift at the base which has a much, much shorter lift line. To get to the top, take the Flying Mile lift to the TGV and you'll avoid the gondola altogether and get to the top the open-air way.
Once you're at the top, you've got a bevy of options. The North Side of the mountain has excellent advanced trails. Since I skirt the line between expert and advance intermediate this was right in my comfort zone. I adored the long Duncan Haute run and could do laps on the Duncan express all day.
A good warm-up program is to take the Flying Mile quad lift to Cure Deslauries to Promenade. 
MOMTRENDS TIP: Avoid the slick and icy Johannsen in later afternoon. This artery that runs to the base gets a lot of traffic and the snow gets skied off early—leaving icy remains. Slow down and turn onto the Roy Scott east trail to avoid afternoon spills.
There are a number of dedicated learning zones throughout the resort. They are well signed so no experts will mow down anyone trying to learn the ropes. Furthermore, the easy runs are long and pretty. Often resorts relegate the green trails to the less prime real estate. Not so Tremblant. Take the Gondola up to the top of the South Side and you'll get a long winding run along Nansen Haut that will finish at the base. On the North Side, try the P'tit Bonheur down to the Lowell Lift.
MOMTRENDS TIP: Be sure to use your "First Tracks" pass one morning and take the Gondola at 7:45am and you'll be up top by 8am clear of lines! 
To get to the hill, rely on the shuttles to take you to the village. Grab a shuttle from your condo or use the free satellite parking (also serviced by shuttles).
Ski & Snowboard Lessons at Mont Tremblant

Oh my goodness, there are so many options to get the kids a great ski or boarding experience. From tiny tots to tweens, there's something for everyone. For little tykes, visit the Clube des Juenes ("Kidz" Club) for day care. They have both indoors and outdoors facilities for children ages 1 to 6—ideal for kids too young to ski. Shifts run 8:30 to noon and 12:45 to 4:15. Full day is also available. Call 819.681.5666 for rates.
But don't settle for indoors, Mont Tremblant has an excellent ski school! Look for the red jackets all over the hill and you'll see friendly instructors guiding small groups of kids down the slopes. I love the "flaik" system that they use. We've tested it before at Copper Mountain and love the ability to track your kids and watch their progress. It's a GPS technology that offers parents and kids a great way to track which runs they visited during the day. Plus you can rest assured your child won't get lost on the mountain!
Unlike most resorts, at Tremblant you can start your boarders early. Riding lessons start at age 3! Same for skiing, but this is noteworthy because many resorts don't start riding lessons until age 6 or 7. Burton is the sponsor of the Riglet Park and is setup with terrain just right for kids. Fees start at $45 for the exclusive use of this park.
Beginners off ALL AGES are welcome at Mont Tremblant. Group lessons start at $75 making it an affordable place to learn. Off to the left of the base area are a series of magic carpets. They finished away from the herds and are quite easy to access, so little one can take breaks in between runs.
Best deal: Learn to Ski Program with 2+ hour lesson, lift ticket, and rental of equipment $99 for kids 3-4, $135 for kids 5-12 and $75 for kids 13+.
For young kids 3-4 try the Mother Nature Camp a half-day skiing and a half-day in daycare. $99 for the day.
For more details go to Tremblant.ca/beginner
New Indoor Fun at Mount Tremblant
When the temps dip into negative territory (and they will, it's known to be a cold mountain), rest assured the kiddos won't complain of boredom. Brind'O Aquaclub is Tremblant's new family waterplay center. Opening at the tail end of 2019, it's a great addition to this family resort. 
Tremblant, like any ski resort can get weather that fluctuates wildly. It's important to have options for the kids. No one wants to get stuck in a condo for 4 days with grumpy kids. Most resorts have a pool that will keep the kids occupied for a few hours. Tremblant has something 10x more fun. Tremblant Resort Association put in $3.8M investment to make sure families can play even when the elements outdoors aren't cooperating.  
The colorful new space is all about letting kids PLAY. There are four water slides ‒ the biggest one a soaring 20 feet high ‒ along with 35 interactive water games. Parents can chill in the indoor and outdoor jetted hot tubs. If you want to get in a workout, the newly redesigned fitness room now offers cutting edge gym equipment, extra space and lots of natural light.
Located right in the village, this is an indoor water park sure to keep your kids happy for hours and leave them exhausted at the end. I let the kids frolic while I used the treadmill at the serviceable gym in the facility. Smart planning to put a gym inside the same building. For more adult fun, go for a soak in the outdoor hot tub. Kids can only use the indoor one, so it's a little peaceful haven. The girls loved this activity and I was happy to have an affordable gym option so close to our condo. Call 819-681-5668 for more details.
For a grown-ups only experience head to the Scandinave Spa. The full Momtrends review of this gorgeous outdoor hydrotherapy facility is here.
Snowshoe Adventure at Mont Tremblant
Outdoor options BEYOND skiing and boarding are plentiful. Our 3-hour snowshoe adventure tour was a blast. Out guide suited us up with snowshoes (they were extremely easy to walk in) and led us up the South Mountain on trails tucked into the trees. There was plenty of fresh powder to tromp through. Along the walk, out guide pointed out nature facts. We made a stop along the way where he built a fire and magically whipped out marshmallows to roast. He knew spots to take in lovely falls frozen over with icicles and definitely kept both children and adults entertained. The tour ranges in price from $32 for adults and $10 for kids and includes the snowshoe rental.
Visit The Activity Center in the village to book snowmobiling, dogsledding, snowshoeing, sleigh rides, zip lines and more. Or call 819.681.4848
Cross Country Options near Mont Tremblant
Cross Country or Ski de Fond is about 15 minutes away from the resort. Hop on Montée Ryan and head towards Montreal. Since we have a bit of experience with Nordic, we just rented skis and hit the trails, but lessons are available. Rate start at $40 per person. Equipment rental is about $28 per person. All in, our family got passes and gear for 4 at a cost of $116 Canadian. A deal! Check out skidefondmont-tremblant.com
Want more? Plan all your winter holiday fun activities here www.tremblantactivities.com
Lodging at Family Friendly Mont Tremblant
When it comes to lodging, there are plenty of options. With more than a dozen inns and hotels at the base, that's an no-brainer. Our family likes the comforts of home, so condos are usually our pick. We prefer the option (and affordability) of a home-cooked hearty breakfast. Our home for the weekend was in Les Manoirs managed by Sunstar Tremblant. A convenient shuttle connected our condo with the mountain. Drivers circled around every 30 minutes to escort us to the slopes. The pick-up location was steps away from our condo and the commute to the mountain was about 7 minutes.
The 2-bedroom, 2-bath condo itself was a delight. We had a huge family area complete with cable TV (a million channels in both French an English) a dining table that would seat 6, a working fireplace stocked with wood and a kitchen that had all the trimmings. And, get ready for it, a washer and dryer COMPLETE with laundry supplies. These little touches are awesome!
Sunstar has a bevy of options (16 in all) that are family friendly. Book your rooms at www.tremblantsunstar.com
Lodging privileges include "First Tracks," sliding evenings (starting at 6pm families can enjoy free tubing at the base of the mountain--for kids 4+), and free ice skate loans.
Luxury Lodging at Tremblant
Another great option is the Fairmont hotel at Tremblant. This property is a true ski-in/ski-out full-service luxury hotel. It boasts wonderful views and an awesome outdoor pool. It's a large hotel with more than 300 rooms and 60 suites. 
Some of the larger rooms have kitchenettes and there are a handful or corner condos with kitchens. To book your room head here.
Family-Friendly Food at Mont Tremblant
Dining out is a mom's prerogative. Tremblant has many tasty options that will please both grown up palates and the tastes of the kiddos.
Our first dinner in town was at an excellent Italian restaurant (now closed). We had lovely service and a cozy table. We started with way too tempting fresh bread and then crisp salads. The children tucked into pasta with marinara sauce. My husband won the best pick award—his manicotti special was out of this world. Definitely save room for dessert the Italian crème brulee can't be skipped, it's got a tangy lemony burst in the month. Yum!
The second night out was at Ô Wok. Asian food with a modern flair. The girls started with pot stickers and chicken satay. The grown-ups had broiled salmon for mains while the kiddos dug into noodle dishes. Everyone left full and satisfied. I liked the cool vibe inside—lots of Buddha and red lacquer.
For lunch, I suggest Pizzatéria. The thin crust pizzas were ready in a flash and just what we needed to power up for more skiing. The kids went for traditional margarita pizzas; the adults had a specialty pizza with arugula and prosciutto on it. Salty perfection!
Sweet Treats: Oh La Vache has he best hot chocolate in town. A maple taffy on snow is required at the end of the ski day. Watch the experts make them right next to the gondola. There's usually a line and it's definitely worth the wait!
TIP: shop before you get to Mont Tremblant. Along 117 you'll find an IGA and a MAXI. Both places are fine to stock up on breakfast and snack foods and would have everything you need to make complete dinners. In the village, there's a Magasin Général or general store. As expected on mountain supplies are priced 2x compared to what you'll find off mountain. But we did stock up on more wood and baguettes from the shop in town—it's handy to have.
Shopping at Tremblant
Since the US dollar was strong we indulged in a bit of shopping. The resort has loads to pick from. We loved the sizable Roots store in town for après-ski clothes, and found ski gear for the kids at the Magasin de la Place.
TIP: En route to the airport, along 117 you'll find a series of outlets on your way back to Montreal. We scored BIG sales on ski clothes for the kids.
Getting to Tremblant
Just 77miles from Montreal, (we've heard that there are some New Yorkers who drive the 450 miles to Tremblant) Mont Tremblant offers world-class skiing in a setting that's incredibly easy to reach. Though there are shuttles everywhere, we did find having a car quite handy.
Momtrends Tip: Fly into Quebec for the fastest route possible. 
Overall this is the perfect spot for a family getaway. Tremblant ideal for a sophisticated family that requires great snow and excellent off-mountain experiences. We'll definitely be back.
MORE SKI FEATURES FROM MOMTRENDS
PIN IT!
Use Pinterest to save your favorite family travel features. Be sure to follow our Ski Moms Pinterest Board.