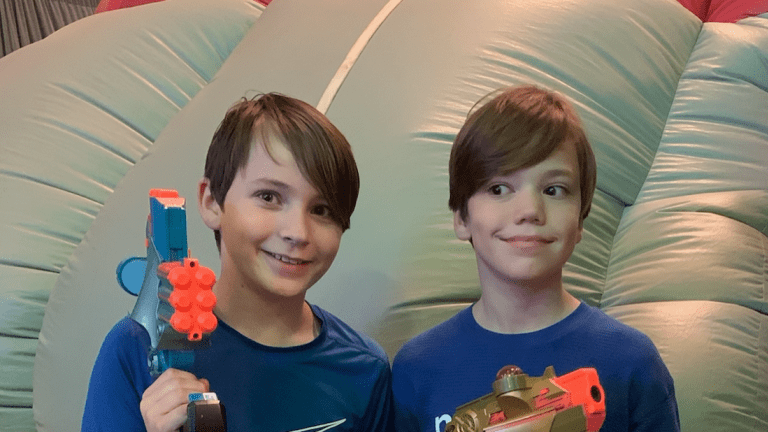 Extreme Fun takes over at Liberty Science Center #ExtremeLSC
Laser tag! Slime! A massive ball pit! Blast off into a brand new adventure for kids at Liberty Science Center
We've been spreading the word that the Liberty Science Center is anything but basic and boring. It's the type of children't museum that makes you want to get a monthly membership and actually use it! The latest reason to visit this New Jersey landmark is called EXTREME. This weekend we got to join the Extreme Fun takeover at Liberty Science Center.
Extreme Fun takes over at Liberty Science Center 
Happening every fourth Friday from 6 pm – 10 pm, Extreme LSC is the ultimate way to kick off a weekend of fun. Perfect for kids ages 3-12, this is a hands-on exhibit for kids who love ACTION.
We know, we know, your weekends are crazy (indoor soccer seems to be taking over the area this winter, and don't even get us started on dance recitals!). This is an awesome way to see the best of the LSC in one night and STILL have a free weekend.
We gathered our influencer friends for a night out. The kids started off with an energetic game of laser tag. Yep, even some of the parents got involved in the laser tag arena. 
A favorite activity was the slime area. No mom actually wants to make this stuff at home, at LSC you get to be the fun mom and say YES to everything. Go ahead, get messy with slime experiments. If you want you can even bring the slime home (but I wouldn't, because...carpets)
You'll also be able to score seats to see the new planetarium and laser shows. On nights when the weather allows, families can head outside for stargazing through our high-powered telescopes alongside space experts.
Still have a little energy left after all this? Let the kids hop into the massive ball pit. I guarantee they will have a blast and sleep well!
All of LSC's exhibitions will be open, too! Your ticket will give you access to all the museum favorites – the Touch Tunnel, the Infinity Climber, the animals in Eat and Be Eaten. Something about being at a museum past dark makes it feel extra memorable. 
Get More information on Extreme Nights at Liberty Science Center 
Get discounted advance tickets now for Dec. 27. Take advantage of the limited time online discount: $15 for kids, and $20 for adults. After the discount ends, all tickets will go up $5. Tickets at https://lsc.org/explore/extreme-lsc
The LSC cafe will also be open serving food and snacks throughout the evening. Accompanying adults 21 and over can enjoy a menu of beer and wine. Consider it a date night and family time all rolled into one.
For an additional cost, you can also experience LSC's newest premium exhibition: Angry Birds Universe!
PLAN YOU VISIT TO THE LIBERTY SCIENCE CENTER
Make the most of fall in NYC, grab the kids and go! Liberty Science Center is located in Liberty State Park in Jersey City.
Plan your visit: Happening every fourth Friday from 6 pm – 10 pm. Get discounted advance tickets now for Dec. 27.
Liberty State Park 222 Jersey City Blvd, Jersey City, NJ 07305 (201) 200-1000 https://lsc.org/
PIN IT!
Use Pinterest to save you favorite ideas for family fun in the NYC area. Be sure to follow our NYC Mama Board here.
This Extreme Fun takes over at Liberty Science Center #ExtremeLSC feature is sponsored.