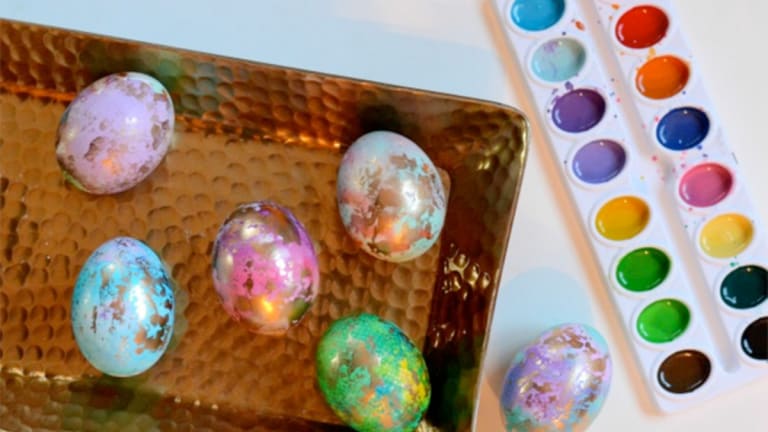 Did you happen to catch our recent Facebook Live video about Easter egg-decorating hacks? We shared two fun and easy ways to make dyeing, coloring, and crafting those pretty-in-pastel eggs way easier. Unfortunately, both outcomes were sorta #PinterestFails... ah the beauty and hilarity of live streaming!
Related: DIY Easter Bunny Basket and Bunny Game
Alas, despite our shoddy results, we really do think there are a few simple methods to make the Easter egg decorating process a breeze for Mom and a whole lot of fun for the family. We've rounded up five ways to embrace your artistic side this Easter!
Gilded Watercolor Eggs: These are the prettiest eggs we've ever laid eyes on; and making them is easier than it looks. All you need is a paintbrush, some watercolor paints, tin foil, and metallic spray paint. Blend swirls of different paint colors together to cover the surface of the egg. Once dry, spray a bit of metallic gold spray-paint on a piece of scrunched up tin foil, and gently wrap around the egg to create the gilded effect.

Save Money at a Ski Swap
Are the slopes in your future? If you want to save money on ski gear, consider a ski swap. A swap is a great way to buy and sell used equipment. Most swaps consist of a variety of gear, from brand new to used skis and snowboards to skis; from poles to boots to bindings and ...read more
The Ten Best Wooden Play Kitchens For Kids
Cooking is a timeless fascination for children. This type of play goes beyond gender and teaches kids loads of life skills along the way. An investment in a play kitchen is money well spent, as it can provide hours of entertainment. We've rounded up the ten best wooden play ...read more
New Victory Announces a New Season of Shows
We know you're busy planning picnics and summer outings, but we wanted to let you know that The New Victory just announced their new season and it looks fantastic. We thought you'd like a sneak peek of what's in store! Each year the New Vic theater brings culture to tourists and ...read more
Shaving-Cream Marbelized Eggs: Fill a tin with shaving cream. Next, drop in multiple dots of food coloring and use the pointed edge of a paint brush to swirl it all together to create a marble effect. Roll your egg in the shaving cream, and leave it to dry covered in foam for 10 minutes, minimum.
Diaper-Cream Painting: Grab a little of that thick white diaper cream and use a thin brush to paint designs on your egg. The cream will act as a barrier (just as it would on your Baby's bum), and once your egg is dipped in dye, the painted portion will stay white. After the egg has dried, simply wipe the cream off with a dry towel.
Try Chalk or Scribbleable Eggs: No doubt about it, no matter what hack your try or method you use, dying Easter eggs will be a messy and potentially stinky process. And that's why we're such big fans of Crayola "scribblable" eggs. These fake plastic eggs can be drawn on with crayons, marker, or paint. Plus they split in half to hide delicious treats. Chalkboard eggs are also a hit!
MORE EASTER IDEAS FROM MOMTRENDS
PIN IT!
Use Pinterest to save your favorite entertaining ideas. Be sure to follow our Easter Pinterest board here.
This is not a sponsored post. All opinions are our own.