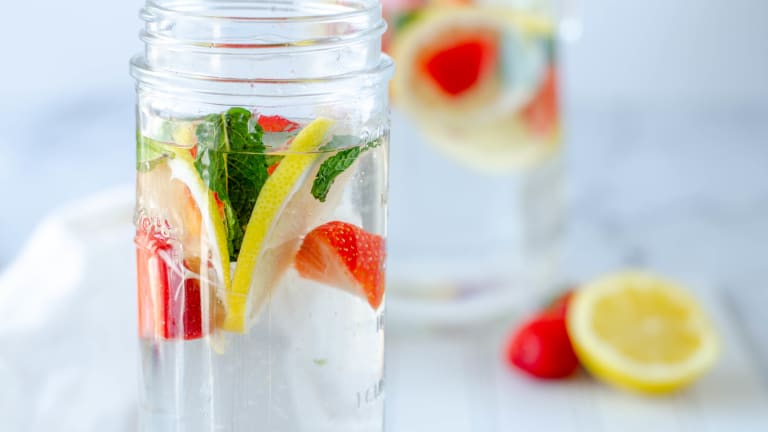 Detox Your Body With Fruit-Infused Water
Hydration with fresh fruity flavor... it really doesn't get easier or more refreshing and it's a great way to detox.
Can I tell you one of my favorite things about walking into a tropical resort, destination hotel, or spa center? ... It's the abundance and availability of fruit-infused water. I know, I know... I'm easy to please; it's just one of the simple pleasures and little luxuries I can rarely resist. I'm very interested in natural ways to detox my body. Since I can't get to a spa right now I'm sharing a colorful way to detox your body from home with fruit-infused water. 
How to Create Detox Water
Gimme some strawberries or citrus slices in plain ole tap water, and I feel like I'm somewhere exotic and foreign. Hydration with fresh fruity flavor... it really doesn't get easier or more refreshing. I love it, and, better yet, so do my kids! They generally want juice, so it makes me so happy that I can get them drinking H20 with a few fruit chunks!
Beyond the benefits of hydration and flavor, I never really gave fruit-infused water too much consideration. But then I was introduced to Simply Fae, a beautiful lifestyle site launched by NYC wellness enthusiast, _. She believes in the detoxifying powers of fruit-infused water, and is sharing her wealth of knowledge with Momtrends. 
Why a Fruit-Infused Water Detox
"Detoxing is what your body does naturally each and every day to neutralize, transform, or get rid of unwanted materials or toxins. You can improve & optimize your own body's detoxification by supplementing meals with detox drinks," Fae says. (P.S. you didn't see our Facebook Live, head on over and watch Fae in action.)
Fae doesn't encourage using detox water as a cleanse (and we love that, because we like to eat around here!), but she does promote drinking one bottle a day. I can do that... You can do that! Heck, even my littles can handle that!
Each ingredient has its own benefits for detox water. For example, strawberries are rich in antioxidants, which can help to flush toxins, fight inflammation, and boost the immune system. Citrus aids in digestion, bolsters the immune system, rejuvenates skin, supports weight loss, and can help prevent kidney stones.
Detox Water Guide
You're probably going to want to print or pin this image, it's full of detox information on what to add to your water. 
When Fae stopped by our Dumbo offices, she made us a batch of strawberry, lemon, and mint water which couldn't have been light and brighter and more rejuvenating for summer--and now we can wait to try a few more recommended varietals, like strawberry, kiwi, mint water--yum!
This is an easy an inexpensive way to boost your health. Happy sipping.
More Detoxes from Momtrends
Pin it!
Pinterest is THE place to save your favorite health and fitness articles. Be sure to follow our Health & Fitness and board here.
This is not a sponsored post. All opinions are our own.