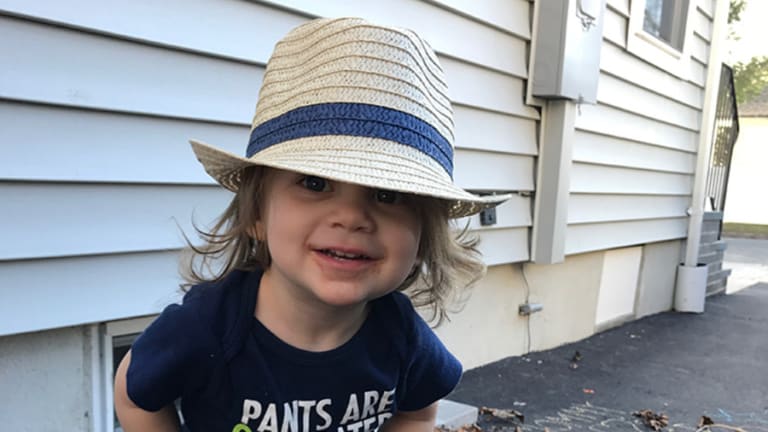 Cute Graphic Onesies for Baby
I'm a huge fan of slightly ironic graphic tees for Mama--so, naturally, I'm all about expressive onesies for Baby too!
When my husband dresses the baby, it's typically a comedy of sartorial errors... Weather-inappropriate top, way-too-small pants (like, where did you find those?!), and mismatching socks. It's a hodge-podge of whatever clean items he can actually manage to pull together. It's almost like he pulls out everything from the back of the closet, tosses his hidden loot into a bag to mix them up, and blindly reaches in... I call it grab-bag chic.
Related: Throw and indoor camping party this summer.
So when I called my husband to tell him I was on my way home from an early morning appointment, a couple of weeks ago, and he proudly proclaimed that the kids were already dressed and ready to start the day, I cringed on the inside... What was I coming home to?!
Alas, I was pleasantly surprised to see that this little tomboy of a lady was, well, in pretty much the sweetest styles ever. "I couldn't find any clean clothes for her, so I grabbed this outfit out of storage." Yes, my husband neglected to see the beautifully pressed piles of girlie garb in her changing table drawers, and went straight the basement to pull out my son's old baby stuff... unintentionally resulting in, what I think, just might be the cutest outfit ever.
Needless to say, she was happy as can be in her super cozy outfit. I think she was relieved to get a day off from the frilly frocks and glitter-embellished, well, everything I usually doll her up in!
Ketchup on her messy mouth, hat covering her knotty hair, and light-up sneakers to brighten an otherwise cloudy day. That is the essence of this happy soul. I really do think this outfit and her carefree smile capture her personality perfectly... I've got to turn to Daddy's styling skills more often! (And doesn't she just look like she's modeling for a fashion -blog photo-shoot right here!). 
I'm a huge fan of slightly ironic graphic tees for Mama--so, naturally, I'm all about expressive onesies for Baby too! Tell us how you really feel, little one... Indeed, this rough-and-tough girl of mine would prefer to go through life sans pants--so this ensemble gave me a hearty laugh. And that panama hat (also her brothers!) is just the finishing touch her hipster outfit needed.
We're almost out of the onesie phase, and I'm super sad about it. I love the convenience of a baby bodysuit, and I'm going to squeeze her into them as long as I possibly can... and Imma dig through the archives to pull out a few more gems like this one!
I've rounded up a few favorite graphic onesies, below... Because, Baby life is better in a cute and comfy onesie... and #thesnuggleisreal.
MORE TRAVEL IDEAS FROM MOMTRENDS
PIN IT!
Use pinterest to save your favorite family travel destinations to help inspire your next trip. Be sure to follow our Travel with Kids board here.
This is not a sponsored post. It may contain affiliate links. All opinions are our own.