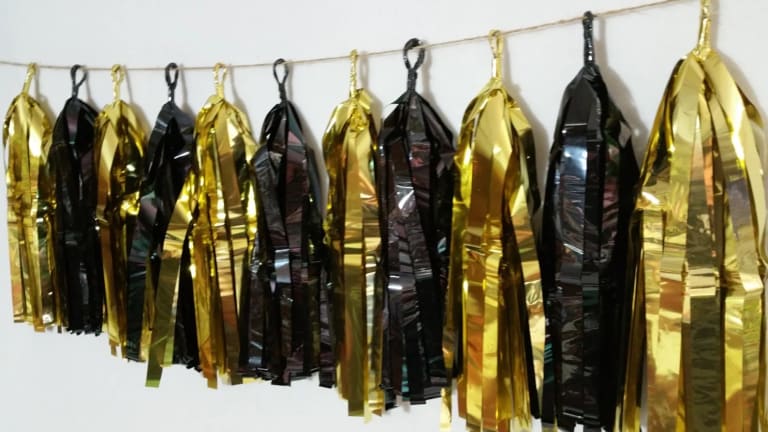 Cute Game Day College Outfit
Fall fashion that's perfect for a football game or spirited weekend.
I'm heading to my Vanderbilt Homecoming game this weekend. That means wearing black and gold with pride. I love a cute game day college outfit and the new "Spirit" collection from Draper James and Reese Witherspoon includes the perfect things to pack for this Commodore (our school mascot).
Reese Witherspoon is a Nashville native. While she didn't go to Vanderbilt, she does have a store in Nashville and I'm sure she knows how gung-ho the students are about Vandy. I've got a big reunion this year. I graduated in 1992 (you do the math) and can't wait to get back on campus.
According to the Princeton Review, Vanderbilt has the happiest students in the United States! I'm not surprised. I loved my four years there at the A&S School (fun fact: I graduated as an English Literature Major focused on 19th century British Literature, but can't spell).
Of course I'll be wearing black and gold! When I was at the Draper James showroom in NYC this summer I loved this collection that is ideal for college pride.
Cute Game Day College Outfit
I called up my friends at the PR agency when I was putting together this game day story. They sent over these pieces which are most certainly ready for tailgating in Nashville!
This soft merino wool black and gold sweater is ideal for SEC football. It has contrast tipping and a cute "Go Y'all" pom pom pin. Spirit Sweater comes in black and gold and five other college colors.
When I went to Vanderbilt, the students got dressed up for football games. Even though we were horrible at football (we are better now) all the students got involved. My sorority AOII often had mixers with the fraternities on campus and girls wore cure outfits and the boys blazers and ties. It was southern preppy thru and thru in the 1990s.
As an alumna, I still like to be fashionable on campus, and I will be carefully picking and packing for this trip.
For night games, or those of you who went to school in the north, add on these Spirit Mittens (but since they say "Go Y'All" I'm guessing better for SEC schools!) and the Spirit Poncho Sweater. 
Thankfully, the weather in Nashville is pretty warm so there's no need to get too bundled up. When I went to school there, I just needed a fairly light coat to get through winter.
I'm 100% a poncho girl. I love the drape and the coziness of them. This look is perfect to layer over jeans with black boots for the chillier game nights. The merino wool is super-soft and cozy.
This is a piece that can take you through the winter in Nashville. It's a savvy purchase for locals.
Tell me friends, do you go to your reunions and homecoming games? Do you wear school colors with pride? And definitely let me know if you are a Commodore or AOII!
MORE FASHION TIPS FOR MOMS
PIN IT!
Use Pinterest to save your favorite fashion posts. Be sure to follow our Fall Fashion Trends Pinterest board here.
This Cute Game Day College Outfit feature is not a sponsored post.