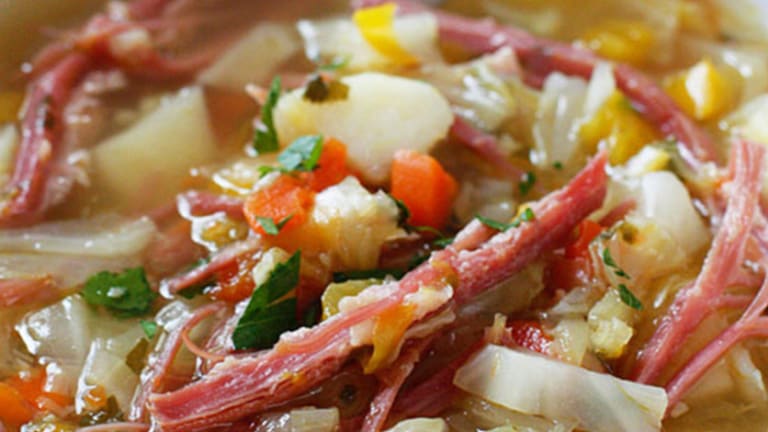 Unique Corned Beef and Cabbage Recipes
March 17 is St. Patrick's Day. And in addition to wearing green, drinking a stout, we've got cool corned beef and cabbage recipes
March comes in like a lion and out like a lamb. Well, we've hit the midway point in the month, and it feels a lot more ferocious than cuddly and cute. Spring might technically be a few days away, but the snow on the ground and the temperature outside say otherwise. Winter is still very much rearing its ugly head—roar!
Related: Green and Tasty Match Shake Recipe
Good thing I can rely on a hearty, heavy winter-appropriate meal to warm up to this week. March 17 is St. Patrick's Day. And in addition to wearing green, drinking a stout, and counting my lucky charms, I'm also making a big batch of corned beef and cabbage for dinner.
It's one of my very favorite meals—and I only indulge in it once or twice a year—and always on St. Paddy's Day.
I definitely will be going the more traditional route with my peel-apart corned beef and soft soupy cabbage, but definitely want to try some of these more interpretive recipes. To celebrate the day that everybody is Irish, I've rounded up a few interesting, unique, and tasty CB&C recipes. Enjoy!
Corned Beef & Cabbage Pizza via Food.com
Corned Beef and Cabbage Soup via Skinnytate
Corned Beef Reuben via Melanie Makes
Corned Beef and Cabbage Egg Rolls via Home Made Interest
Corned Beef Cabbage Rolls via Home Made Interest
MORE ST. PATRICK'S DAY FROM MOMTRENDS
PIN IT!
Use Pinterest to save your favorite crafts, menus and parties for St. Patrick's Day here on the Momtrends St. Patrick's Day Board.
This is not a sponsored post. All opinions are our own.