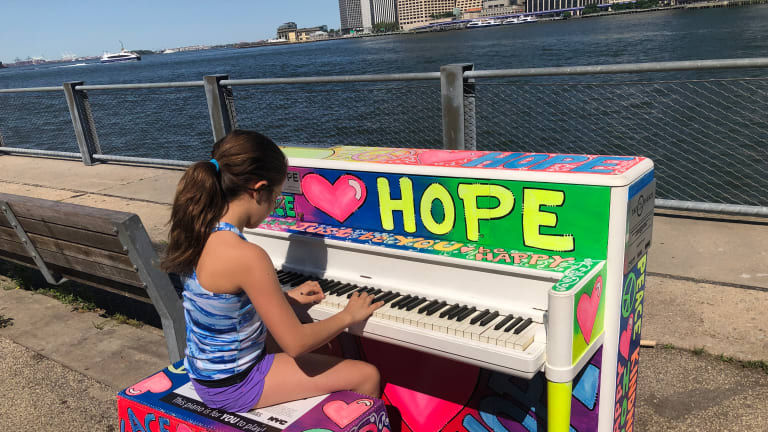 Colorful Outdoor Pianos in NYC
Musical fun hits the NYC parks
We're a music-loving city. And we go out of our way to celebrate the arts. I have two girls that love musical theater (check out our most recent Broadway favorite here) and we do our part to help artists thrive in NYC. For the past eight years, I've loved spotting the colorful outdoor pianos in NYC that help support the arts.
Colorful Outdoor Pianos in NYC
Every June, these hand-painted pianos pop up all over NYC. Players, like my daughter, can play tunes or work on scales on colorfully decorated instruments. We're not quite sure of the etiquette (perhaps it'll be like waiting for a swing to open in the playground). 
Sing for Hope Pianos
50 artist-designed pianos will be found at parks and public spaces across the city. The pianos were donated to support Sing for Hope. As part of its annual fundraising event, Sing for Hope sets up pianos in public spaces across the city and invites New Yorkers to drop by for an impromptu performance. 
This year, the organization set out its 500th piano -- we found this one in Brooklyn Bridge Park.  The other pianos were scattered through parks and public spaces of all five boroughs. After time outdoors, the pianos head to NYC public schools.
Designing Pianos for the Streets
This year the pianos were designed and painted by artists that hail from all five boroughs as well as around the globe. A few of the musical works of art were created by the casts of musicals such as Dear Evan Hansen, Jersey Boys, and Mean Girls.
Find out more about Sing for Hope here
For more of the best things to do in NYC visit https://www.momtrends.com/page/just-nyc-moms
Pin it! 

Use pinterest to save your favorite NYC articles.
Momtrends was not paid for Colorful Outdoor Pianos in NYC this post.