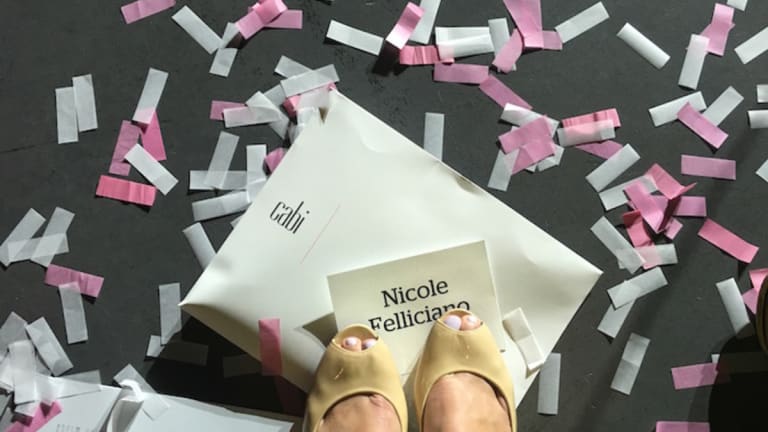 Cabi La Dolce Vita Spring Fashion Show
Checking out spring fashions live from cabi scoop.
Cabi fashion shows are a revelation. Yes, I've been known to get excited about fashion. In fact, I've built a career and a business based on my love of style. I'm no stranger to the buzz one can get from scoring the perfect pair of shoes or seeing gorgeous models work the runway.
What's new? What's next? What's fresh? I get all this and more when I attend the cabi runway shows.
There's something else about a cabi show: the energy. It's just infectious. The event is about empowering women to love clothes and love themselves. (check out the instagram hashtag #cabiscoop to see your yourself!)
It might sound a bit new-agey; but here's the thing, every time I leave a cabi Scoop (that's the official name of the biannual fashion show and business gathering) I leave energized, connected and focused. Oh, and really, really excited about clothes.
This year's cabi Spring 2016 Collection (called La Dolce Vita) is no exception. The line is incredibly "wearable" and right on trend. From slim skinny jeans in bold bright colors to playful florals I want to fill my closet this Spring with cabi. Not only do I want the clothes, I also love the "La Dolce Vita" message: a women can live a beautiful life by giving to others and using her gifts to their fullest. For women who sell cabi, this is essential. A cabi stylist truly gets to know her clients--they are trained to wardrobe women in fashions that flatter and build confidence. Cabi stylists have a gift they just HAVE to share. They simply want each client to look her best.
At cabi's Scoop event it's not just about identifying trends, it's also a chance for the 3,500 cabi stylists to hone their presentation skills, and gain tools to build their at-home businesses. These women are trained in team building, customer service and giving back to the community. Most importantly, they are trained in working the trends. Cabi designs clothes that are a mix of timeless and trendy. The stylists focus on how fabrics will flatter certain figures, how a cut of a blazer can accentuate the slimmest part of the waist, why certain necklines will look better on a full figure than others...all the details that matter.

Certainly the runway portion was spectacular--the creative team at cabi really knows how to choreograph a show for maximum effect--and I got even more juiced by the "after show." Two of the members of cabi's creative team walked through the top trends of the season and shared how to combine pieces from the collection to create a wardrobe. The cabi girls want to give their customers outfits and confidence not just a closet full of clothes that will never get worn.
Lucky me, I got to preview an outfit from Spring 2016 to wear to the event. I picked this Floral top and the Citron Skinny Jean (for my Top 5 Picks from Spring click thru here to the cabi blog). Of all the looks on the runway, I think my favorites embrace what it means to be a cabi Girl--clothes that have personality and and make a statement without trying too hard. Bright yellow jeans are just too fun. I know when the warm weather arrives, I am so ready to ditch the dark denim in favor of lighter, brighter hues. Plus, a sunny floral top is what everyone wants to wear to work or play. Effortless style delivered to you by cabi.
At cabi, it's not just about selling clothes. It's also about giving back. A big portion of Scoop is devoted to celebrating the successes of the past year and talking about empowering women in need. The brand doesn't believe in handouts, instead, cabi invests in women. Cabi has made over 6,000 small business loans to women and donated more than $44 million dollars in clothing to those in need. I'm proud to associate my brand with cabi and each Scoop is a reminder that when women join together we can do powerful things.
Find out how to live "La Dolce Vita" and see if a cabi life is for you. Maybe it's hosting a party with your friends so you'll once again be excited to talk fashion. Or maybe you're ready to start your own career in fashion as a cabi Stylist. You can get more information at www.cabionline.com.
MORE FASHION TIPS FOR MOMS
PIN IT!
Use Pinterest to save your favorite fashion posts. Be sure to follow our Mom Fashion Pinterest board here.
This is a sponsored post. All images are property of Momtrends and may not be used without permission. All opinions are my own, this is not a scripted post.