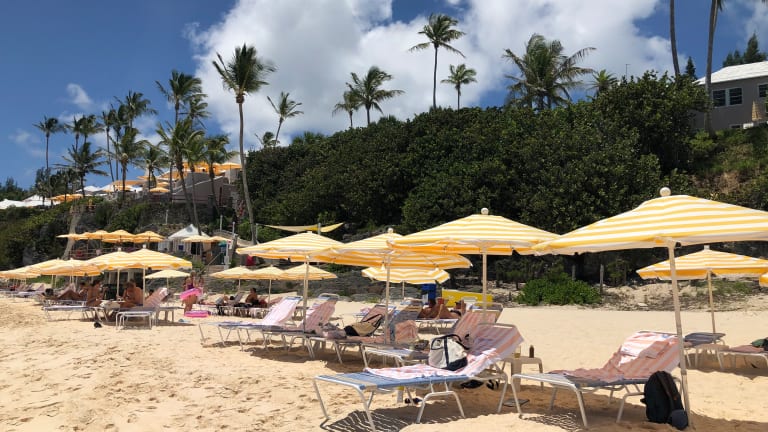 Bucket List Trips for Grandparents
One of the wonderful things about being a grandparent today is the love travel and sharing it.
Are you dreaming of travel and spending time with your grandkids right now? While we are separated, it might be a the time to start planning your dream vacation with your grandkids. That's why we talked to some friends to put together this bucket list of trips for grandparents.
One of the wonderful things about being a grandparent today is the fact that so many of us love to travel and can think of no better traveling partners than our precious grandchildren. Since vital and energetic grandparents have yet to figure out a way to halt the clock, there are some trips that we think we ought to schedule sooner rather than later. Here are some great ideas from grandparents whose passports are always kept up to date and whose grandchildren are seldom left behind.
Related: Creative ways to preserve your family travel memories
Rewinding Memories with Grandparents
Some grandparents choose a special trip with their grandchildren to mirror a previous journey. Barbara and Phil Ellerin of Lynnfield, Mass., hope to take their granddaughters to Egypt in the next few years to recreate the trip they took with Barbara's parents and their own two children 25 years ago. "I want to take them on a five-day Nile Cruise from Luxor to Aswan," Barbara Ellerin explains, "and climb the Great Pyramid in the Holy of Holies with them. I want to sit in an open patio and stare at the Great Pyramid and the Sphinx through their eyes."
Pris and Tony Kostiner of Portland, Ore., are eager to take their two grandsons, ages 9 and 12, to Israel just they way they took their two daughters nearly 30 years ago. They envision climbing to Masada, exploring the excavations from Roman times in Caesarea, maybe even hiking through the Negev. "We want to share the excitement of Israel with the boys," Pris Kostiner says. "And, of course, we want to show them where to find the 'best' pizza, the 'best' falafel, our old neighborhood."
A word of advice to grandparents: Use it before you lose it:
Other grandparents are anxious to enjoy a highly physical trip with their grandchildren, partaking in activities that might not be as readily possible in the years to come. Josene Steinberg of Swampscott, Mass., hopes to take her three grandchildren to the Galapagos Islands. "We can see the birds and animals and turtles, hop off at each island and stroll around with a park ranger," says Steinberg. She plans to do all these things while she still has the energy to hike and swim and snorkel.
Barbara and Larry Schectman of Palm Desert, Calif., know exactly where they want to take their two granddaughters. "Our dream trip with the wee ones," Larry Schectman says, "is a trip through some of our National Parks, as well as the Canadian Rockies, with the opportunity to hike, be outside in those spectacular places, and also be away from all the other interruptions and distractions (like electronics, and their parents)."
Diane and Milt Lapkin of Beverly, Mass., are planning a trip to Costa Rica with their oldest granddaughter in July. They hope to spend two weeks enjoying the rainforest, bird watching and exploring the fascinating culture of the country. Diane Lapkin says, 'We intend to do white water rafting and visit the jungle and do all the vigorous activities we can manage."
Arlene and Herb Leventhal of Boynton Beach, Fla., want to swim with their 11 grandchildren and the manatees in Florida's Crystal River. "With our tribe of grandchildren, it should be an amazing experience for all of us," Arlene Leventhal says, "and most probably for the manatees, as well."
Sharing a passion through Travel:
Grandparents frequently turn to travel to share a particular interest with their grandchildren. "History is my thing," says Helen Rees of Boston "and I want to share as much of it as I can with my granddaughters." Recently, she took the girls, ages 11 and 14, to Amsterdam. "Because they live in New York City, I wanted them to know that was called 'New Amsterdam' so they could get some understanding of the old world." Their next trip will be to Venice to explore how water was once the major form of transportation.
In the next five years, Ron and Barbara Gilefsky of Marblehead, Mass., hope to take a trip with their grandchildren to explore their families' roots. "We'd show them where our parents grew up around Boston," Barbara Gilefsky explains. "And then to the nearby cities where Ron and I spent our childhoods. Finally, we'd leave Boston and travel to Russia and Poland. It would be tracing their roots, too."
At times, a grandchild's passion dictates the destination. Merilyn Edelman of Port Chester, N.Y., dreams of renting a small castle in York, England, with her grandson Jaden, who loves castles. Edelman says, "Jaden loves to hear stories about the Vikings and how they lived in some of these castles."
Enjoying grandchildren at every age:
For some grandparents, the joy of travel is visiting a place with their grandchildren before the little ones get too big to enjoy it with them. George and Ali Freedman of Marblehead, Mass., are anxious to plan a trip to Disney World in the near future with their two granddaughters, ages 1 1/2 and 4. Ali Freedman says, "It will be such fun to see all the cartoon characters while they are still young enough to get excited over them."
Joan and Alan Okin's grandchildren want their grandparents to take them on a cruise, with one stipulation: no parents allowed. "They're deciding between a week cruise in the Caribbean or maybe a short cruise from Florida to the Bahamas," says this Silver Spring, Md., grandmother. "It depends on how long the youngest can be away from her Mommy."
Now is the time to dream and plan. Once we can safely travel again, we will all be ready to travel!
For more information, please visit http://www.grandparents.com/
MORE TRAVEL FROM MOMTRENDS
PIN IT!
Use pinterest to save your favorite family travel articles, and be sure to follow our Travel with Kids board.
