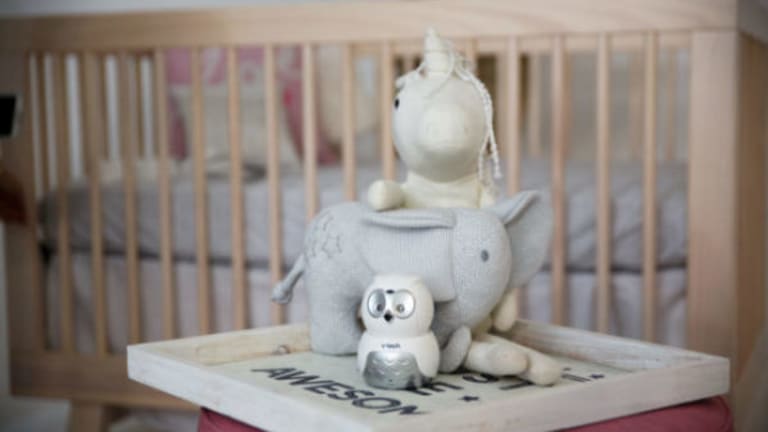 Brunch, Baby Monitors, and the #VTechNursery Challenge
Momtrends and VTech hosted an event where we challenged bloggers to create, style, and design their dream nursery for baby using the new VTech baby monitor.
I started a baby nursery Pinterest board the day I found out I was pregnant with my first. What can I say? I was excited to register for crib sheets and plush throw blankets and stuffed animals and diaper baskets and all sorts of adorably decorative accents.
I went fairly neutral with my son's nursery design--with lots of pale hues, a few unexpected pops of brightness, and a whole lot of alphabet decals to add charm and whimsy to an otherwise white space. Still, even after I completed Baby Boy's room, and he was sleeping soundly inside his comfy crib (complete with anchor-print sheets, of course), I couldn't help but keep my Pinterest board up to date. I just can't resist a cozy-cute nursery!
I know I'm not alone... What design-loving mom doesn't enjoy styling and shopping for a sweet room for her little love bug?
Earlier this week, Momtrends hosted a few NYC bloggers at a beautiful brunch and nursery-decorating challenge sponsored by VTech, to celebrate the recent launch of the brand's new baby monitor. We were treated to a delightful meal complete with a magnificent mimosa bar (I mean, Kiwi-osas?!? Yes, please!).
While munching on VTech dessert treats we were separated into three groups for the start of the #VTechNursery challenge. In the back of the loft space, a crib, changing table, and rocker were set up. Each group of bloggers had to collectively work together to create a theme for their nursery and then raid the stock-piled collection of decorations, decals, blankets, pillows, and more to bring their creative vision to life.
Of course, all three nursery designs had to include the VTech Safe & Sound VM344 Video Baby Monitor with Pan & Tilt Camera. The monitor is sleek, modern, and functional; while the camera is shaped like an adorable little owl, making it a sweet and seamless addition to any baby nursery.

Team One created a bright and whimsical room with pretty pink, gray, and gold touches and charming details, like a confetti banner hanging above the crib.
Team Two went with a woodland theme, which ultimately won them the contest! (Check out that fox pillow and that gorgeous abstract rug?)
Team Three tightened up the space to emulate a functional, fashionable NYC apartment with pops of turquoise and fuchsia.
The VM344 features remote pan, tilt and zoom features, so Mom and Dad can scan Baby's room right from the parent unit. A 1,000-feet range allows them to watch their child from most rooms in--and sometimes even outside--the house. The full-color, high-resolution 4.3-inch LCD screen makes for a crystal-clear image; and automatic night vision allows users to see their little one in the dark. The VM344 expands up to four total cameras so parents can keep an eye on more than one child or room at the same time. Finally, the monitor's two-way, talk-back intercom helps parents soothe Baby without having to physically enter the room.
It's a perfect camera and monitor for any nursery, with all the bells and whistles a parent could ask for. Plus, who can resist that cute little owl face?... I know I can't. I just added it to my Pinterest board!
More Momtrends Baby Picks 
PIN IT!
Save your favorite baby gear and ideas on Pinterest and follow along with our Gear for Baby and Kid board!
This is a sponsored post. All opinions are our own.