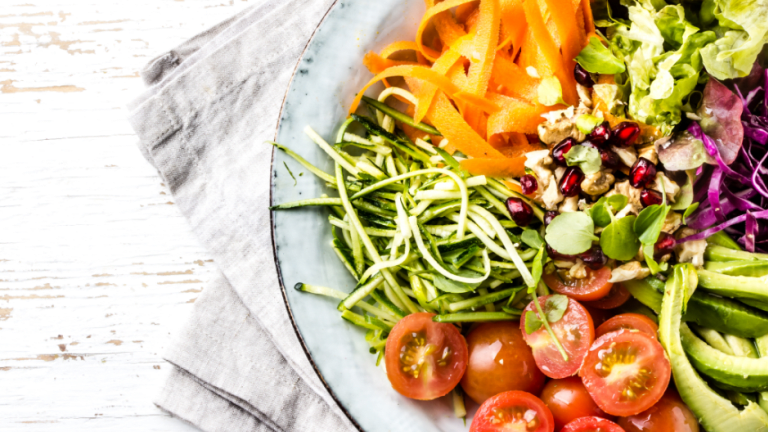 Best Salad Recipes and Tools
We've rounded up some of our favorite Salad Recipes and highlighted some super nifty Tools for Making Awesome Salads at home.
Did you catch our Facebook Live today? We had our own mini Salad Celebration (a Saladbration if you will!) at the office. We couldn't let National Salad Month pass us by without sharing a sneak peek at our lunch menu, now could we?
Related: Easy sheet pan chicken recipe for families
Why we love salads
Yes, on any given day, you will find most of the MT ladies munching, crunching, and lunching on salads. (It's quite a noisy scene in our little office come noon-o'-clock.) We're like a bunch of rabbits let loose in a garden. Hehe!
Nevertheless, based on the awesome response and interaction we had during our video today, we're guessing you guys love your salads too! Whether it's meant as a meal, an appetizer, or a side dish, a salad can be as simple or as complicated as you choose. It's a vehicle for flavor and protein and all sorts of deliciously colorful and healthy delights!... Just thinking about it makes me want to start dicing and chopping and chewing!
Nine Fresh Salad Recipes
We've rounded up a few of our fave veggie-filled creations and some awesome gadgets to take your salad game up a notch. Happy Saladbration!
Asparagus Caprese Salad via Aberdeen's Kitchen
Southwest Cous Cous Salad via Savory Tooth
Kale Salad via The Garlic Diaries
Chicken Fajita Salad via The Londoner
Mediterranean Chopped Salad via Family Food on the Table
Cucumber Watermelon and Basil Salad via Foodie Crush
Mexican Street Corn Salad via As Easy as Apple Pie
Shaved Brussels Sprouts Salad via Foodie Crush
BLT Salad via It All Started With Paint
Sur la Table All-in-One Salad Station, $50 / 2. OXO Grape Tomato Cutter, $10 / Trudeau Toss & Clip Salad Shears, $25 / 4. Microplane Salad and Herb Mezzaluna, $14 / 5. OXO Salad Dressing Shaker, $15 / 6. AquaChill Bowl and Servers, $20
MORE FAMILY-FRIENDLY RECIPES FROM MOMTRENDS
PIN IT!
Use Pinterest to save your favorite recipes. Be sure to follow our Healthy Eats board
This is not a sponsored post. All opinions are our own.