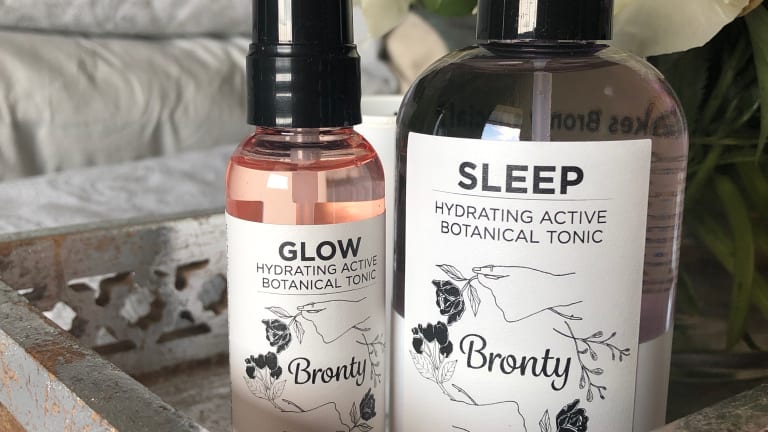 Publish date:
Beauty Trend Botanic Tonics
Bronty beauty offers a fresh way to keep skin hydrated and glowing
Perhaps it's because I've been spending so much time in nature lately, I simply wild about the botanic tonic beauty trend. Sure, brands have been claiming to be "natural" for decades, but nowadays women are researching ingredients and demanding that what we put on our skin is just as pure as what we ingest.
Beauty Trend Bronty Botanic Tonics
Bronty beauty offers a fresh way to keep skin hydrated and glowing. The brands was started by two retail mavens who longed to created something of their own. One of the Founders, Susie, was my boss at Ralph Lauren. It's so joyful for me to see her growing a brand like Bronty that celebrates beauty in a whole new way. 
Bronty worked with scientists to engineer a way to pack in natural anti-oxidants in a spray that uses botanical ingredients. The sprays have different purposes but they are all designed to encourage elasticity, hydrate, tone and moisturize the skin. Check out the garden of ingredients from Bronty here.
Pick your formula
Bronty has six formulas to help women (and men) through the 24 hour cycle. The product is designed to be incredibly easy to use (just spritz and go!). I for one, find complicated, multi-step beauty routines to be unrealistic for most women. 
My two current favorites are Glow and Sleep. Glow is my working day mom boost. It can be used on clean skin or over make-up to help refresh your face. I love it -- no rules. I have a travel size stashed in my bag and when I'm on the subway in NYC, I quickly add a spray to my face. As an added bonus, there's a nice clean floral scent that adds a touch of zen to my day. 
I keep Sleep by my bedside reading. Before I tuck in for the night, I use this sleep tonic to give me sweeter dreams. I use it to help unwind after a hectic day, but I love that I am also giving my skin a boost of Vitamin C while I sleep. 
Integrating Bronty Botanic Tonics Into your Day
Most days, I can only pull off a clean face and a swipe of sunscreen before I'm out the door. I love the portability of Bronty and that it's not a huge to a skincare "routine." Most beauty brands want you to buy a system before delivering anything valuable. 
With Bronty, I don't have to worry about getting the steps wrong or misapplying the product. Use it when you can for a little lift.
Bronty for Everyone
While I'm happy that Drunk Elephant and Glossier is there for my daughters' I don't want to use the same skincare they do, but with Bronty, mother and daughter can share. When we workout, I can mist the girls (11 and 14) with the Refresh tonic. 
The ingredients sound like a high-end lunch at Sweetgreen. Refresh is a blend of Kakadu plum, mountain pepper leaf, aloe and cooling coconut. It's the perfect thing to mist on your face before heading back to class or to work. 
Refresh is available in 4.4 oz (a little too big for a carry-on) or the travel-friendly 2oz size.
Get the collection at Shen-Beauty here.
More Beauty Trends from Momtrends
Pin it!
Use Pinterest to save your favorite beauty trends. Be sure to follow our Beauty board here.
This Beauty Trend Botanic Tonics feature is not sponsored.