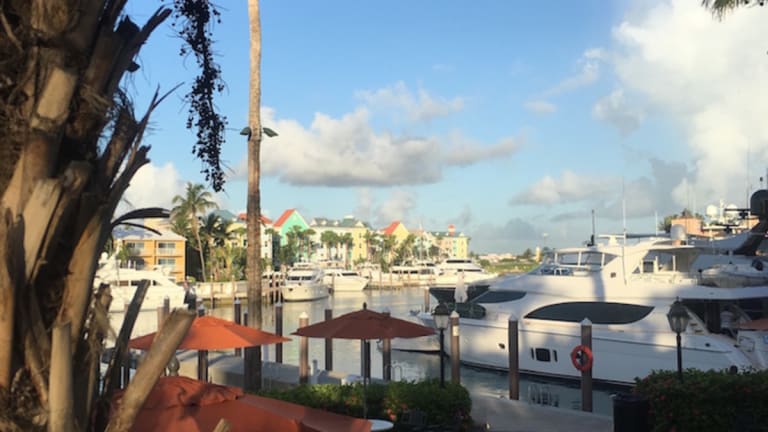 Plan a Family Trip to Bahamas Comfort Suites
Finding the perfect Bahamas hotel doesn't have to be tricky. This was my third trip to Paradise Island and once again I was delighted, this time I stayed the Bahamas Comfort Suites.
Related: Active Family Vacation Atlantis
In the past I've been on trip with the kids to Atlantis and I've visited the Bahamas on a stop on our Disney Cruise. Both were great trips. You know when you go to the Bahamas you're going to get lots of sun, great service and the chance to truly relax.
This trip was no different, what was different was enjoying little luxuries that had gone previously undiscovered by me. To find out more about my agenda, check out my Discover Nassau Bahamas post.
It started with the Comfort Suites. I admit to being a travel snob. I am more apt to pay for luxury experiences that to hunt down gems like this one. But for savvy family travelers looking for a deal, you cannot go wrong with Comfort Suites. Comfort Suites is a Three Diamond Choice Hotels Property featuring 223 recently renovated rooms. The property is located adjacent to the Coral Towers at Atlantis and guests enjoy all the privileges of the larger, splashier resort next door.
Bahamas Comfort Suites Package
Comfort Suites guests have access to all the Aquaventure facilities, the swimming pools, the private beach, sea creature exhibits, the river rides and water slides, the health spa, the tennis courts, the golf course, the Kids Camp, and more.
Our room was spacious, clean and much quieter that the one we had years ago at Atlantis. Oh, and it's a fraction of the cost. The hotel has a low-key vibe and is the perfect place to recharge after an exciting day at Atlantis. Kids can get overstimulated over there—it's pretty flashy. Comfort Suites is all about great service in a wonderful location at a value price.
Water Attractions at Atlantis Bahamas
If you want to actually relax and read a book, the Comfort Suites has a great pool on the property. But my little adventurer didn't want any part of that. We spent a good chunk of time each day during our stay at the Atlantis rides. Kids just can't get enough of the water features. There are 20 swimming areas (I'm told even one adult's only pool…maybe some day) totally over 140 acres of waterscape.
My girl couldn't get enough of the Raging Rapids floats and the Jungle Slide. I think I logged more than 5 hours total floating around the man-made rapids. The best part with that ride—no wait time for a float. The ride is a mile long with high intensity rapids and wave surges. If you want to get on a slide, you can steer of the river and wait in line for some thrills.
Atlantis has done a remarkable job keeping the property up. The resort was relatively new when I visited in 2011. Five years later, things are looking great. The pools and slides were in excellent condition and the sea creature exhibits look like they get a lot of care.
How it Works Bahamas Comfort Suites
To use the Atlantis facilities, you'll obtain a pink Comfort Suites guest card at check in. When you want to use the Atlantis facilities, you'll walk through Atlantis to the main check in desk in the Royal Towers building (it's about a 7-minute walk) to get a wrist band. The waterproof band gives you access to the pools and rides. If you want to use the Atlantis gym (Comfort Suites doesn't have one), present the same pink card.
No need for towels—as a guest those are also provided for free. And as a bonus, the pink card allows you to charge lunch, drinks, etc. back to your room at the Comfort Suites—so there's no need to carry cash with you.
NOTE: The one thing I hated was having to walk through the Atlantis casino twice a day to get to and from the water parks. There is no way around exposing your kids to smoke and gambling on the way to pick up your wrist bands. A huge miss.
A note about diversity. Given the current (and much needed) conversations going on about racism and diversity I think it's notable to mention that there are MANY black families at Atlantis. No, they aren't the majority. But it's most definitely not like a ski resort where people of color are sorely misrepresented. I'm not sure HOW Atlantis pulls this off, but for families looking for diversity, they will feel welcome here. In fact, one night as my daughter and I were walking from the beach at dusk we passed the Coral Towers pools. There were only about five families enjoying the balmy night with a post-dinner swim. All of them were black. It stood out in a very good way.
Don't Miss the Dolphins at Atlantis
The dolphin encounter is a can't miss. This was my third time kissing a dolphin and it just doesn't get old. Pre-book your Dolphin Shallow Water Interaction so you don't miss out on your chance to venture into the water with dolphins.
Our Atlantic Bottlenose Dolphin was Brewer and he was a gem. He's an adolescent dolphin rescued after Katrina. Our trainer shared dolphin facts and was respectful to both the animal and the humans. My friend Kim-Marie recently did the sea lion encounter, check it out here. Splurge for this interaction. And gulp down the pain and spend $140 to get your photos (no, I'm not kidding, that's what it costs)
Food Options at Bahamas Comfort Suites
The food at the Comfort Suites is more than competent. Breakfast had a waffle bar, a cereal bar and a hot buffet. Breakfast was included with our stay making it even more budget friendly.
But let's be clear—it's not the Poseidon Restaurant at Atlantis. That buffet is worth a splurge at least one morning of your trip.
Dinner at Crusoe's Garden Restaurant at Comfort Suites is beach casual. You can sit indoors in the A/C or out on the breezy cabana.
For dinner I had a splendid lamb dish and enjoyed the fresh salad buffet. Bonus: At the Comfort Suites on Friday night we were treated to a Junkanoo performance and "fire dancers" –my daughter loved both.
Comfort Suites guests are right next door to some wonderful options off property. New to me was the Atlantis Marina shopping area outside of the Atlantis resort and the Comfort Suites. This shopping area had great local boutiques (no chains that I identified other than a very welcome Starbucks). I picked up some Ipanema scented flip-flops for my daughter and lots of local jewelry. We also had a yummy dinner at Bimini Road. It's a casual and colorful restaurant featuring live and energetic music performances.
The whole snapper was a bit overdone, but the tomato topping remediated that. As for the kids, they gave them the cutest snack plate. How's that for kid-friendly.
Breakfast at the Poseidon is an event. You can get everything from carved roast beef and a salad to fresh fruit and smoked salmon. I was in heaven.
A big hit was our lunch at Murray's Deli located in the Atlantis Marina area. It's sit-down service that's unfussy and fun. Our waiter was amazing—her had two huge tables to deal with and served us all promptly without ever writing anything down he got the order 100% correct. I loved my cob salad and my daughter was thrilled with her sliders. Oh, and they had the best iced tea on the island.
For dinner, we made a venture to the BBQ restaurant Virgil's on the Atlantis property. This casual restaurant serves up BIG BBQ platters. It has great views (our kids kept popping out of chairs to go look at the baby stingrays) and excellent appetizers, but I was underwhelmed by the fried chicken. Order family style and you can try a bunch of different things. Don't skimp on dessert.
Trip Planning to Bahamas Comfort Suites
For more ideas for your trip, check out what there is see and do on Nassau. Only two and a half hours from New York City, Nassau Paradise Island is so close, yet feels like it's a world away. For more information, visit www.NassauParadiseIsland.com.
Where we stayed: Comfort Suites Paradise Island Paradise Island Drive
When I looked up a room rate for an adult with one child it was $314
When I looked up a suite at the Reef in Atlantis it was $984 per night.
Find out about the Comfort Suites kids stay free deal here
More Family Travel from Momtrends
PIN IT!
Use pinterest to save your favorite family travel articles, and be sure to follow our Travel with Kids board.
This is not a sponsored post. Travel accommodations were provided to make this review possible. All opinions are my own on this unscripted review. All photos are property of Momtrends Media and may not be re-used without expressed consent.