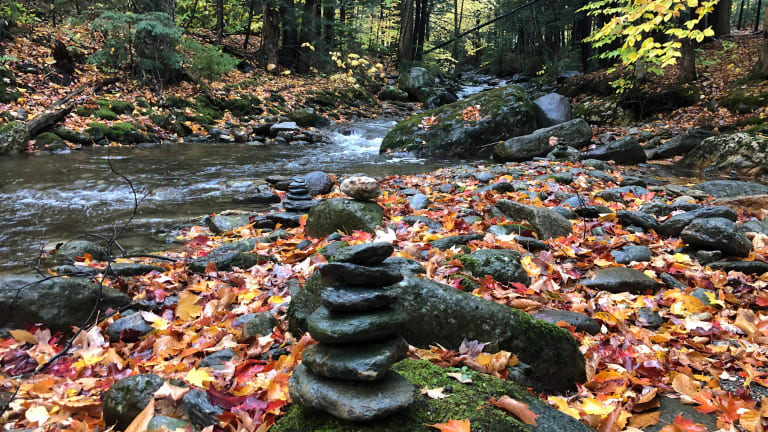 Smell that?... Fall is in the air. The Autumnal Equinox is tomorrow, and we're finally ready to swap out those strappy sandals for our fave booties and change out our rosé for spiked cider. Farewell, summer, you were fabulous! But we're looking forward to the beautiful transition and all the family fun that fall ushers in—alongside its bold colors and cooler temps. Whether you're begrudgingly stepping into the season or excitedly breaking out your chunkiest cardigans, we're sharing five family-friendly autumn activities you're going to want to add to your calendar now. Fall is fleeting too, and winter will be here before you know it.
Related: Fall mantle decor ideas
Go Apple Picking
Put on those matching buffalo plaid shirts, grab your red wagon, and pick some sweet apples together. It's going to be a picture-perfect day for fun, sun, crisp cider, freshly baked donuts, and all the apples you can eat and share with friends.
Visit a Pumpkin Patch
Once apple season ends, it's on to the next picking opportunity! Pumpkins abound in October, and selecting the perfect, roundest gourde is a challenge every kid loves to take on. Many larger patches offer hayrides, haunted houses, and other exciting seasonal activities to help you make a day of it.
Go for a Hike: Fall is the best season for hiking. The fresh air, the colorful foliage, and the lack of humidity (hoorah!) make it a complete pleasure. Bring the kids and opt for a less aggressive trail. Observe the leaves, and collect a few for fall-themed crafts too!

Five Tips for the Perfect Pumpkin Patch Visit
It's that time of the year again...pumpkin patch time! While I love a nice Pumpkin Spice Latte as much as the next fall lovin' girl...for me, the season is all about spending time with my family...and hopefully that time is spent outside as much as possible. If you're headed out ...read more
Perfect for Fall Pumpkin Spice Dirt Bomb Recipe
Get your pumpkin spice fix with this tasty dirt bomb recipe. Unlike fried donuts, this recipe is a little lighter and, since no hot oil is involved, a lot less messy. These dirt bombs, or baked donuts, are irresistible cakey muffins that are spiked with nutmeg and ginger, and ...read more
Save Money at a Ski Swap
Are the slopes in your future? If you want to save money on ski gear, consider a ski swap. A swap is a great way to buy and sell used equipment. Most swaps consist of a variety of gear, from brand new to used skis and snowboards to skis; from poles to boots to bindings and ...read more
Tailgate at a Football Game
Not a footfall fan? No worries! Half the fun of attending an NFL or even a local college game is drinking beer, buying snacks, and barbecuing in a parking lot. You can even organize a tailgating block party... on a non-game day! It's more about the food, the friends, and the collective vibe.
Celebrate Oktoberfest: 
Find a local Oktoberfest celebration or throw your own festive party. German beer, oversize soft pretzels, and lederhosen for everyone! Check out these fun ideas to make it a family-friendly event.
Happy (almost) fall. Let's make the most it!
MORE FALL IDEAS FROM MOMTRENDS
PIN IT!
Use Pinterest to save your favorite ideas from Momtrends. Be sure to follow our Home Inspiration board here.
This is not a sponsored post.