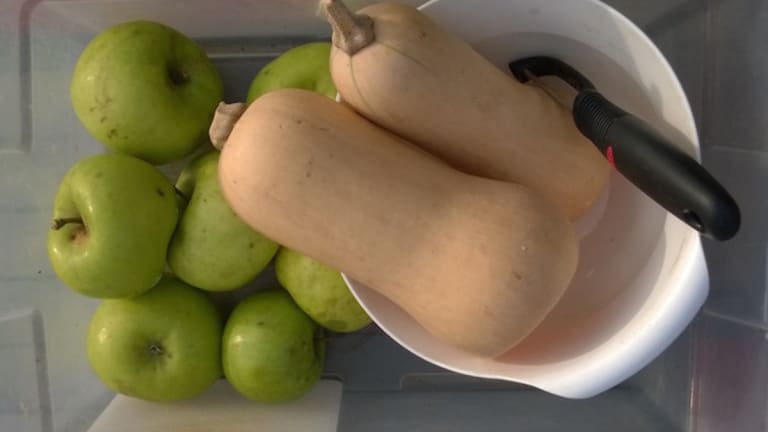 Apple Harvest Soup Recipe
This hearty fall soup is a great use of the apples you have around from the harvest
Our apple trees are amazing this year. It's been an incredible harvest. I know, I'm supposed to be a city girl, but here's the thing, on weekend I play farmer. I've been hunting for recipes to use up the apples from the orchard. 
We have a house about 100 miles from Brooklyn in the middle of nowhere. It's in very rural Connecticut and used to be part of an apple orchard. A few years ago, we could finally afford to thin out the trees in the backyard. Then two years ago we had the budget to get the apple trees trimmed to improve the quality of the fruit. Now we are reaping the rewards.
Related: Boozy salted caramel apple cocktail
At first the apples were bad. Really bad. Then they got better--ugly but tasty. This year we hit the jackpot. They look great and taste great. We send the kids out to pick. We've got two varieties (I have no idea what the official name for either of them would be). Both are tart and delicious. There are about two weeks of harvest time when we have to collect all the apples.
We store some, but most should be eaten and enjoyed. I've been searching all over the web for apple recipes. I combined a few of my favorites and came up with this Momtrends original recipe.
Apple Harvest Soup Ingredients:
4 small to medium apples, peeled and cubed
1 medium butternut squash peeled and cubed
1 large carrot, peeled and sliced
2 celery stalks, cleaned and sliced
1 medium onion, peeled and sliced
2 stalks fennel bulb, cleaned and sliced
1 tablespoon coconut oil
salt and pepper to taste
4 cups chicken stock
Apple Harvest Soup Directions:
Sauté vegetables in coconut oil until soft over high heat (about 5-7 minutes). 
Season with salt and pepper. 
Add chicken stock, bring to a boil, reduce heat and simmer for 30 minutes. Turn off heat and let soup cool a bit. 
Once soup is cooled, puree in batches in a blended. 
Note: You can also make this in the slow cooker!
Serving Suggestions
I served with roasted almond slivers, also try a dollop of Greek yogurt. I've also seen similar recipes topped with roasted chic peas. Go for it!
This recipe is delicious and a great way to make the most of the season. Kids love the sweetness, adults love the rich taste with ZERO BUTTER! This hearty vegan soup is perfect to serve on meat-free Monday or any day of the week.
MORE FALL RECIPES FROM MOMTRENDS
PIN IT!
Use Pinterest to save your favorite recipes ideas. Be sure to follow our Apples board here.
This is not a sponsored post.