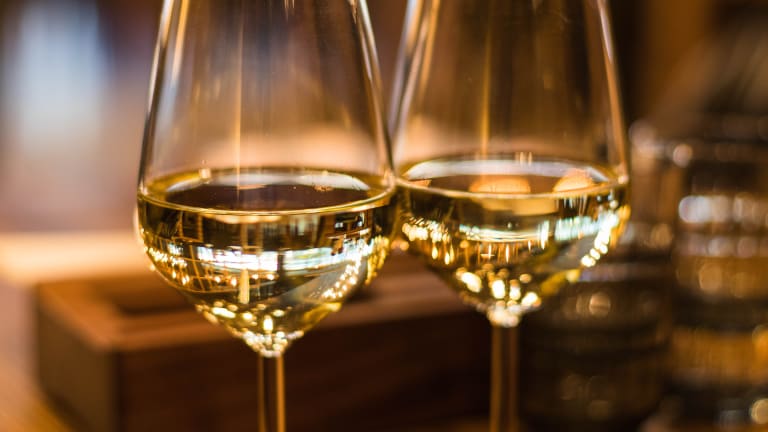 4 Favorite Affordable Wines at Trader Joe's
Trader Joe's wine. We love it. You love it. And now we're sharing four of our favorite affordable reds you'll want to add to your weekly repertoire.
I love Trader Joe's. And despite the fact that I menu plan for exactly what I'll need each week, I still find myself there at least three times a week - if I'm lucky. Anyone relate?! While I have many favorites there, I do love their wine department which is always stocked with affordable imbibing options. Today, I'm sharing four of my favorite affordable Trader Joe's red wines you have to try.
Related: The Sober Curious movement.
Why Moms Love Trader Joe's for Wine
Everyone has their own range, but for me an affordable everyday wine has to definitely be under $20 and ideally under $10 if we're talking for a weeknight. One of the things I like about wine shopping at Trader Joe's is that they do taste testings with their staff, so often times you can stop an employee and get their take on a recently added wine or their favorite pick with seafood. I'm guessing they all do, but my local Trader Joe has a "Wine Guy" (ours is named Tom) who puts his recommendation label on his favorite picks of the month and can often direct me to just the bottle I'm looking for. Plus, my Trader Joe's accepts wine returns. 
So if I buy it and try it and really don't like it, I can bring it back for a full refund. I have done this a total of three times in my long wine buying career at Trader Joe's, but it definitely helps me to a be a bit more adventurous with my wine buying knowing that if it's really awful to the point where I can't choke it down or if I splurged on a bottle that really wasn't worth it, I can get my money back. 
4 Favorite Affordable Wines at Trader Joe's
To help you avoid wasting money trying new wines, here are four of my favorite Trader Joe's red wines that I purchased time and time again, week after week and never disappoint.
1. Monte Ducay Reserva Red Wine
This Spanish red clocks in at my cheapest favorite at just $6.99. You'll find with the imported wines and can pick it out easily thanks to its yellow paper-wrapped exterior. Earthy but very drinkable, this Monte Ducay Reserva has enough spice and interest to be interesting at a price that makes it everyday drinkable.
2. 14 Horses Hot to Trot Red Blend
The Hot to Trot blend from 14 Hands never seems to fail. As the label says, it's "smooth and easy drinking" - so consider yourself warned. Ha! From cheese to grilled chilled, steak to pizza, this is a bottle that doesn't have many surprises - except that it is consistently good.
3. Carnivore Cabernet Sauvignon
Do you see that descriptor? "Big and bold with hints of blackberry, caramel, roast coffee and toasted oak." I was helpless to resist a label like that and luck for me, the wine is as good as the description. Black as ink, bold enough to stand up to any grilled meat I pair it, with and holy moly, is it good.👌🏼 Plus, it juuuuuust falls under my $10 mark.
4. 1000 Stories Bourbon Barrel-Aged Zinfandel
Just read that name again slowly - bourbon barrel-aged zinfandel. Mmmmmm.... The spiciness of zin with the sweet richness of bourbon barrels and you've got yourself a match made in vino heaven. At $14.99, this is a bit more of a treat for me but I promise you that if you like big, bold reds, you won't be disappointed with this. (But remember that if you are - return it!)
Wait....a bonus wine!
As I was snapping picture for this piece, I picked up a new bottle I'd never tried before - Thomas Allen Selections 2015 Cabernet Sauvignon. A $5.99 Cab is a big risk. There was a good chance it was going to be downright terrible. But I used to drive through Lodi many times a year on my way to our family cabin growing up and I know it's a major producer of grapes that doesn't have the sexiness of Napa or Paso Robles. 
I also know Trader Joe's tastes all their wine and doesn't just go for big names, fancy labels or well-known producers, so I decided to give it a try. And folks, I am here to tell you that I was pleasantly surprised! It's not not mediocre. It's not just drinkable. It's actually good! Light enough to drink on it's own or with light appetizers but with just enough spice and interest to have it stand up to the BBQ chicken I served tonight.
Oh, and it appears to go quite well with fresh baked chocolate chip cookies too.....😉
And don't miss our favorite beauty picks from Trader Joe's here.
Please drink responsibly. Momtrends was not paid for this post. But Momtrends would be happy to be paid by Trader Joe's to taste their wine (just saying....)
More Frugal and Fun Food and Wine Ideas from Momtrends
PIN IT!
Looking for more food ideas? Check out the Momtrends Recipe Board on Pinterest!