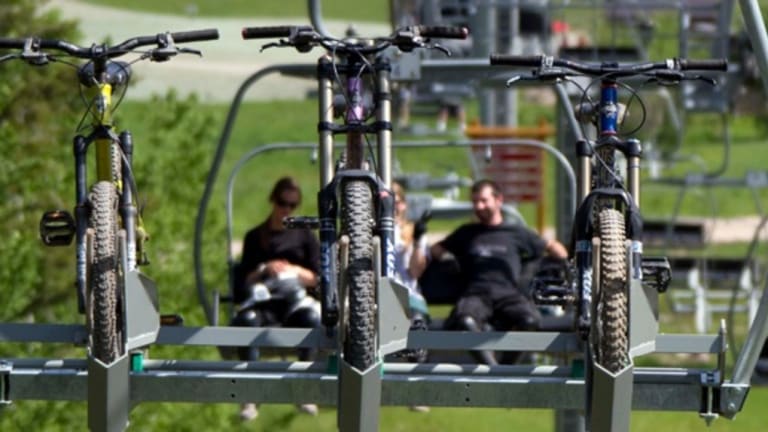 7 Activities for Family Fun in Jackson Hole, WY
Here are seven great summer family activities to do at the Snake River Lodge in Wyoming and the surrounding Teton Village.
As part of a three-week trip from California to Montana, my family spent two nights in Jackson Hole, Wyoming at the Snake River Lodge and Spa. If your family vacations head you that way or you're looking for a new part of the U.S. to explore, here are 7 great family activities to do at the Snake River Lodge and the surrounding Teton Village.
Related: Plan a Family Ski Trip Four Seasons Jackson Hole.  
7 Summer Activities for Family Fun in Jackson Hole, Wyoming
Take a dip. If your kids like to swim, they'll flip for the pool at the Snake River Lodge. It has multiple waterfalls, a bubbling geyser, two hot tubs, and both indoor and outdoor sections with swim-through access. My kids gave it a seemingly impossible 15 out of 10 and deemed it the best pool ever! Plus, there are big towels, drink service, and plenty of tables around the pools for parents to lounge.
Dinner on the Deck. This Jackson Hole activity is not to be missed. Take the free gondola to ascend 3000 feet up the mountain. (Note: There is also a paid tram that takes you to the very top of the mountain - 10,000 feet - that has additional restaurants.) Rides for the free gondola start at 4:30 every day except Saturday and go continuously until 9PM. The views alone are amazing, but once you reach the top, you'll find the casual dining of The Deck. Families, especially those with young kids, will likely prefer The Deck which has outdoor-only seating, incredible views, happy hour specials, mellow live music, and enough noise and energy from other enthusiastic outdoors-lovers that you won't mind if your kids whine about being hungry or decide to race each other on the adjacent hillside. The menu is limited to a few appetizers and small plates (sliders, fries, tempura portabellos, and some pork lettuce wrap dish, when we were there), but delicious. A few shared plates of sliders and fries, a cold beer for the Mr. and a glass of wine for me were the cherry on the top to the gondola ride and incredible views. Momtrends Tip: The place gets busy and there are no reservations. Keep an eye on tables that are getting their bill and ask if you can have their table when they leave. Opening day at The Deck is June 12th.
Play "Find the Bears" around the Snake River Lodge. The Snake River Lodge and Spa is covered inside and out with whimsical bear sculptures. Need an activity to keep the kids busy? Grab a hotel map and have them mark the ones they see. There are nearly two dozen to find.
A meal at the Mangy Moose. One of the best family-friendly restaurants in Teton Village, the Mangy Moose (3295 Village Dr, Teton Village, WY 83025) is an eclectic must-stop location while you're visiting. We had dinner there one evening while the kids looked wide-eyed over the interesting wall and ceiling decorations. Another evening we stopped in for dessert and live music. Pizzas on the porch also looked popular, but had too long of a wait for my hungry bunch. Downstairs they also have an affordable cafe which is open for breakfast and lunch and a small market where you can purchase DIY lunch fixings, kid snacks, or a bottle of wine - perfect for stocking up before activity #5...
Visit a Grand Teton National Park Visitor Center. Another benefit to staying at the Snake River Lodge is its close proximity to the Grand Teton National Park which is just one mile from the park entrance (fee required). We stopped at the Craig Thomas Discovery & Visitor Center which had a huge topography map of the park, a large display of the animals in the park (with fur samples of each), ranger talks, informational videos, a bookstore and more. Informational without being overwhelming and very family-friendly. Find out more here www.nps.gov/grte/planyourvisit/visitorcenters.htm
Cool off. Summer temps can get toasty in Teton Village, and there's no better way to cool off than with an ice cream from one of the convenience stores in the Village and a few runs through the splash pad in front of the Terra Hotel on the Village Commons. And there are plenty of shady tables nearby for parents to enjoy an iced coffee or cold treat of their own while staying dry.
Ski-lift up. Mountain bike down. In the summer, the Teewinot lift transforms into a quick way for mountain bikers to get to the top of the mountain - a thrilling activity for parents to do with their teens and pre-teens. Whether you've never tried mountain biking before or are an experienced back country rider, you can get rental bikes and pads, lessons or even guided tours at the base of the lift. Kids too young to bike the mountain can get some air of their own at the Bungee Trampoline or Climbing Wall or enjoy additional activities through one of the Kid Ranch programs for kids 6 months to 11 years. Opening day for the bike park is June 11.
Bonus: Catch and outdoor concert! In its 12th year, the free Jackson Hole concert series will kick off Independence Day weekend with music beginning at 8:00 pm on July 3, followed by the only July 3 fireworks show in the area at 10:00 pm. On July 4th, music starts up at 6 pm, followed by the headlining act at 8 pm. Fireworks will again proceed at 10 pm.
In addition to the two bonus days of concerts for Independence Day, seven free concerts begin July 17 and play every Sunday at 5 pm through August 28. 
Have you been to Jackson Hole before? What was your favorite family activity?
More Travel From Momtrends 
PIN IT!
Use Pinterest to save your favorite family travel features. Be sure to follow our Ski Moms Pinterest Board.
Momtrends was not paid for this post. We were provided a media rate for our stay.