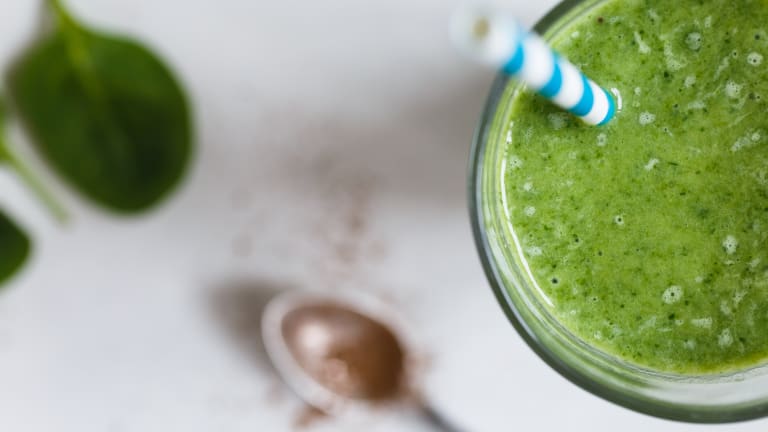 Publish date:
6 Veggies to Sneak Into Your Kids' Smoothies
Choose whatever smoothie flavor your kids love best and then kick up the nutritional value by sneaking in some of these veggies.
Choose whatever smoothie flavor your kids love best and then kick up the nutritional value by sneaking in some of these veggies.
June is National Fruit & Veggie Month! Time to celebrate all those juicy peaches, fragrant tomatoes and sweet corn we've already been seeing at our local farmer's market. While some of these fruits and veggies might be welcome cast members on your kids' plates, others might be met with raised eyebrow and upturned nose.
Related: Three Yummy Smoothie Recipes for Kids 
Fortunately, there is the smoothie. *cue angels singing* That lovely icy blended drink that lets you hide a myriad of nutritious ingredients under the guise of an afternoon snack or liquid lunch. Berry, melon, citrus - choose whatever smoothie flavor your kids love best and then kick up the nutritional value by sneaking in some of these veggies.
6 Veggies to Sneak Into Your Kids' Smoothies
Kale, Spinach or other leafy greens. Truth be told, my kids do not eat kale straight or cooked...knowingly. *wink* But I've found that the smoothie is a glorious vehicle for us all to consume large amounts of raw leafy greens outsides of salads. Greens like kale, spinach and romaine all blend up nicely and don't impart much flavor (though watch out for spicy greens like arugula or mustard greens). They can give the smoothie a tinge of green, but if your kids are adverse, just add a handful of berries which cover up the color nicely. Start with a few leaves and build up to a large handful or two, and be sure to put them in the blender first to help them blend up easily.
Broccoli and Brussel Sprouts. I know that you're thinking...broccoli? Brussel sprouts?! But I've tried it successful - especially with a chopped blend like this Cruciferous Crunch Collection from Trader Joes. If your kids hold their nose at these veggies cooked for dinner, try them raw in a smoothie. Raw broccoli is a good source of Vitamin A, C, K, and B6 while raw Brussel sprouts are high in dietary fiber, Vitamin A, Thiamin, and Folate.
Beets I'm not a huge fan of beets so I don't serve them often in our house....okay, ever. But, I'm much more forgiving in my smoothies and I know that beets are a good source of fiber, Folate and Manganese. In this case, I opt for cooked. Roasted beets become slightly sweeter than their raw counterparts plus infinitely easier to blend. (Do NOT try to blend a raw beet unless you have a very powerful blender.) Roasted beets can be an easy sell when added to an already-red berry smoothie. 
Parsley We often think of parsley as just a garnish, but this inexpensive green herb has a number of nutritional benefits as well. Fresh parsley is a good source of fiber, Vitamin A, C, and K, Folate, Calcium, Iron as well as volatile oils and flavonoids. It's inexpensive, available year round and also easy to grow in containers or windowsills. So go ahead and throw a handful into your next smoothie. 
Peas. Frozen peas were a parenting epiphany for me. My kids LOVE frozen peas frozen. Quick dinners at home often involve reheating leftovers, cutting up some fruit and a handful of peas straight from the freezer. So of course, they are a natural add to our smoothies. They are sweet, small, blend easily and are already frozen, keeping your smoothie cold and icy. Plus raw peas are a good source of Vitamin A, Niacin, Vitamin B6, Folate and even offer a bit of protein.
Squash and Zucchini. Here's another category of veggies that my kids and husband tend to shun - squash and zucchini. Steamed, sauteed, grilled, raw....I've tried a number of ways to get these veggies in my brood. While I haven't won them over yet, I can always slip some into a smoothie. I opt for grated raw zucchini (a great option if you or a well-meaning neighbor has an active zucchini plant) or roasted butternut squash (a great way to use up leftovers from dinner in the fall.)

5 Pretty Ways To Organize Your Jewelry
I admit - I'm guilt. Despite my best efforts, my "jewelry drawer" has become a tangled mess of necklaces, bracelets and earrings. This cluttered collection not only makes it hard to see what I have, but difficult to untangle the pieces I do want to wear! This summer, I'm ...read more
This Year's Coolest Jumbo Pool Floats
Pool season is almost here! I can't wait to relax, read a book, and sip a cocktail while lazily drifting in an oversized float. (Just kidding, I have two toddlers--but a swim mama can dream, right?). If you've got a staycation planned, check out this year's coolest jumbo pool ...read more
Crystal Clear and Pristine: Pool-Cleaning Tips
Tropical Storm Isaiah gave us quite the midsummer surprise here in the suburbs of New York City. We just got our power back on after a whole week of darkness! With trees down, debris everywhere, and lots of uncertainty, one thing we forgot to check on: our above ground Intex ...read more
Have you snuck any veggies into your kids' smoothies?
P.S. We also love packaging them in these refillable squeeze packs. Great for lunches and the kids can't see the color to complain!
MORE LIFE HACKS FOR YOUR FAMILY FROM MOMTRENDS
PIN IT!
Use Pinterest to save your favorite recipes. Be sure to follow our Kid Food Pinterest board here.