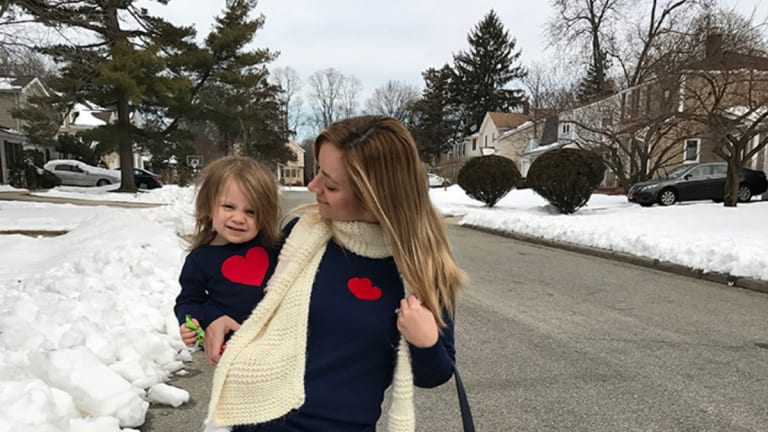 5 Ways to Embrace Mommy-and-Me Style
We've rounded up five fun ways to get mommy-and-me style for you and our baby from coordinating colors to playful graphic tees and more.
If you're a regular here at Momtrends, then you've probably already gathered that we're big believers in the Mommy-and-me school of fashion. Coordinating with our littles is one of our great sartorial joys—it really is the little things. (Plus, it always makes a great Intagram opp!)
While I like to go all out in our matchy-matchiness, there are a few other ways to coordinate your mother-daughter looks without totally twinning—from the subtle to the, well, not-so subtle. Here are our five fave ways to pull off the mommy-and-me look. Get your phone-camera ready!
Color-Coordinate Your Outfits
No need to scour the stores for exact matches—finding pieces in Mom and Baby sizes can be a challenge (not that I'm not always up for it!). But snagging something in the same color or in complementary hues is a much easier style assignment.
Jump for Joy and Go for a Romp
I love a good one-piece. For Baby. For me... What's not to like? It's an instant outfit. Skip the separates, and put your little in a bubble romper and yourself in a jumpsuit! Voilá—a simple and subtle way to mommy and me. (Also, mah Baby is so grown up now! I forgot what it feels like to hold a nugget tight in my arms.)
Pick a Pattern—Any Pattern—Or, Go With a Matching Print
Find fun patterns that play off each other or work well together, or rock the same graphic design. Hearts are always easy to find in big and little fashion sizes.
Go Graphic
Seriously though, who is that baby?! Then again, P wasn't even a whole year old in this photo. She may have changed a lot, but one thing that hasn't: our love of graphic tees and onesies. I especially enjoy them when the two phrases coordinate.
Be Twinsies and Go All Out
Okay, I have to admit something here... My top is a girls' size XL. (That's one secret tip for finding mommy-and-me looks!) But there are other brands that specialize in coordinating styles—Joules, Masala Baby, and even Old Navy are just a couple of companies that do a great job at designing matching looks for moms and their littles.
MORE KID-CENTRIC STYLE PICKS FROM MOMTRENDS
PIN IT!
Need more ideas on fashion for kids? Use Pinterest to save your favorite fashion finds for you and your kids. Be sure to follow our Kids Fashion and Style Board here.
This is not a sponsored post. All opinions are our own.