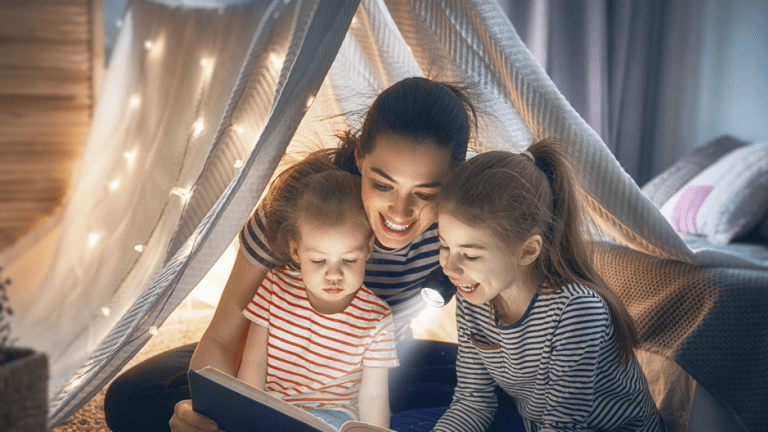 5 Reasons You Should Fall In Love With Favorite Children's Books
Our picks for beloved books to share with your family
Are books important to your family?As a life-long book lover, it's my mission to pass along my love of books to my girls. We've put together this resource of our favorite children's books to make it easy to get inspired.
5 Reasons You Should Fall In Love With Favorite Children's Books
It brings your family closer. Create a cozy reading nook, load it up with books and show your kids that reading matters to you,
It's a great way to spend time unplugged. According to the American Academy of Pediatrics, "unstructured playtime is more valuable for the developing brain than any electronic media exposure." 
It fosters creativity. Submerging into a world that's different from your child's reality also teaches empathy.
Reading improves concentration.
It helps grow your child's vocabulary.
Related: Find out 5 tips for getting the most out of reading with your kids here.  
Preschool Favorite Children's Books
When Pencil Met Eraser is a book about creativity, teamwork and friendship.
The illustrations (by German Blanco) are amazing. And the story by Karen Kilpatrick with Luis O. Ramos will inspire your kiddos to get out paper and pencil and create.
If you have siblings who can't always figure out how to play nice, there are some sweet and simple messages in the pages. Perfect for kids 3-6, but older kids will love it too.
Shop  When Pencil Met Eraser on Amazon
Zero: Zero is a big round number. When she looks at herself, she just sees a hole right in her center. Every day she watches the other numbers line up to count: "1, 2, 3, 4, 5, 6, 7 . . . !" "Those numbers have value. That's why they count," she thinks. But how could a number worth nothing become something? Zero feels empty inside. She watches One having fun with the other numbers. One has bold strokes and squared corners. Zero is big and round with no corners at all. "If I were like One, then I can count too," 
Grade School Favorite Children's Books
This new Claris book from beloved illustrator, Megan Hess, is gorgeous proof that the children's books have never been better. As a book lover, a fashion lover and a lover of Paris, this book is giving me life right now.
Claris: Fashion Show Fiasco is the second book in the Claris series. Written and Illustrated by Megan Hess the book follows our plucky mouse heroine, Claris, as she plots to make her debut at Paris Fashion Week.  It's a caper and a tour of Paris with loads of fashion mixed in. It's all about working together, being brave and chasing your dreams.
This infectious rhymes are easy for kids to "read" and predict making it the type of book that will get requested again and again. But, OOOOH, the illustrations are really the thing to study. Any pint-sized art lover will adore Megan's details illustrations.
The Day the Crayons Quit: Poor Duncan just wants to color. But when he opens his box of crayons, he finds only letters, all saying the same thing: His crayons have had enough! They quit! Beige Crayon is tired of playing second fiddle to Brown Crayon. Black wants to be used for more than just outlining. Blue needs a break from coloring all those bodies of water. And Orange and Yellow are no longer speaking—each believes he is the true 
Sibling Relationships Favorite Children's Books

This beautifully illustrated, rhyming picture book is about the relationship between sisters. Maggie May and Lizzie Loo all about the challenging feelings of sibling rivalry (been there!) resonates with boys too.

Written by Maggie Cordish and Lizzie Schaul, sisters who share a passion for early childhood education, the story was inspired by their sets of daughters and their own sisterly dynamic.
MORE KID-CENTRIC FUN FROM MOMTRENDS
PIN IT!
Need more ideas on what to do with the kids? Be sure to follow our Activities to Do with the Kids board on Pinterest here.
Momtrends was not paid for this 5 Reasons You Should Fall In Love With Favorite Children's Books post.