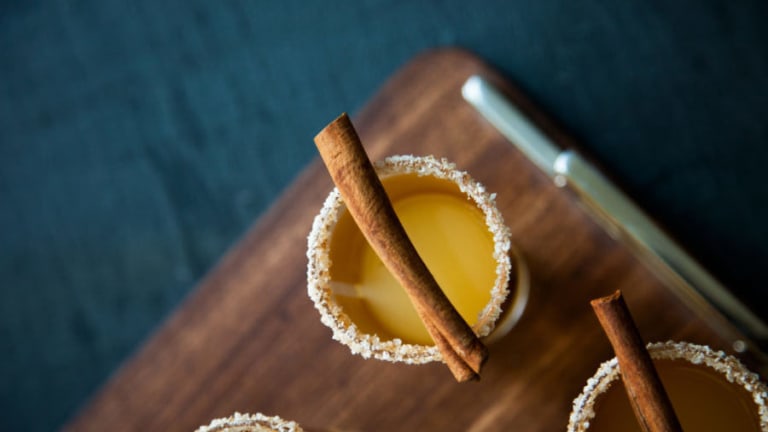 5 Festive Friendsgiving Cocktails
These five Thanksgiving harvest-inspired cocktails will definitely help kick off the festivities this November.
We're already a few days into November, and I can barely believe that Thanksgiving is just two-and-a-half weeks away. Time is flying, and the festive fall entertaining season is upon us. With lots of plans and parties on the calendar, we're excited to celebrate with friends and family. If you are hosting, try one of these festive Friendsgiving cocktails to liven up the party.
Related: A Friendsgiving bourbon cocktail
One tradition I absolutely love? Hosting an annual "Friendsgiving" fete. We invite our besties over for food, fun, and lots of delightful cocktail creations. (Who isn't grateful for good friends and great spiked drinks?!)
These five Thanksgiving harvest-inspired cocktails will definitely help kick off the festivities this November. (And don't forget to check out our latest Saturday Sips cocktail recipes: The Pumpkin Pie Cold Brew Cocktail and The Caramel Apple Cocktail.)
Cinnamon Stick Sangria
INGREDIENTS
1 bottle of Santa Margherita Chianti Classico Riserva
1 large orange, sliced
1 large pear, chopped
Seeds of 1 pomegranate
4 cinnamon sticks
DIRECTIONS
Add fruit to a large pitcher. 
Top with Chianti. 
Place in fridge for an hour before serving. 
Spoon fruit into glass before pouring wine. 
Garnish with cinnamon stick. Add ice to top (optional).
Holiday Train
INGREDIENTS
1 Part Sparkling Ice Peach Nectarine
1 Part Grand Marnier
Blood Orange
DIRECTIONS
Slice blood orange and remove slice for garnish. 
Juice remaining blood orange. 
Combing Sparkling Ice Peach Nectarine, Grand Marnier and blood orange juice. 
Garnish with blood orange slice.
Sparkle-n-Spice
INGREDIENTS
Aged rum
1/2 cinnamon stick
1 clove
1 cardamom pod
1 star anise pod
1 vanilla bean
3 allspice berries
Pinch of freshly ground nutmeg
Sparkling Ice Lemon Lime
DIRECTIONS
Combine rum, cinnamon stick, clove, cardamom, star anise, vanilla bean, allspice berries, and nutmeg in an airtight jar. 
Split vanilla bean and scrape seeds into jar along with the bean pod.
Close jar and allow infusion to sit in a dark place for at least 3 days.
Strain rum into an airtight jar with a fine-mesh strainer, discarding spices. 
Over ice, pour 2 ounces of rum infusion. 
Top with Sparkling Ice Lemon Lime and garnish with blackberries.
Fall Harvest Punch
INGREDIENTS
1/2 cup apple cider
1 cups hard cider
1 cup Sparkling Ice Crisp Apple
1/4 cup bourbon
1/4 cup lemon juice
Cinnamon sticks, for garnish
Cinnamon sugar rim, for garnish
DIRECTIONS
Rim the glass with a lemon and dip into cinnamon sugar, set to the side. 
Combine ciders, bourbon, Sparkling Ice Crisp Apple, and lemon juice in a pitcher- stir to combine. 
Fill glasses with ice, then punch. 
Garnish with a cinnamon stick and serve.
Orange Cinnamon Blossom
INGREDIENTS
1 bottle of Prosecco 
1/2 lemon
1/2 orange
1 tablespoon honey
1/4 cup sugar
3 whole cloves
3 whole allspice
2 cinnamon sticks
DIRECTIONS
Rinse lemon and orange and thinly slice them, discarding seeds; quarter the orange slices. 
Put fruit in a 4- to 5-quart pan. Add honey, sugar (use the smaller amount if you prefer drinks on the tart side, the larger if you want a sweeter flavor), cloves and allspice. 
With a knife, cut the cinnamon sticks lengthwise into thinner strips. 
Add cinnamon and 2 cups water to pan; bring to a boil over high heat, then reduce heat and boil gently for 5 minutes. 
Pour Prosecco into hot citrus base and heat until steaming, about 8 minutes. Keep warm over low heat. Ladle into heatproof cups or wineglasses.
MORE THANKSGIVING INSPIRATION FROM MOMTRENDS
PIN IT!
For more Fall crafting fun, be sure to follow our Fall Thanksgiving & Halloween board here.