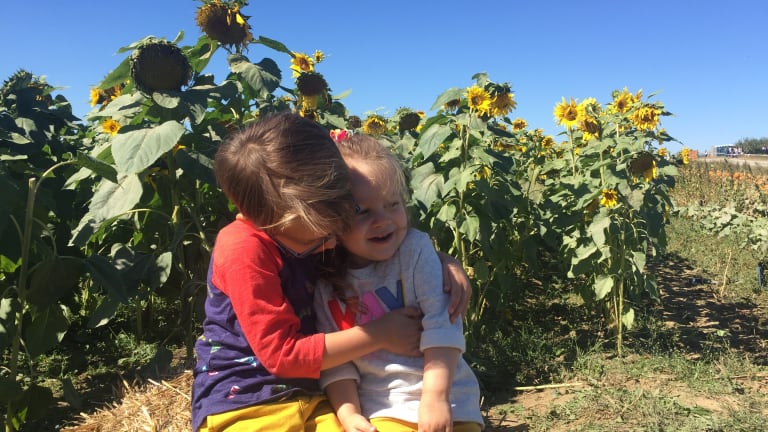 Your Brain on Hugs
I'm an affectionate person. As a mom, wife, daughter, sister, and friend, I probably give and get a minimum of ten hugs a day. And I've never given it much thought—that is, until a few weeks ago when I attended the Huggies Parents Council in Chicago. I learned all about the powerful science behind hugs and the biological brain benefits of this seemingly simple everyday display of affection—and it was eye opening and mind-blowing (foreshadowing pun intended).
Thanks to Huggies, we were able to use cutting-edge brain-scan technology, demonstrated by neuroscientist Dr. Olivier Oullier, and see in real time, what brain activity actually "looks" like during a hug. We were able to observe the brain "light up" with—what I can only describe, very unscientifically, as—colorful explosions of unrelenting happiness. And isn't that what a meaningful hug feels like too? Pure, unadulterated joy and love.
When I got home from my trip, after greeting my two kiddos with big enveloping hugs, I asked them to draw pictures of what they think a hug feels like, and I was astounded by the similarities between their abstractly exuberant renderings and the actual scans—both resembling big bursts of bliss.
It got me thinking more about what hugs mean to me and my family—and how they've helped us physically, mentally, and emotionally grow together. It got me thinking of our own hug stories.
Story 1: The Hug That Heals
A little less than a year ago, a few weeks after her second birthday, my daughter broke her femur bone. It was terrifying and stressful for all of us, and I can remember her screams of fear and pain like it was yesterday. But more than that, I remember the way she clung to me; the way her fingers dug into my arms, the way her head burrowed into my neck, and the way she squeezed me harder than I ever thought imaginable. She needed me. She needed my warmth and comfort and immeasurable love to help her through an extremely physically and emotionally taxing experience. She needed this hug, and she needed me.
The days and nights and weeks after she was put into an immobilizing spica body cast were rough. She couldn't stand, sit, or even lay down comfortably. She was exhausted, I was exhausted, and we struggled with frustration, discomfort, and sleep deprivation. It was almost like having a newborn again. She'd wake every few hours and I'd need to hold her, awkwardly, in my arms. She weighed about a million pounds in that plaster cast, but I'd pace the floors at 4 AM, singing and squeezing, and snuggling her warm and rigid body as tight as I could. She would nestle her face into my ear and whisper, "big hug." Tired as I was, those two words would revive my spirit and energize my soul.
Big hug—the one thing that helped us both survive six long weeks of her involuntary immobility and our mutual sleeplessness. Healing, heartwarming, hugs between a mother and a hurting babe... To this day, I'm still not sure which one of us they helped more.
Story 2: The Holiday Hug
I've never been a big mistletoe fan—a forced kiss? No thanks. I kiss the people I want to kiss when I want to kiss them. Of course, my kiddos are Christmas and holiday obsessed—so they want in on every last possible tradition (Elf on the Shelf, unfortunately, included). So when they saw mistletoe at the store last year and asked me all about it, they were instantly hooked on the idea, and wanted in on this lovey-dovey Christmas convention.
I resisted at first, but then I realized, this was an opportunity for more meaningful affection. I could get extra hugs and kisses from my kids—and give them more reason to hug EACH OTHER (something I'm always trying to encourage between my two littles).
And so we started a mistletoe hug tradition. If you find yourself standing under the mistletoe, you pause and give an intentional, loving hug—with a high five being an alternative for friends.
As we gear up for the holidays this year, I'm so happy we adopted this sweet tradition. It's easy to lose sight of what really matters this time of year and get swept up in the presents and toys and tangible side of the season. A "hugle-toe" moment reminds us that there are more important things to prioritize—family, love, and happy hugs.
Story 3: The Everyday Hug
The last few months have been madness—in the best way possible. My son started elementary school, and Kindergarten has kicked our butts. We're still adjusting to the go-go-go routine of balancing school and work and home life and everything in between.
The mornings and evenings are especially manic, trying to get two kids dressed and out the door on time and then, later, into their beds at nighttime. I hate to admit it, but there's often a lot of yelling and crying and foot stomping at the beginning and end of each day (and it's not always me).
A couple of weeks ago, we were running super late, and I found myself barking orders at two cranky children, "Brush your teeth! Why are your sneakers off?! Your pants are backwards! We're going to miss school! EAT! RUN! GO! STOP!" It wasn't my finest parenting hour and both kids just ended up in a puddle of tired tears. I took pause, and remembered what I'd just learned a few days prior at the Huggies Parents Council. I grabbed my son and pulled him into a big 20-second bear hug. His tears stopped and breathing calmed—and so did mine. I repeated the same action with my daughter, and we were all, three, instantly in better spirits.
We got our teeth brushed, shoes on, and pants properly adjusted, and we left for school. We may have been a few minutes late, but what does that really matter in the long run? We were happy, we were content, and we were able kick-start the day in a much calmer, smoother way.
This got me thinking about being more mindful and intentional in my everyday life and during our daily hugs. I've got to slow down and focus on the task at hand, instead of worrying about everything else around me. Even something as seemingly small as a diaper change can become a moment. My little lady is still in diapers. I used to rush through these changes to make them very swift and clinical—she's a toddler, after all, and she wants to get up and go and run and play. But, now, I'm being more thoughtful when I change her. I start every change with a tickle and a snuggle and a silly little song. And each diaper change now ends with a loving squeeze. I want to stop and hug with meaning—knowing that it can benefit the health, happiness, hearts, and brains of my children and myself.
If you, too, have little ones in diapers, consider making these frequent changes more mindful moments. Hugs are proven to support babies' emotional, physiological, and neurological development; and, what's more: they'll make you feel good too. You can visit Huggies.com to get $2 off a pack of Huggies Little Snugglers Diapers, which are inspired by parents' hugs and touch.
This is a sponsored post. As a member of the Huggies Parents Council my job is to share stories and information that I think you'll find inspiring and informative. All opinions are my own.
Huggies, the fastest growing diaper brand in U.S. hospitals, believes deeply in the Power of Hugs, which is why every diaper and wipe is inspired by a parent's embrace. The Huggies No Baby Unhugged program helps ensure all babies get the hugs they need to thrive by supporting hugging programs in hospitals and donating diapers across the country. Learn how you can help at Huggies.com/NoBabyUnhugged. #HuggiesCouncil #ad