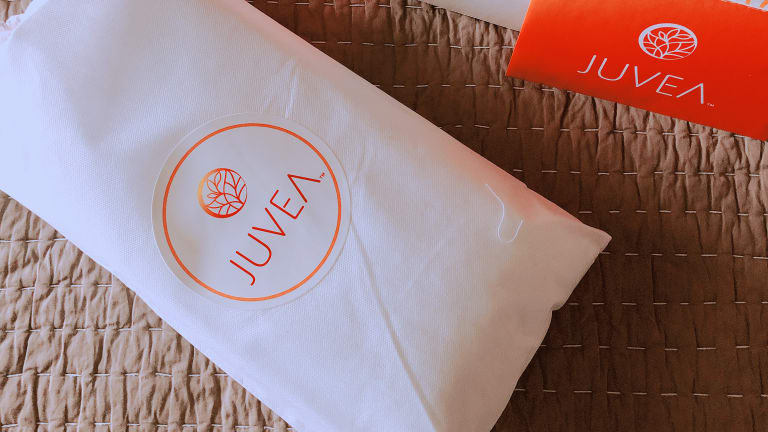 You Should Experience the Best Pillow For Sleep At Least Once In Your Lifetime And Here's Why
Juvea Pillows for Healthy Living
We all know how important sleep is. The trouble is finding it. As a working mom I'm telling everyone I know: you should experience the best pillow for sleep at least once in your lifetime and here's why...sleeping on a Juvea pillow is just BETTER.
Related: Tips for falls best night's sleep
I've been testing my Juvea pillow for about three weeks and I'm smitten and have been getting some rock-solid nights of sleep.
Moms Need Sleep
I always feel a little stretched too thin. Sleep is my chance to recharge. Every day I want to give everyone in my orbit the best version of myself. My partner, my kids, my business, my friends...it's a lot of love to spread around. To do that I need energy. My goal is 7 hours or more every night. 
Why Sleep Matters 
Here's what we know about sleep and health. Getting fewer than seven hours of sleep per night disrupts hormonal balances. This is bad. When our hormones are out of whack we have higher stress levels which makes working-mom life untenable.
Sleep deficits are also tied to increased fat storage and have been shown to affect our ability to make good decisions about what to eat. Oh, and then theres this: lack of sleep also weakens your immune system. Show me a mom that has time for a sick day!
At JUVEA they believe everyone deserves extraordinary sleep to wake up feeling rejuvenated.
Why You Should Experience the Best Pillow For Sleep 
I know sleep health is important. And I'm investing in the best experience by sleeping on Juvea pillows. 
Juvea sleep products are made in the USA from pure, 100% natural Talalay latex that is harvested from the Hevea tree. The Juvea pillow is long-lasting. It won't flatten over time, which means I can look forward to long-term comfort and wellness. It's an investment in my health. Find out more about the pillows here https://juvea.com/
Why Talalay latex for the best pillow?
Talalay latex is resistant to mold and mites and certified OEKO-TEX Class 1 baby-safe. That's the good stuff that goes by your skin. But let's talk about support. The way the Juvea pillow is made provides consistent, responsive support and breathability. That's key, especially as many of our hormones can surge (isn't being a woman fun! LOL!). 
This has been the biggest difference I've seen in my sleep. My too-mushy old pillows just weren't giving me the support I need. After my seven hours, I feel rested and ready to take on the day (Momtrends tip: also add in some morning meditation with Headspace!)
MORE SELF CARE FROM MOMTRENDS
PIN IT!
Use Pinterest to save your favorite ideas from Momtrends. Be sure to follow our Fitness and health board here.
Disclosure: Compensation was provided by Juvea via Momtrends. The opinions expressed herein are those of the author and are not indicative of the opinions of Juvea or Momtrends. *By entering the contest you acknowledge you are signing up for Momtrends email list and Juvea email list.