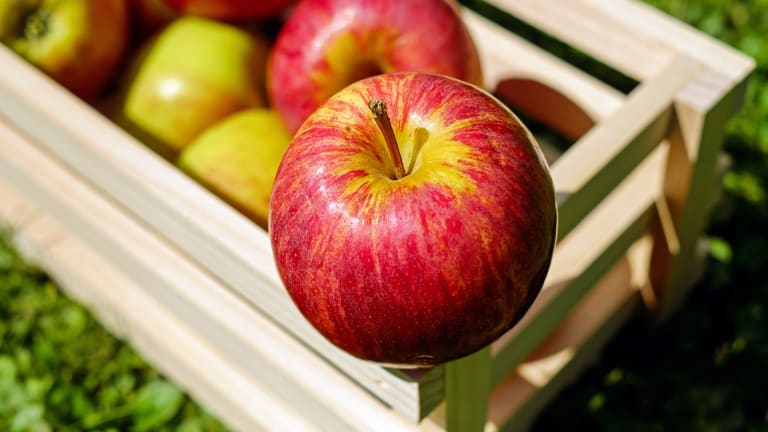 You Need to Try This Apple Fritter Recipe
Sweet and tasty apple fritter recipe perfect for a special breakfast.
I've been looking for a fun recipe to surprise my children with on Valentine's Day. I've seen tons of cute ideas with hearts, but in the end, I wanted an awesome recipe. Thankfully, my friend Stephanie at A Pocket Full of Buttons came to my rescue with a perfect recipe for apple fritters. I've tested them, and have to say, you need to try this apple fritter recipe!
One of the best things about blog friends? Someone always has the solution for your latest need, and what could be more fun on Valentine's morning than a doughnut treat for breakfast? I can't wait to surprise my kids (and my husband) with these! 
Apple Fritter Recipe Ingredients:
1 Cup Flour
1/2 Cup Sugar
2 teaspoon baking powder
1/2 teaspoon Cinnamon
1/2 teaspoon Nutmeg
1 teaspoon salt
1/2 cup Chunky Apple Sauce
1 Med Apple, diced
1 egg
1/4 cup milk
Apple Fritter Glaze Ingredients:
1 cup powdered sugar
1 tablespoon milk
Vegetable Oil for frying
Apple Fritter Recipe Directions
In a large bowl mix all dry doughnut ingredients with the milk, egg and apple sauce. Once well mixed, fold in the diced apples.
In a large frying add at least 1 inch of oil. Heat on Med High. When oil is hot but not smoking, add 1/4 cup of your batter to the hot oil.
Fry for approximately 2 minutes and then flip (very carefully) and continue to cook the other side for an additional 2 minutes. Remove the fritters to a wire rack to drain excess oil.
In a small bowl mix powdered sugar and milk and whisk well. Add more milk if glaze is too thick, or more powdered sugar if too thin. The consistency is up to you.
Drizzle or spoon your glaze over the cooled fritters and serve.
More Apple Recipes from Momtrends
Pin it!
Looking for more food ideas? Check out the Momtrends Recipe Board on Pinterest!
This is not a sponsored post.