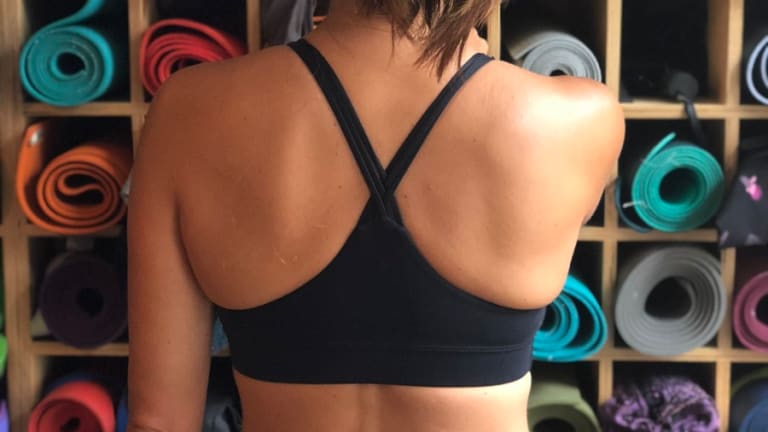 Publish date:
Yoga Workouts for Moms
Yoga workouts for moms aren't a fitness trend, it's a solution that's here to stay. Find out what you need to get started.
Yoga workouts for moms aren't a fitness trend, it's a solution that's here to stay. Find out what you need to get started.
Want a way for your heart to feel fuller and your mind to feel clearer? Add more yoga into your life. Yoga workouts for moms aren't a fitness trend, it's a solution that's here to stay. This workout is perfect for moms, because it can be done on your schedule (and even with your kids around). Use our tips for setting up your studio and getting ready to tap into some zen.
Set up your at-home Yoga Studio
These are the pieces I recommend for setting up your at-home yoga studio.
Get an app. Bulldog Yoga on demand is a new streaming video platform, that offers the same great sweat as their signature in-studio classes. Head here to get your first 30 days free.
Pilates & Yoga Mat 4mm look for one that is non-slip and well cushioned.
Cotton Yoga Bolster perfect for your restorative poses and working against a wall.
6 Foot D-Ring Buckle Yoga Strap can't touch your toes yet? Don't worry, this strap will help.
Yoga Blocks--this will help you with balance and give you confidence to try more challenging poses
Yoga blanket--this is a great way to add comfort to seated postures and a must for the final rest pose.
Yoga Brands for Moms
You'll also need some great clothes. Start with a pair of yoga pants and a top that will keep your boobs in place while you are inverting. A few brands that I recommend are:
Zobha.com--these fashions are for moms that want to move in style.
LuluLemon--pretty sure they've fixed the issue of the see-thru pants and I love the bright colors.
Athleta--Lots of this gear can do double duty at the gym.
Target--for budget-friendly pricing and plus sizes, Target can't be beat. 

Five Tips To For a Girl's First Leg Shave
Do you remember your first time shaving? Mine wasn't pretty. I snuck my dad's razor and shaved my legs dry. It wasn't pretty. Get your daughter ready for this rite of passage with the right tools and a quick education. We've got five tips to help you navigate your daughter's ...read more
Why You Should Add Wild Blueberries to Your Diet
Do your New Year's goals involve healthier eating? Adding more fruits and vegetables to your diet? Or even adding tasty new recipes to your repertoire? We've got five reasons for you to add wild blueberries to your diet. Our friends from the Wild Blueberry Association have ...read more
Why Moms are Loving This Blueberry Couscous Salad
It's blueberry picking time. And while most blueberry recipes revolve around baked goods, we've got something different to share. First, a few sentences singing the praises of this lovely fruit. Blueberries are high in antioxidants, improve memory function and reduce the effects ...read more
Get in A Yoga Mindset
As we gear up for National Yoga Month, celebrity yoga instructor Kristin Mc Gee is sharing their tips on how to get the most out of your rejuvenating yoga workout:
Concentrate: A proper yoga session practiced with the right attitude and breathing techniques can help you not only tone your body, but develop your mental focus, release negative energy and reduce stress.
Build your yoga prowess: Start with basic yoga poses and build on those to ensure understanding of more advanced postures and yoga terminology for safe transition from pose to pose.
Get your space ready: Create a comfortable environment to practice this activity that can help you strengthen the mind, body and spirit, as well as achieve a feeling of well-being.
Focus on the inside: Be childlike and joyful when approaching your yoga practice. Yoga is not a competitive sport; it is about finding a sense of balance, strength and power from within.
Who Needs Yoga
Moms that have worn out poor posture.
Anyone who hunches over a computer.
Breastfeeding moms.
And runners! I swear adding yoga to my life has helped prevent injures and made me stronger and more flexible. I know finding a studio and an hour to get there can be tough. So why not use videos and set up your own studio (but do try to get a live instructor a few times a month--it will be essential to getting good form).
MORE YOGA FROM MOMTRENDS
PIN IT!
Use Pinterest to save your favorite ideas from Momtrends. Be sure to follow our Fitness and health board here.