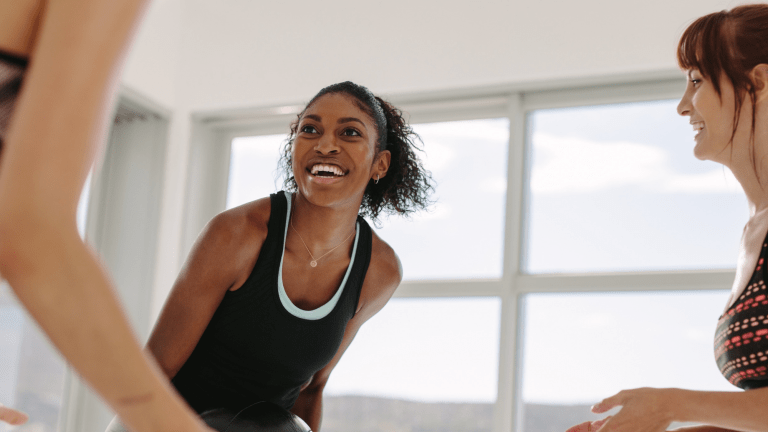 Three New Workouts to Try
Switch up your exercise routine
Although back-to-school time can be bittersweet; a mix of moments savored and those of sheer terror that you forgot something on the BTS shopping list. It also marks a season of change and a chance to restart routines, and a set tone and pace for each day.  My girlfriends and I have been looking at ways to reboot after a summer of indulgence and they have inspired me to give a few new workouts a go. We recently shared our secret to success with Yoga.  We are always on the hunt to support our mamas to be the best versions of themselves. If you are looking for a way to jumpstart your exercise routine, we have three new workouts to try. 
Partnering: While away visiting a friend, we tried a new class at her gym. This class was very different than any other studio class I have ever tried. Almost the entire class was spent working with a partner. Not only was this class motivating, the minutes flew by as we worked hard to support each other through challenging tasks. I got a full body workout and helping my friend kept me actively engaged the whole time. It was a great way to get those endorphins pumping, and sneak in a few laughs along the way.  Lucky for me, partner workouts are booming and I can't wait for my next class. A good place to start? I loved these from Fitness Magazine. I think this is a great spin on a date for you and your partner too!
Trampoline: If you're looking to have a LOT of fun while strengthening, toning and increasing your flexibility, you have to try a mini trampoline.  JumpSport Fitness Trampoline has made me sneak in extra workouts just because jumping puts you in such a good mood and you cannot help but feel giddy after you jump for even a few minutes. I personally prefer the guided workouts from JumpSport so that I know that I have taken all the measures I need to warm up, and properly work all parts of my body.  It is fun, addictive and quite an intense workout. (I am not a fan of a trampoline for young children mind you, but for a mama who needs a reboot? This certainly is a fun way to work off all the BBQs!) You don't need as much space as you think you might, and you can expect a full body workout from each session on a fitness trampoline. The JumpSport fitness trampoline is a durable, quality-made piece of fitness equipment that can withstand frequent and repeated use. Rebounding has a ton of benefits like:
Weight Loss
Cardio
Lymphatic System
Balance & Mental Health
Keep Your Body Young
It has certainly changed up my fitness routine.  How often do you smile before, during and after a workout?
Aqua-Fitness: Mamas, vigorous workouts can do a number on the body as one, a-hem, gets a little older. Have you tried aqua-fitness? I remember my aunts going to water-aerobics when I was younger and haven't heard much about it since. But, grab your bathing caps because aqua-fitness classes are making a big comeback and are a great way to shake up your fitness routine. I love how the low-impact doesn't strain my body but still gives me a workout that will tone, shape and offers great cardio.  I must admit, I scoffed during my first aqua-class thinking that I was going to have to go for a run straight after class to get "in" my workout for the day, but alas, an hour after class, my muscles came calling, proving me wrong.  Aqua-Fitness is a trend that is here to stay!
I think fitness is an ever evolving piece of your overall wellness.  The same things that worked for your body years ago might not work today.  The healthy mix-up of incorporating different workouts into your routine can be fun, rewarding and will help you keep motivated to stay on course. 
How do you keep your workouts fresh? 
This is not a sponsored post. A sample JumpSport fitness trampoline was received.