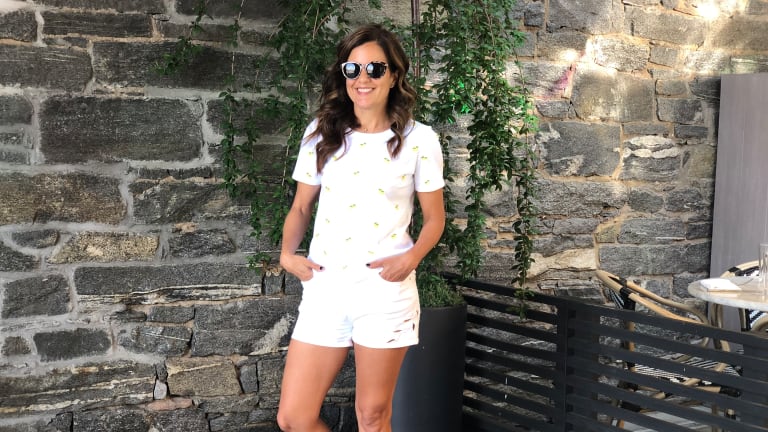 Work colorful prints into summer outfits
Playful lemon prints are the perfect way to welcome summer
When it comes to summer fashion, I embrace things sunny and bright. Winter is long in New York City, and I wear a lot of black and dark colors. Around mid-May, the sun makes an appearance in NYC, and the folks who care about style start to lighten up and think about how to work colorful prints into summer outfits. 
Related: The 10 best flip flops for summer
Work colorful prints into summer outfits
Life is a little bananas these last few weeks of school. I've been running all over trying to get the kids to all the required forced fun of end of school and trying to set up summer camp and "enrichment activities." Plus add in a full-time job and a husband who travels a fair amount and, well, it's hectic. Jeans and a tee are all I can pull off some days. 
Fortunately, when you have the right clothes on hand, even a tee can look stylish. This embroidered cotton tee from Talbots fits the requirements. It has a nice trim fit and plenty of color. 
I paired the lemon fresh tee with a pair of white denim shorts from Berenice Official (my favorite French chain store). They have little peek-a-boo patched cut out with embroidery. Together, the outfit is mostly white and very light and easy. This top would also pair perfectly with white denim or even a striped short.
Fun Summery Espadrilles
We can thank the Spaniards for this chic summer staple. A little fashion research revealed that Spanish peasants started this trend that became fashionable at the beaches and then spread to streetwear. 
It's no wonder this trend took off. The shoes are comfortable and light and perfect for travel. Taking the cuteness up a few notches, this striped pair happens to have lemons embroidered on them. 
Too much of a good things?
Two pieces of fruit is my limit per outfit. What do you say? Is more, really more? I don't have many fashion rules that I follow, but this one might stick.
What to Keep Playing with Colorful Summer Prints?
If you want to keep playing with fun summer prints, why not try adding in some accessories. 
If you want to update a white tee shirs, accenting it with this fun Lemon Scarf could be perfect for travel. 
For summer weddings, graduations and garden parties, this fun embroidered paper straw wristlet is ideal for holding your summer essentials.
This playful collection of lemon prints from Talbots is the perfect way to welcome summer.  
MORE SUMMER STYLE FROM MOMTRENDS
PIN IT!
Use Pinterest to save your favorite fashion posts. Be sure to follow our Summer Style board here.
This work colorful prints into summer outfits feature is not sponsored.