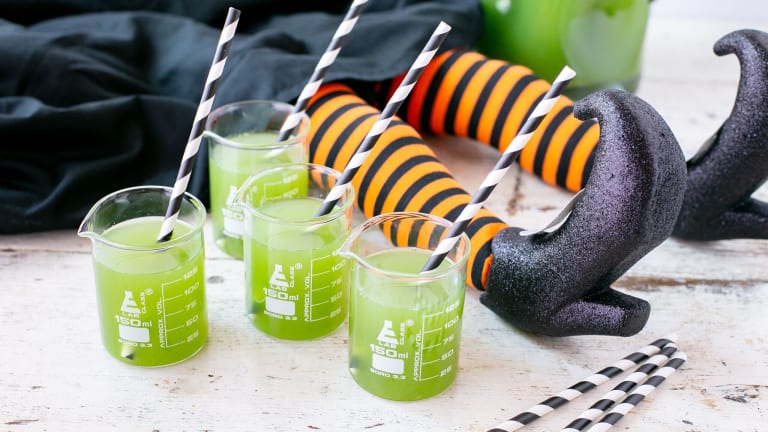 Publish date:
Witches Brew Punch
A recipe for a trendy Halloween mocktail that's perfect for your at-home celebration.
A recipe for a trendy Halloween mocktail that's perfect for your at-home celebration.
My neighborhood goes big on Halloween. There are parties, gatherings, parades, and scary-awesome celebrations that go on for weeks. There are kid-friendly festivities and grown-up dinner parties, frightfully fun desserts and kooky-spooky cocktails. It's a blast. But, this year, I won't be sipping on any sinister spiked drinks or wicked wines. No, this Oct. 31st, I'll be trading in the BOO-ze for a mocktail.
Related: Our favorite Halloween treat bags
Mocktails for Halloween
It's not like I typically go crazy on Halloween. But with a baby brewing in my belly, that post-trick-or-treating glass of vino is a no-go. (I'll get all the yummy candy, though!) Still, I want to get into the spirit of things--so I'm excited to whip up a batch of witches' brew punch. Lime gelatin mix gives it a tart punch, while cucumber-jalapeño juice kicks things up a notch. Together, the spice, lime, and ginger ale helps this mocktail resemble a margarita--without the tequila, of course. But you could easily add tequila or vodka for those who aren't expecting!
I love that you can serve in a large pitcher for parties--or even a cauldron (insert wicked laugh), if the mood strikes. It's kitschy and fun served in lab beakers, but tastes just as good in a glass. Here's the enchanting recipe...
Witches Brew Punch Ingredients:
3 oz package of lime gelatin mix
4 cups very warm water (almost boiling)
1 cup sugar
32 oz Cucumber Jalapeño juice, chilled
16 oz (or more to taste) Ginger Ale, chilled

Five Tips To For a Girl's First Leg Shave
Do you remember your first time shaving? Mine wasn't pretty. I snuck my dad's razor and shaved my legs dry. It wasn't pretty. Get your daughter ready for this rite of passage with the right tools and a quick education. We've got five tips to help you navigate your daughter's ...read more
Why You Should Add Wild Blueberries to Your Diet
Do your New Year's goals involve healthier eating? Adding more fruits and vegetables to your diet? Or even adding tasty new recipes to your repertoire? We've got five reasons for you to add wild blueberries to your diet. Our friends from the Wild Blueberry Association have ...read more
Why Moms are Loving This Blueberry Couscous Salad
It's blueberry picking time. And while most blueberry recipes revolve around baked goods, we've got something different to share. First, a few sentences singing the praises of this lovely fruit. Blueberries are high in antioxidants, improve memory function and reduce the effects ...read more
P.S. if you want to make this a cocktail, you can easily add 2 cups of chilled vodka.
Witches Brew Punch Directions:
Combine gelatin, warm water and sugar. Stir well to combine.
Cool to room temperature, then chill in the refrigerator for several hours.
In a punch bowl or large pitcher, combine gelatin mixture, Cucumber Jalapeno Juice (I like Natalie's Orchid Island Juice Co.), and Ginger Ale.
Serve in punch glasses or glass lab beakers for a fun Halloween punch.
You can add chilled vodka to make a great cocktail punch, if desired.
WANT MORE HALLOWEEN FROM MOMTRENDS?
PIN IT!
Be sure to follow Momtrends on Pinterest and for more spooky inspiration follow our Halloween and Thanksgiving Boards here.