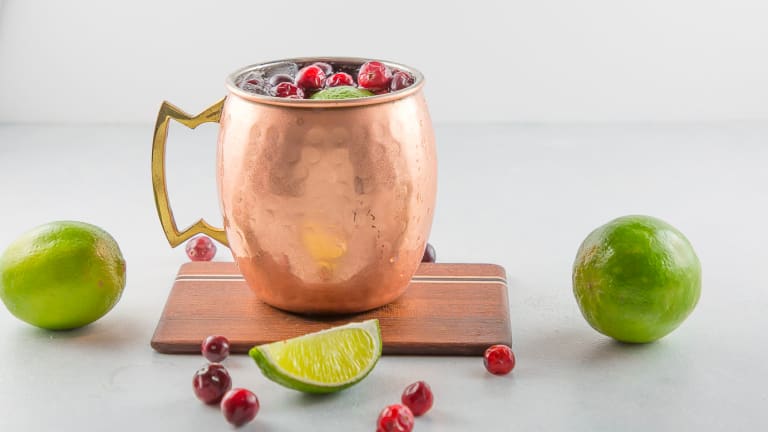 The Winter Mule Cocktail
We've come up with the perfect weekend drink the winter mule cocktail.
Alas, the holidays are over and the New Year has begun. Anyone else feeling a little conflicted? I love a fresh slate to start a new year, but I love the holidays as well. Oh well, everything has its season. And this season is undoubtedly winter! It's a frigid 9 degrees outside right now, and we are waiting on snow. We've come up with the perfect weekend drink the winter mule cocktail.
Related: Winter blues cocktail recipe
The Winter Mule Cocktail
Winter weather like this might be typical in some places, but I'm in the south. Temps like this are very unusual so early in winter. I'm excited and can't wait though! It's certainly an excellent day for some spiked hot chocolate! 
Today, I am sharing another favorite cocktail of mine. Vodka-cran and I go way back. I'm talking pre-husband and baby days! This winter mule is nestled somewhere between a vodka-cran/cape code and a Moscow mule. It's tart and oh-so-delicious!  Featuring a seasonal favorite, the cranberry, it is the perfect winter mule.
Like the mule, this cocktail starts with a "beer." A cranberry-apple hard cider plus vodka, cranberry juice, lime juice (fresh and sweetened), and Grand Marnier to round it out. If you like your drinks a little less tart, you can add more sweetened lime juice.  The tartness is adjustable a bit, but don't go overboard.  One extra teaspoon of sweetened lime juice is about as much as you want to add.  
The Winter Mule Cocktail Ingredients
1 oz. vodka
1/2 cup hard apple cran cider
1/2 cup cranberry juice
fresh lime juice from lime wedge (1/4 lime)
1/4 oz grand marnier
1 tsp sweetened lime juice
The Winter Mule Cocktail Instructions
Combine all ingredients in a glass with ice and stir. Enjoy!
I hope you love this version of the mule as much as I do! Have a wonderful New Year and cultivate more joy and happiness than this past year. Focus on what matters and let the rest go! Enjoy your cocktail and, as always....
Happy Sipping!
MORE WINTER COCKTAILS FROM MOMTRENDS
PIN IT!
Use Pinterest to save your favorite cocktail recipes. Be sure to follow our Drinks board here.
This is not a sponsored post.