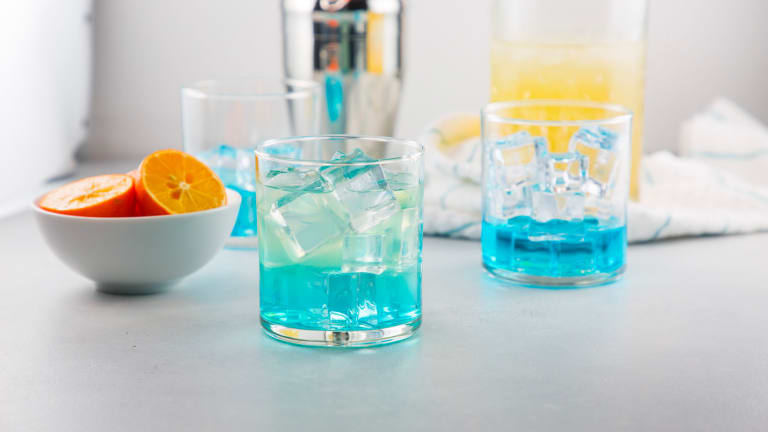 Publish date:
Winter Blues Cocktail
Happy Saturday ladies!  I hope everyone is enjoying the weekend and doing just what they want to be doing!  For me, that will be beaching it. Yep, I will be headed to the beach in January! Right now, it's fair to say we are deep into winter and, I don't know about you, but I certainly can tell. The winter blues are seeping in and I am in some desperate need of sunshine. So, to make due, I created sunshine in a glass with this winter blues cocktail.
Made with UV blue raspberry vodka for that gorgeous blue color and a sweet (but not too sweet) twist on a vodka lemonade, this winter blues cocktail will have you smiling in no time. The lemonade is scratch made with meyer lemons, filtered water, and a tiny bit of raw cane sugar. The meyer lemons have their own sweetness so I just balanced out the tartness with a tad bit of sugar. Just sit back, steal your kids sound machine (put it on beach waves), sip, and enjoy!  We will fool ourselves out of this winter funk!
What's great about this cocktail, is like the spiked hot chocolate, there is a part that the kiddos can enjoy. My son LOVES lemonade so he was thrilled to enjoy a glass.  If your family loves lemonade like mine does feel free to double (or triple) the lemonade recipe for a tasty treat the whole family can enjoy!
To make this tasty winter blues cocktail you need to first make the lemonade.  
Lemonade Recipe:
2 meyer lemons, juiced

Fun Ways to Discover Venice Italy with Your Family
Greetings from Italy wear the gelato is rich, the clothes divine and the scenery is inspiring. Now that I've been to this fine city in the north of Italy, twice, I've amassed a list of favorites to share. These are some fun ways to discover Venice, Italy with your family. ...read more
Here's What No One Tells You About Olive Oil
produce is at its absolute PEAK right now. It's the time to prepare fresh veggies and fruit with ease and simplicity. When it comes to cooking, the farmer's market is my muse. As I prepare some of my summer harvest favorites, I'm sharing a little secret, what you put ON the ...read more
2 cups filtered water
1 tbsp raw cane sugar
To make the winter blues cocktail recipe:
1 shot of UV blue raspberry vodka
4 oz lemonade
Ice
Combine all ingredients in a cocktail shaker and shake.  Serve over ice.  Enjoy!
Happy Sipping!
This is not a sponsored post.