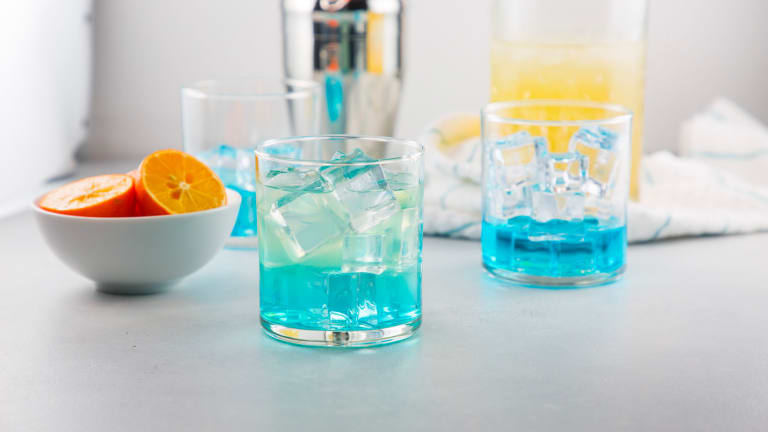 Winter Blues Cocktail
This drink creates sunshine in a glass with this winter blues cocktail.
We are now in full-on winter mode! Bring on the snow! While we fully support all the moms who are having a sober curious January, we also know many moms love a good cocktail, so we will keep them coming. To brighten up your winter weekend, try this winter blues cocktail. It's like some sunshine in a glass. 
Related: Winter mule cocktail recipe
Winter blues cocktail
Made with UV blue raspberry vodka for that gorgeous blue color and a sweet (but not too sweet) twist on a vodka lemonade, this winter blues cocktail will have you smiling in no time. The lemonade is scratch made with meyer lemons, filtered water, and a tiny bit of raw cane sugar. The meyer lemons have their own sweetness so I just balanced out the tartness with a tad bit of sugar. Just sit back, steal your kids sound machine (put it on beach waves), sip, and enjoy!  We will fool ourselves out of this winter funk!
What's great about this cocktail, is like the spiked hot chocolate, there is a part that the kiddos can enjoy. My son LOVES lemonade so he was thrilled to enjoy a glass.  If your family loves lemonade like mine does feel free to double (or triple) the lemonade recipe for a tasty treat the whole family can enjoy!
Lemonade Recipe
To make this tasty winter blues cocktail you need to first make the lemonade.
Ingredients: 
2 meyer lemons, juiced
2 cups filtered water
1 tbsp raw cane sugar
Directions: Mix ingredients in a large pitcher and chill.
Winter Blues Cocktail Ingredients
Ingredients: 
1 shot of UV blue raspberry vodka
4 oz lemonade
Ice
Directions: Combine all ingredients in a cocktail shaker and shake.  Serve over ice.  Enjoy!
Happy Sipping!
More Winter Cocktails from Momtrends
PIN IT!
Use Pinterest to save your favorite cocktail recipes. Be sure to follow our Drinks board here.
This is not a sponsored post.