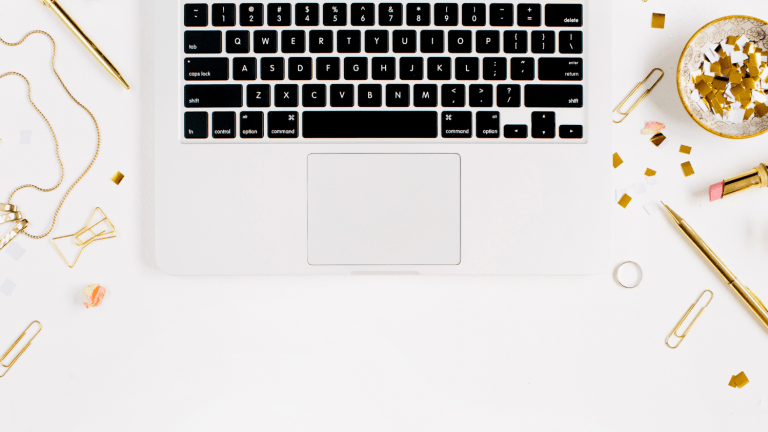 Why You Need to Make a Gift Guide
We've teamed up with Constant Contact to give you some tips for a successful holiday season.
Now is the time to HELP your community. Your people WANT to hear from you as they start to shop for the holidays. As creators, it's up to us to share ideas to help take the stress out of the season and to support the brands and businesses that we love. Taking all this into account, this is really WHY you need to make a gift guide this holiday.
Creating Your Gift Guide
Pick a theme: This year I picked brown, gold and green--I was going for a natural vibe. All the elements in my graphics involve these colors. This gives the reader a cue that all the holiday content is related.
Mine Your Content: If you are a creator, it's likely that you have been talking about brands and products all year long. Go through your past content to pick your favorites. I'm especially focused on helping small businesses this year. If I can highlight goods made by a Black-owned brand, I'm trying to share that with my community.
Make it Easy to Shop: This means providing prices, special discounts and most important, shopable links. Make sure you double-check that all the links are working before you hit "publish." And wherever possible, be careful not to link to items that are out of stock.
Keep it Organized: I break down my gift guides by segment. For instance, Gifts for Grandparents, is one of our most popular guides. The items I pick take into account these folks likely already have most everything. I look for sentimental gifts or items that are small.
Make it Appealing: I look for images of products with a white backdrop. This makes the guides look cohesive and it's easier for the consumer to navigate.
Using Constant Contact to Promote my Guides
Once I've done all the work of creating my guides, it's time to spread the word. Constant Contact is easy to use and saves me time in creating my marketing campaigns. With their professionally-designed email templates my emails always look great. Plus, I love that I can connect my Constant Contact account to the other tools I use, like Canva, Shopify, and all my social media.
With Constant Contact, I'm confident Constant Contact helps businesses see success. They have amazing deliverability, which means my emails are much more likely to hit the inbox and not be sent to spam. Plus, they provide me with the reporting I need to easily see what's working and help me make marketing decisions that lead to better results for my business.
Tips to Promoting Your Gift Guide:
We've been using Constant Contact to send out our gift guide emails for a decade! We've teamed up with them to give you some tips for a successful holiday season. 
Use special holiday offers: Coming up with a compelling offer could be the secret to this year's success. Reach out to your brand partners for discounts codes for savings and free shipping. If you get a unique code, it's a great way to track your marketing efforts. And one thing we do to increase eyeballs on our guides is to ask for product to use in a giveaway.
Leverage the marketing channels that matter: The holidays are a busy time for your community. That's why it's important to use the right channels to get in front of the right people at the right time. I love using instagram stories to share special deals with a swipe up link to shop.
Get organized and plan your schedule: Decide on the messaging you'll use for each channel and plan out your schedule. Determine when you'll run ads, send emails, and share on social media to engage your current and potential customers. Put all this information on your calendar with a time and date.
Plan to stay connected during and after the holidays: Encourage new community members to join your email list before and during the holiday season so you can continue to influence them year-round.

Consider the Big Seasonal Marketing Dates
Aside from the usual rush around traditional holidays, don't forget the big shopping and giving days that kick off the season. Constant Contact has awesome templates for each of these big days, making it a breeze to continue your promotions.:
Black Friday: November 26th, 2021
Small Business Saturday: November 27th, 2021
Cyber Monday: November 29th, 2021
Giving Tuesday: November 30th, 2021
Free Constant Contact Webinar
Constant Contact is a great resource for entrepreneurs and small business owners. They offer free advice and guidance on their blog, in live and recorded webinars, on social media and more.
On Thursday, December 9th from 2 PM – 3 PM EST Constant Contact will offer a  Free Live Webinar: Ask Us Anything—Your Holiday Marketing Questions Answered. They've got experts prepared to talk about holiday email, social media, and more!
Sign up and get more details here www.facebook.com/events/617459256367486
Constant Contact has the right tools I need as my business grows, and I know that I can rely on their award-winning support team whenever I need help.
This is a sponsored post.