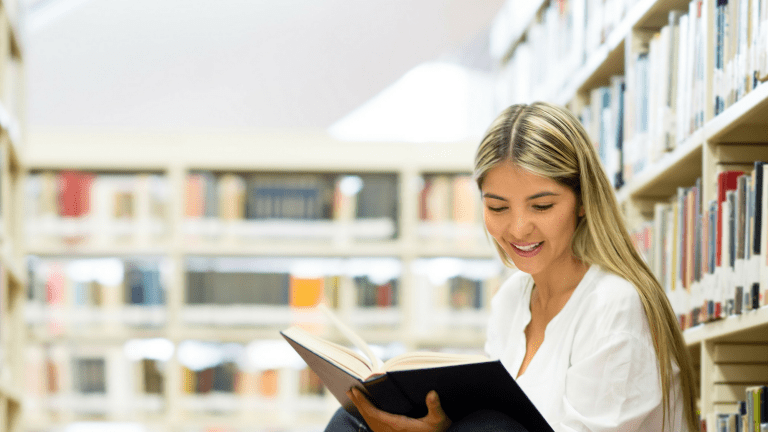 Why You Should Still Go to the Library
Libraries will always be on trend
We all live in the digital age. Instant access to a bevy of information is right at our finger tips and is available around the clock. I rely on "google" as much as the next person, but nothing can replace the brick and mortar (or the smell) of a library. In honor of National Library Week (first sponsored in 1958), we are celebrating the institution by sharing our fondness and we why we think you should still go to the library. 
For starters, the library can offer a level of expertise that the internet cannot. I know that's a broad statement but the database available in the library (whether public, school, or academic) gives you (FREE!) access to reliable, vetted, professional resources on any subject you may be researching. The internet is limited, can be time-consuming to find specific and accurate fact-based resources and is often a black hole of information. Libraries are filled with oodles of information (often that can't be found otherwise), just waiting to be discovered. 
Libraries have librarians! Librarians are trained professional who know how to find what you're looking for and even know how to help you find it. Librarians know endless tricks to help you narrow your search (or broaden it as the case may be!) and they can tailor you research journey to fit your specific needs. 
Libraries are the foundation of any community. We always make a stop a library whether we are visiting a new community, or on a family road trip. I moved several times and the library was always one of my first outings and it is the heart of a community. The library is a place to find out what is going on around you, enables you to connect with like-minded people; whether it be for a book club, mahjong, a new exercise program or pottery class. Even the smallest libraries are a hub of information to gather people together and to encourage social interactions, and collaborations, for people of all ages. 
The library oozes motivation. It encourages people of all ages to seek knowledge, strengthen their literacy, go on a journey of the mind and grow and expand as a person. The library plays an integral part of a child's early road to becoming a lifelong learner.
We love the library as it is the great equalizer. There is no limit on what you can learn, how often you can visit and nothing is required of you in order to reap the benefits of the wealth of information.  
Visit the American Library Association for more information on how you can celebrate National Library Week. 
What we're reading now:
1. Before We Were Yours: A Novel by Lisa Wingate
2. Wishtree by Katherine Applegate
3. Fish in a Tree by Lynda Mullaly Hunt
4. The Tea Girl of Hummingbird Lane by Lisa See
5. Origin by Dan Brown
6. Worlds Apart (Story Thieves) by James Riley
7.  Ballerina Body: Dancing and Eating Your Way to a Leaner, Stronger, and More Graceful You by Misty Copeland
This is not a sponsored post. The post may contain affiliate links.