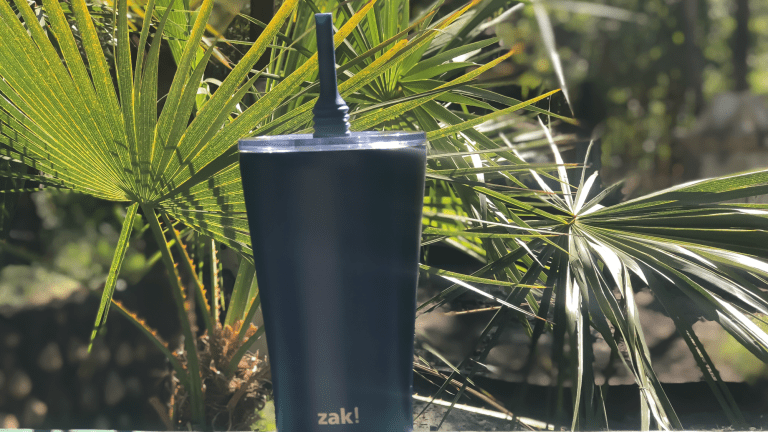 With Earth Day coming up tomorrow, I've been taking the past week to talk about ways we can take care of our planet with my kiddos. We do things like recycle, try not to be wasteful with water and the like, but Earth Day is always a good reminder to brainstorm other ways we could be more eco conscious. And one of those ways is to choose to reuse. Disposable dependency is such a problem and if more of us were willing to give up the disposable products so many of us use daily, we could collectively make such a difference.
How to Choose to Reuse
One of the easiest ways to choose to reuse is to bring a reusable cup with you when it's time to pick up your coffee fix. I fully admit that I'm not the best about that. I do occasionally remember to bring my own cup, but I've decided that it's high time I make a bigger commitment to ditching the disposables. So, my first run at using my reusable cup more regularly came during our latest trip to the zoo. We have annual passes to our local rehabilitative zoo because we just love getting outside on a beautiful day and appreciating the beautiful creatures that grace our planet.
Now being that we're always at the zoo at least a few hours, drinks are inevitably purchased. Whether I'm indulging in an iced coffee or sipping on plain old water, I always have a drink on hand when I'm there. It was so darn easy to throw my trusty Zak stainless steel tumbler in my backpack and whip that out when I ordered my drink instead of taking the disposable cup! Seriously. This is not a hard change to make my friends. The key is to simply make it a habit.
Don't Forget Your Reusable Bag
And another habit that's easy to all into is using reusable bags. No matter whether you're doing a full on groceries run or just heading to Target for a few things, don't forget your bags. My kids love picking out which bags we're going to take, so I've started picking up cute ones whenever I see them. Much like gym clothes, if I have something cute to put on, I'm more likely to suit up in the morning. Bwah! Whatever works right?

Save Money at a Ski Swap
Are the slopes in your future? If you want to save money on ski gear, consider a ski swap. A swap is a great way to buy and sell used equipment. Most swaps consist of a variety of gear, from brand new to used skis and snowboards to skis; from poles to boots to bindings and ...read more
The Ten Best Wooden Play Kitchens For Kids
Cooking is a timeless fascination for children. This type of play goes beyond gender and teaches kids loads of life skills along the way. An investment in a play kitchen is money well spent, as it can provide hours of entertainment. We've rounded up the ten best wooden play ...read more
New Victory Announces a New Season of Shows
We know you're busy planning picnics and summer outings, but we wanted to let you know that The New Victory just announced their new season and it looks fantastic. We thought you'd like a sneak peek of what's in store! Each year the New Vic theater brings culture to tourists and ...read more
So, why not make this Earth Day the day you choose to reuse? Pick up those reusable bags and cups and don't look back! In fact, Zak is challenging us to switch out disposable cups for reusable ones for 30 days starting on Earth Day. Did you know that every minute a million plastic bottles are bought around the world? And it takes more than 400 years for plastic to degrade.
Our children, our children's children and their children will be long gone before that time comes. If saying goodbye to disposables isn't a change you're willing to make for yourself, do it for your kids. They're going to be stuck with the world we leave them! By 2025, the ratio of plastic to fish in the ocean could be one to three, and by 2050, it's expected that the weight of plastics in ocean will surpass the weight of fish in the ocean.
Make the Choose to Reuse Pledge
We simply can't shirk our responsibility to take care of the planet we've been given. Won't you join us in making the pledge to choose to reuse? I bet after 30 days you won't even think about it anymore. Grabbing your reusable tumbler or travel mug before you walk out the door will be second nature! On that note, happy almost Earth Day! Let's be kinder to the Earth and each other!
And if you need a little more inspiration, use the discount code CHOOSETOREUSE for 20% off your own Zak Alfafa tumbler from 4/21/19-5/15/19. Trust me when I say your iced coffee will never taste icier. Bwah! These things keep your drinks SO cold. It's a big step up from the disposable cup your java joint will give you. Just sayin'.
And for more Earth Day fun, check out the Earth Day activities that we shared for the whole family!
We were not paid for this post. We did receive a sample.