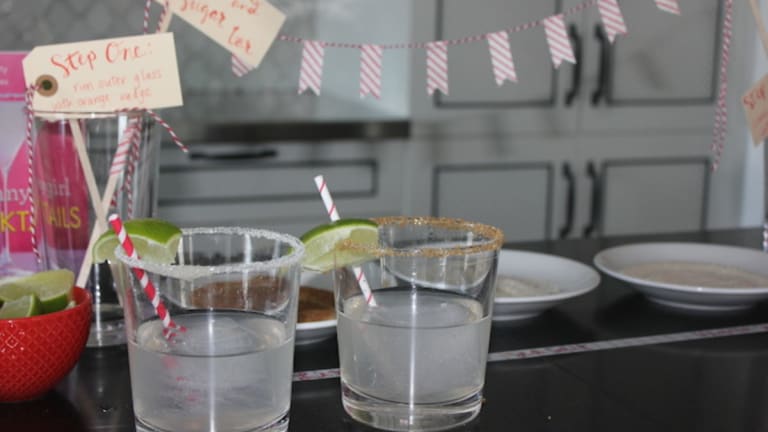 Why You Need a Signature Cocktail
Create a quick and easy Margarita Bar with ready-to-pour margaritas.
Women love to throw parties. We love to gather friends and share. Whether it's a big celebration, like an engagement or a baby, or maybe it's just surviving a crazy week of balancing work, family and life. One thing that turns a gathering into a party is a great drink. I'm going to fill you in on why you need a signature cocktail.
And then, there was the celebrity experience! Bethenny Frankel arrived for cocktails and a chat on the final evening. She shared the winding story of her success (the woman doesn't take no for an answer).
This summer I dreamed up a fiesta for friends. I created a quick and easy Margarita Bar using Skinnygirl Cocktails ready to pour margaritas.
Planning the party was easy. I used the ready-to-serve Skinnygirl Margarita and then came up with some fun add-on ideas.
Easy Entertaining Ideas
Keep the food simple. I used chips and salsa since it was a simple party, I kept the focus on the drinks.
Step up your ice. I prepped oversized rocks. This way the margarita will stay cool without getting watery.
Get your guests involved. After I demonstrated rimming the glass with lime and then adding salt from our salt bar, everyone was able to join in the fun. I picked three flavors: a tart lime, sea salt and a sweet one. TIP: use washi tape and a Sharpie pen to label all the flavors.
Have a signature drink. I picked the Spicy Margarita. To make this I followed Bethenny's instructions in her cocktail guide. I muddled some jalapeno added it to a rocks glass that had been rimmed with a sea salt mix. Add in a large "rock" and then pour over the chilled pre-mixed cocktail. Easy peasy and so tasty.
Here's a look at details from the party:
This is a sponsored post. All content is original, there is no scripted information and all opinions are my own.