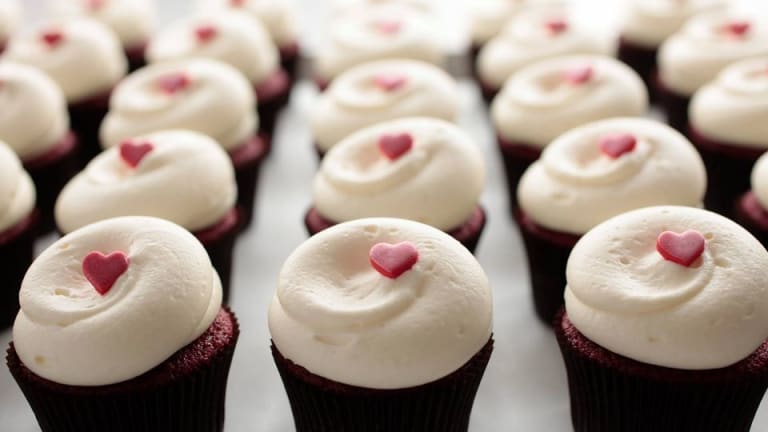 Why we Love the Ladies of Georgetown Cupcakes
The Founders of Washington's most famous cupcakes are delightful and down-to-Earth.
Last week I went on a mission to meet the ladies behind cupcakemania--Sophie and Katherine aka the adorable owners of Georgetown Cupcakes aka the stars of DC Cupcakes. This was a risky assignment--it meant putting my size 26 jeans at risk of not fitting. But I was equal to the task. We love the ladies of Georgetown Cupcakes because it's an entrepreneur story and a story of friendship.
Related: Reasons why we love Washington, DC family travel
The Ladies of Georgetown Cupcakes
After an hour with the baking duo and two red velvet cupcakes, I've got lots to dish. Sophie and Katherine are as delightful as their baking. Their energy is infectious and I soooo want to be a new BFF. No artificial sweetness detected by this duo. I was struck by how proud (though slightly shocked) they were by success. They didn't make apologies--they told me it is hard work, determination and love that made it happen. These are women that could have been in my sorority at Vanderbilt--they are smart, savvy and hard working (and did I mention they love pink?).
Getting the Business Started
Katherine told me her even her family had doubts when she left her fashion job. "They said, 'Do you think you are really going to be able to sell 100 cupcakes a day?'" reports Katherine. 
What started as a small shop in 2008 is now a growing business serving up 10,000 cupcakes a day. They work crazy hours (think about getting up at 3am to start baking before you sign a lease!). Katherine is fanatical about lining up the cupcakes "just so"--she's still sweating all the details. And Sophie really does have flour on her 90% of the time.
Sophie was encouraging of other small business venture, "if you love what you do you'll be successful, but your heart has to be in it." According to Sophie, "Frosting the cupcakes is still the happiest time of my day."
Business is Booming
They must be on to something. When I was there the line was down the block--typical for business. A strict no refrigeration policy is the reason everything tastes so good. The ladies plot and plan for the just-right amount of baked goods. Anything left over (and there rarely are leftovers) are donated.
I'm told a TV producer found them after visiting the store and witnessing a "lively" conversation between Katherine and her mother. The producer came back with a camera crew and the rest is just television history.
The ladies don't have much time for life outside of flour and icing--so life comes to them. Their families know where to find them. Sophie and Katherine are committed to making sure quality remains the same as the business grows.
Oh, and one last note, they really do love pink. It's everywhere in the office. My heroes. Now in its second season on TLC, DC Cupcakes airs on Fridays at 10/9c. It's good family viewing and supports female entrepreneurs--what's not to love. What's on plate this season? Baking 10,000 cupcakes to be shipped to Afghanistan for our troops, creating a giant pink bra out of cupcakes for Breast Cancer Awareness Month, catering a cupcake birthday party for two gorillas at the National Zoo, and making a couture wedding dress out of cupcakes for DC Fashion Week. 
Getting Your Fix
Visit the DC location at 3301 M Street NW (corner of 33rd & M),  Washington, DC 20007 or order online at www.georgetowncupcake.com
MORE BAKED GOODIES FROM MOMTRENDS?
PIN IT!
Use Pinterest to save your favorite recipes ideas. Be sure to follow our Sweet Treats Board here.
Momtrends was not paid for this post.