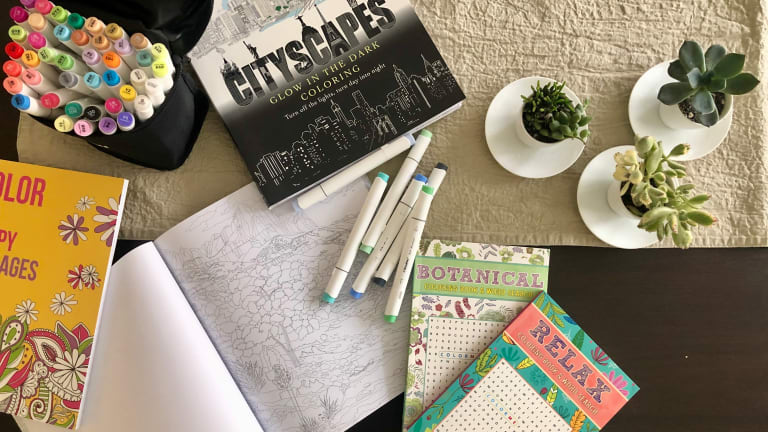 Why we all need to color right now
Coloring is the perfect activity for teens and it's the cure for boredom and will put you in a better, more positive mood.
On our daily homeschool schedule, I always put "creative time" on the agenda. This means we all unplug and MAKE something. Since my teens aren't too keen on crafting every day, I've come up with other ideas like making succulent gardens and puzzling. But I want to tell you why we all need to color right now -- it's the cure for boredom and put all three of us into a better, more positive mood. 
Related: Keep teens busy outdoors geocaching
Why we all need to color right now
When was the last time you cracked open a new marker and flipped to a fresh page of pristine white paper and set down to color? It's a pass time that never, ever gets old. On Sunday, we sat at the big dining room table and dug into this creative pursuit with complete abandon. For more than an hour, we spent time with each other in a relatively solitary pursuit. Some of us colored in the lines, others of us took a more Impressionistic approach, but we were all happy and all ended up with something to love and appreciate. 
Three Reasons to Love Coloring
It's ageless. Coloring appeals to artists from age 1-101.
No talent required. Unlike drawing you don't really need a lot of skill.
Frugal. Crafting can get expensive. One trip to Michael's to set up a craft can cost nearly $50. A coloring book and markers or crayons can be had for under $10. And many site provide free coloring pages.
Our Favorite Coloring Books for Teens
I've selected four of my favorite new coloring books from Printers Row Press. These are the books that have been keeping us busy during COVID.
National Parks Coloring Book
This one is perfect for the outdoor enthusiast. It's also ideal for kids who are missing out on summer camp. The Ultimate Coloring National Parks is my go-to book. Pages include scenes from Acadia to Yosemite. Each page includes a bit of trivia about each park appears opposite the art, so you can imagine being there as you fill in each picturesque scene. Imagination incurs no travel expenses, so book your trip today!
Get your Ultimate Coloring National Parks here 
Momtrends Bonus: Get free Earth Day downloadable coloring pages here.
CityScapes Glow in the Dark Coloring Book
If you have a kid who loves the city and culture, consider this book the perfect match. The CityScapes book is all about skylines and urban landscapes. The book is inspired by ten iconic cities from around the world, including New York, Paris, London, Tokyo, Toronto, Sydney, Venice, Rio de Janeiro, Moscow, and Hong Kong. And get this -- the pages glow in the dark, making them extra cool to display in a bedroom. The panoramic pages are quite long, my 14 year old colored a tri-fold. 
Get CityScapes on Amazon here.
Color Happy Passages
My 6th grader loved these peppy pages full of positive messages. She's more of a "color in the lines" kind of girl and she adored these pages and the uplifting messages. Her collection is posted by her window to give her some daily affirmations. Color 100 Happy Passages will give her pages of joy. Science has shown that there are many health benefits to being merry, and the activity of coloring can bring peace to an overactive mind. 
Get Color 100 Happy Passages on Amazon here.
Relax Coloring Book and Word Search
For a quick fix of color and escapism, I like reaching for this two-in-one book. It's a word search and a coloring book. The smaller pages make it easy to pick up for a few minutes of unwinding. Word search requires focus, perfect for days when the COVID numbers are just too overwhelming. The Relax Coloring Book & Word Search is also great for folks who don't know they love coloring (yet). 
Get Relax Coloring Book & Word Search on Amazon here.
Our favorite markers
Of course all these fun books necessitated some new art supplies, while I love colored pencils like no one else, my artistic crew is more keen on markers. We all agree that this Ohuhu 40-Color Alcohol Marker set is the best thing that's hit coloring pages for a while!
Momtrends tip: These colors will BLEED onto surfaces (we learned the hard way), be sure to color on a placemat or other surface that you don't care about. 
The Ohuhu markers are double tipped; they come with both broad and fine twin tips. This means you can do precise highlighting and underlining.  We love the intense colors and the handy carrying case. But please -- recap the markers when you are done. Nothing makes me crazier than dry markers. 
Get the Ohuhu 40-Color Alcohol Marker set on Amazon here.
MORE IDEAS ON PARENTING TEENS FROM MOMTRENDS
PIN IT!
Use Pinterest to save your favorite ideas from Momtrends. Be sure to follow our Parents of Teens & Tweens board here.