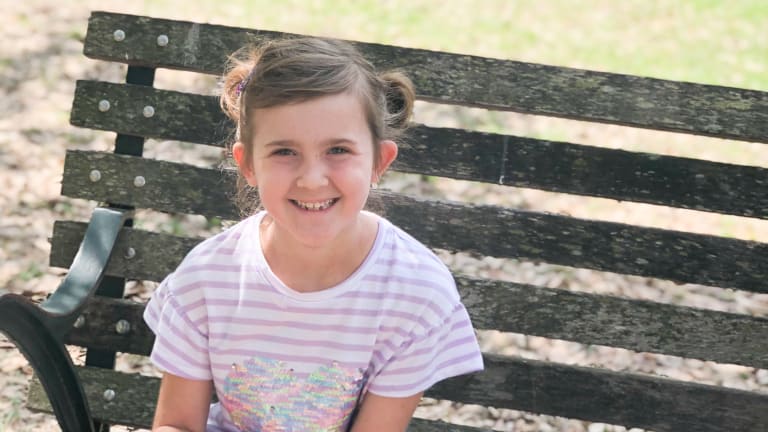 Why I'll be Talking to My Daughter About Periods This Fibroid Awareness Month
Change the Cycle is an online community where women with uterine and pelvic health issues can find information and resources and share them with their girls.
Once upon a time I was a very scared thirteen-year-old getting her first period. I can remember it like it was yesterday. I was at a park with my friend, who was visiting from out of town, and we were riding a carousel when, BAM, it hit. The pain I experienced with that first cycle and every cycle thereafter was virtually unbearable. From then on, I missed at least a day of school every month, and sometimes more than one, thanks to my menstrual health issues.
Related: Shaving tips for tweens and teens 
I can vividly recall memories of lying on my bathroom floor praying that the pain would pass, and being terrified of the humiliation of bleeding through my clothes. And you know what? I thought that was normal. I thought every girl was going through what I was going through. Little did I know that while it's not uncommon, severe pain and heavy bleeding simply isn't normal and we don't just have to deal with it. What we do need to do is talk about it! I only wish periods were mainstream, and women had more resources like Change the Cycle, an online community where women with uterine and pelvic health issues can find information and resources, to normalize below the belt talk. Maybe I would have felt more encouraged to bring up my issues at a younger age. Sigh. 
I'm just thankful that as an adult I know that women have options because I'm now raising one. She may be small at the moment, but all too soon she'll be dealing with her own menstrual cycle, eek, and I want to make she's armed with all the information she needs so she can make informed decisions about her health and always feel empowered. I would be heartbroken if she waited until she was grown up to voice her concerns like I did. In fact, it could be downright dangerous to wait.
We're going to have that talk long before her first period is a reality. I want her to not only be prepared for what's to come, but also feel comfortable talking to me and her doctor if something's not right. Did you know that up to 80% of women will experience uterine fibroids by the age of 50? That's a scary statistic isn't it? And my daughter could very well become one of them, which terrifies me as her mom. But let's back up for a moment. Do you know what fibroids are exactly? You may be currently experiencing fibroids symptoms without knowing why! Fibroids are noncancerous tissue growths in the uterus that can cause symptoms like heavy periods (like mine), cramps, frequent urination and fertility issues.These are symptoms that so many women experience, but they may not be considering fibroids are to blame. Let's change that.
#WhyIWearWhite for Fibroid Awareness Month
July is actually Fibroid Awareness Month, so it's the perfect time to start these conversations! I have multiple friends who have or have had fibroids and I have seen what kind of havoc they can wreak. I've seen them struggle with fertility. I've seen them crushed by pelvic pain. I've seen their spirit dampened and their lives impacted by the fear of bleeding through their clothes. None of this is ok. As women, we should feel empowered to take control of the conversation surrounding our below the belt health, and we should know our options. So many women think a hysterectomy is the only way out. I wonder how many of my friends know that relief is possible without major surgery or hormones? They will soon, because I'll be shouting it from the rooftops – so all my friends, and my daughter, know they always have options when it comes to their health.
Women shouldn't have to deal with painful symptoms like heavy bleeding, periods lasting more than a week, frequent urination, pelvic pressure or pain, backaches and more as a result of fibroids. And while hysterectomy could be a solution, there are so many other options like lifestyle changes, drug therapy and minor procedures that aren't as invasive.The key is starting the conversation. If we instill in our girls how important speaking up is when they're young, they're less likely to suffer as adults! I always want my daughter to be the confident girl she is today, not afraid to be active or take on the world even when that time of the month hits!
Being proactive about your health starts now: take Change the Cycle's "What's Your Normal" quiz here to better understand your symptoms!
So my friends, are you ready to join the movement? It's time we take the shame out of talking about pelvic health – and reclaim the color white in our wardrobes as a symbol of empowerment, rather than fear! Let's be proactive! This is our health we're talking about! Head over to Change the Cycle to see what you can do! Whether you've had fibroids yourself or have friends or family who have been affected by them, Change the Cycle would like you to share your story about why raising awareness for this topic is important to you! I want every woman to feel confident stepping out in white no matter what time of the month it is...Don't you?!
More Tween Resources from Momtreds
PIN IT!
Use Pinterest to save your favorite parenting articles. Be sure to follow our Parents of Teens and Tweens board here.
How to share your story: Use the hashtag #MyFibroidStory on social media to share your personal journey with fibroids, or #WhyIWearWhite to share why you support this mission and stand in solidarity with the millions of women affected!
You can also get involved with The White Dress Project, a non-profit organization that's dedicated to raising funds for research and awareness for uterine fibroids. You can find out more and donate funds to help HERE.
Compensation was provided by Hologic. The opinions expressed herein are those of the author and are not indicative of the opinions of Hologic.
References:
1. Uterine fibroids: Overview. Mayo Clinic. http://www.mayoclinic.org/diseases-conditions/uterine-fibroids/home/ovc-20212509. Accessed April 25, 2017.
2. Uterine Fibroid Fact Sheet. Office of Women's Health, U.S. Department of Health and Human Services. https://www.womenshealth.gov/a-z-topics/uterine-fibroids. Accessed April 27, 2017.