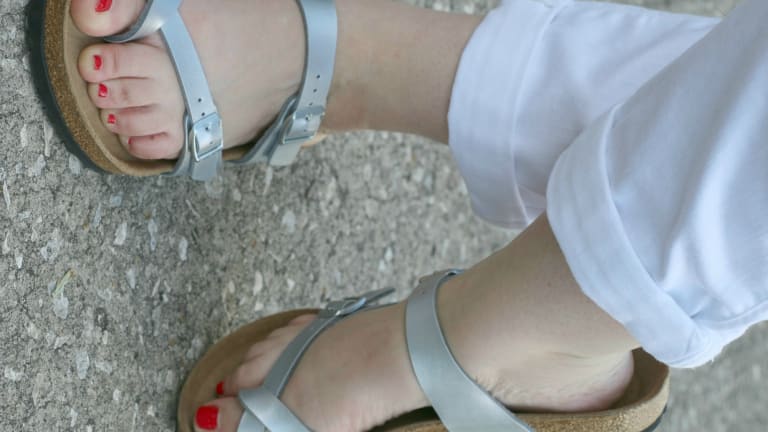 Why I Wear White All Summer Long: #WhyIWearWhite
Let's talk about why I plan on wearing white all summer long...But first, let's talk about why I've been avoiding my favorite white pieces until now...
Have you ever thought twice about wearing white during a certain time of the month? Haven't we all? In fact, as I've gotten older I've found myself turning to white less and less. How sad is that? I love white denim, for instance. White jeans and metallic sandals are staples in my spring and summer wardrobes, yet there are a couple weeks out of each month when I won't even consider pulling those jeans on thanks to my heavy, unpredictable periods. Well, I have finally decided that I am not going to be held hostage by my body any longer! I have a very good friend who has fibroids and she's been encouraging me to talk to my doctor about how heavy things have gotten for me. Crippling pain and a super heavy flow aren't normal, and they don't have to change your life. There are solutions even if you do have fibroids!
With July being Fibroid Awareness Month, it feels like the perfect time to take charge and wear our white with pride doesn't it?! Shame does not have to be a part of this game. Women's health issues tend to be under discussed and most women aren't shouting from the rooftops about their heavy bleeding – but it's time we changed that.
Did you know up to 80% of women will experience fibroids by the age of 50?1 But most suffer in silence -that is simply not ok. And up until recently, I was one of those women who kept quiet. Until my friend told me I needed to address things with my doctor, I had kept my symptoms to myself. Why is that? I mean I was walking around in dark outfits in the dead of summer instead of comfier, cooler ones. Maybe I was afraid she would bring up major surgery if I did indeed have fibroids? So many women are worried that a hysterectomy is their only option, but that couldn't be further from the truth. In fact, 200K women in the US undergoing hysterectomy to treat fibroids annually, despite the fact there are minimally invasive options out there that don't require removing your uterus.2 The most important thing is that you don't wait to seek advice from your medical provider.
To help break the silence, the online community, Change the Cycle has made it their goal to raise awareness of heavy periods and fibroids. They want women to feel empowered by knowing more. On their website, you'll find helpful information on symptoms, the causes, potential treatment options etc. You see, there are actually a variety of treatment options that include lifestyle changes, drug therapy, minor procedures and more. By paying a visit to Change the Cycle you can arm yourself with the knowledge you need.
And since we're big on problem solving here at Momtrends, we wanted to dispel any myths surrounding this topic that you might be holding onto. So, the folks at Change the Cycle were kind enough to connect us with Dr. Jessica Shepherd, M.D., a minimally invasive gynecologist at Baylor University Medical Center at Dallas, who answered some common questions about fibroids that women typically have…I can tell you that after learning more myself, I don't plan on avoiding my white jeans any longer. They can rest assured that they'll be brought out to play, along with my metallic sandals, all summer long! So, if you asked me why I wear white all summer long, I'd say it's in solidarity with all women who don't feel like they can.

Q: What exactly are fibroids?
A: Fibroids are the most common benign tumor of the pelvis.
Q:What are some of the common signs women should watch for?
A: Look for heavy bleeding during your period, a heavy or full feeling in your pelvis, pain with sex and/or frequent urination.
Q: Is any heavy bleeding during a women's cycle normal?
A: Heavy bleeding can be normal. It could just be from hormones or obesity for instance.
Q: Are certain women more prone to fibroids than others?
A: Fibroids tend to run in families, so they can be a result of genetics. Typically women start to show symptoms in their 20s and 30s.
Q: What are some of the treatments available to women who have fibroids?
A: There are medical, procedural and surgical options:
Medical
Birth control pills or IUD to help decrease the bleeding.
Procedural (meaning a minor procedure you can have done in office or very quickly at the hospital)
Endometrial ablation.
Hysteroscopic Myomectomy - If your fibroids are in the cavity of your uterus, they can be shaved down (Myoma is the clinical name for fibroids).
Surgical
Laproscopic radio frequency ablation of fibroids - A device is put into the fibroids that the doctor can see under ultrasound and deliver energy to it which ablates the fibroid.
Myomectomy - The fibroid is pulled out and the uterus is sewn back into place.
Hysterectomy - The uterus is removed.*
*It's important that we change the culture surrounding hysterectomies. There are other options, but it is ok to get one if other options didn't work or a woman simple feels she is ready for it. So, it's important for women to know all their options.
Q: What else would you like women to know about fibroids?
A: If someone is diagnosed with fibroids, it doesn't mean they require treatment. Many women who have them don't experience any symptoms, meaning their asymptomatic. Medical providers only treat fibroids if there are symptoms that are bothering a woman. The most important thing is that women speak with their doctor if they are experiencing symptoms.
To find out more about Change the Cycle, connect with them on their website, Facebook, Instagram, Twitter. And don't forget to share your stories about #WhyIWearWhite on your own social media channels. We're all in this together!
Compensation was provided by Hologic. The opinions expressed herein are those of the author and are not indicative of the opinions of Hologic.
REFERENCES
1. Uterine Fibroid Fact Sheet. Office of Women's Health, U.S. Department of Health and Human Services. https://www.womenshealth.gov/a-z-topics/uterine-fibroids. Accessed April 27, 2017.
2. Uterine Fibroids. National Institutes of Health. https://report.nih.gov/NIHfactsheets/ViewFactSheet.aspx?csid=50. Accessed May 30, 2018.